Tunxi Ancient street, located in the center of Tunxi district, Huangshan city, is 1,272 meters in total length with 853 meters long of the essence section, and 5 to 8 meters in width. With the mountain in the north and a river in the south, it consists of 1 straight street, 3 bystreets and 18 alleys. The whole street composed of over 300 hui-style buildings constructed in different ages, and it is distributed in the shape of a fish skeleton. The west part is narrow while the east part is wide. In 2009, Tunxi ancient street, Guozijian street of Beijing and Pingjiang road of Suzhou were elected as the "Chinese historical and cultural street".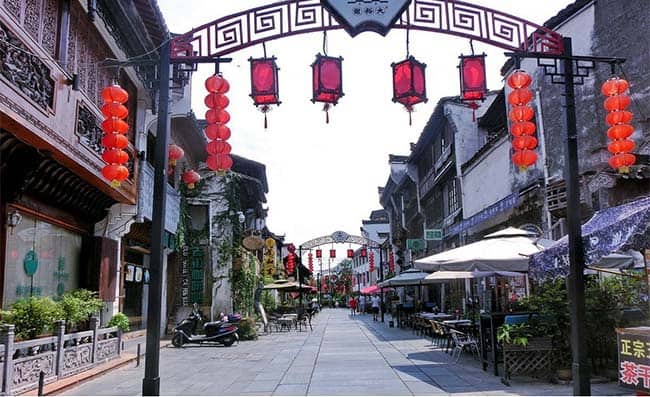 Basic Facts about the Tunxi Ancient Street:
Tunxi old street, is developed from a wharf located at the confluence of Xin'an river, Heng river and Shuaishui river. Since Ming dynasty, there have had related recordation about Tunxi Street. The west end of the old street is the birthplace of Tunxi, which was called "Bajia zhai". The formation and development of the old street was closely related to capital relocation to Hangzhou in the Song dynasty. The old street was also called "Song City", because local people started to build a lot of architectures similar to the new capital after relocation.During the period of the republic of China, Tunxi old street was named as Zhongshan main street. After the founding of new China, it was renamed as People road. And in 1985, it gained the current name — Tunxi old street.
With the springing up of the Huizhou merchants in Ming and Qing dynasties, Tunxi old street had become the important transportation hub of the waterway due to its advantageous location and famous trade market here. In the 1930s and 1940s, a large number of people moved into the city to avoid wars, which promoted the development of business here and made it become a significant commercial hub in Southern Anhui. It was also enjoyed the reputation of "small Shanghai" at that time because of its prosperity and bustling.Since 1949, with the rapid expansion of the city scale and construction of numerous modern buildings, Tunxi has undergone tremendous changes, but Tunxi ancient street has been well protected, which allows the profound trade culture be passed on from generation to generation.
The architecture of ancient street still maintains the traditional style of Huizhou ancient architecture. Along the street, there are 280 shops, most of them are two-storey buildings. The first floor is the place for business, and the second floor is the place to live. The architectural complex of the ancient street inherits the traditional architectural style of Huizhou folk houses, itslayout and architectural form have distinct architectural features of Anhui style. The buildings on the old street, though destroyed several times by wars and fires, they retain the original structure and style such as small green tiles, white walls, matou walls after reconstructing.
Nowadays, Tunxi ancient street is also a famous snack street and commercial street. The block is paved with bluestoneroad and lined with Hui-style buildings on both sides, and various kinds of Huizhou specialties sold in shops. Visiting it during the day time, you could immerse yourself in the beauty of Hui style architectures, and appreciate all kinds of exquisite carvings,such as brick carving, wood carving and stone carving. Visiting popular attractions like Tunxi museum, Wancui tower is a good choice as well. During the night time, there is more lively and prosperous than the day time. The string of red lanterns and busy shops on the street make it a great place to shoot the night scene.
How to Buy Entrance Tickets:
Price of ticket: Free
Opening time: whole day
When is the best time to visit?
As a famous commercial street, Tunxi street is a desirable tourist destination all year around. If you want to take photos of the prosperous night view, it is best for you to visit at night.
Tips: Visitors had better avoid the official holiday in China, because many Chinese citizens choose to travel on official holidays to ease the pressure of their work. As a result, many Chinese tourist attractions are overcrowded and traffic jams are common. Therefore, visiting China at this time will bring tourists a less pleasant travel experience.
Official Holidays in China
| | |
| --- | --- |
| Chinese New Year | Around January or February |
| Winter vacation | January-February |
| Labor Day | May1st -3rd |
| Summer vacation(for students) | July-August31st |
| Mid-Autumn Festival | Around mid-September |
| National Day | October 1st-7th |
How to get to the Tunxi Ancient Street?
Visitors can take Bus No.3, 5, 11, 12 or 15, and get off at Yuzhong Huyuan Station, then walk to the Tunxi Ancient Street.
More Information
Booking Method
Step 1: You can directly book online or please feel free to share your tour plans or thoughts at

[email protected]

, our travel consultant will contact you within 12 hours.
Step 2: A small amount deposit will be required to book a tour. After deposit received, a detailed service voucher will be sent to you to confirm the booking.
Step 3: Balance due will be required 7-15 days ahead of your travel date.
If you have any further question, please feel free to contact us!
Email: [email protected]
Cellphone number: +86 15129005119
WhatsApp / Wechat ID: 008615129005119
Facebook: @xianholidaystravelagency
Our Tour Guide
The core of our service is excellent travel guides. Over 20 years, we have built up a considerable professional guide team that is knowledgeable, attentive and flexible. The most experienced and reliable guides will be arranged for your unique China tour. Our passionate guide team is full of contagious enthusiasm and keen interest to share culture and history in a pleasant manner. We are always glad at your service to lead you to explore a real China and experience authentic local life in China.
Our Driver and Vehicle
The first mission of our service is to ensure you feel safe and comfortable during your travel. The vehicles we use are air-conditioned, clean and well-maintained. Our drivers are all licensed drivers with many years of driving experience. Moreover, we offer free baby seats for families with little kids.
Meals
Food is a very important part of Chinese culture. You won't want to miss the opportunity to taste the real local Chinese food!
Buffet breakfast will be included in the hotel if you would like accommodation to be arranged by us. Having lunch at local restaurants close and convenient to the attractions you will visit, you would enjoy the local dishes in each city. Chinese style, Vegetarian or Muslim meals are all available. If you have any other diet requirements or allergies, please feel free to let us know, we will try our best to organize it.
For daily dinner, you are suggested to have it on your own when you are exploring each city in your own time, this way would be more flexible for you to choose food as per your interest and preference.
Free Inquiry: