c. Three days tour
If you will stay in Guilin for three days, you can have an essence tour of Guilin and Yangshuo, which includes the most popular and famous tourist attractions, such as Li river, Elephant Trunk Hill, Seven-Star Park, Reed Flute Cave, etc.
d. Four days and more days tour
If you have enough time in Guilin, we also offer the service of making a personal tour plan in Guilin according to you preferences and interests.
B. What are you interested in or what is your tour type ?
a. Family Trip
If you want to have a family trip, we highly recommended that you can go to some attractions equipped with convenient public transportation and advanced tourist facilities, which are available for all ages tourists to visit, such as the Li river, Elephant Trunk Hill, Seven-Star Park and so on. In addition, it is better to slow your travel pace and choose to live in five-star hotel that may provide you the most comfortable accommodation environment and professional service.
b. Gourmet Food Trip
For tourists who are crazy about food, cannot miss visiting the west street of Yangshuo, where you can not only enjoy the ancient culture and typical buildings of Guilin, but also eat delicious local snacks, such as the most famous dish Beer Fish in Yangshuo.
c. Historical Trip
The west street in Yangshuo is an ancient street showing profound culture of Guilin. Visitors can see the old buildings built in the Ming and Qing dynasties and know the history and development of Yangshuo.
d. Adventure Trip
Nowadays, apart from taking a cruise or bamboo raft tour on Li river, another way to travel in Yangshuo is cycling. Cycling across the streets and lanes of Yangshuo is a good way to get close to and experience the authentic rural life along the Li river and enjoy the breath-taking scenery. Generally speaking, there are three cycling routes for visitors to choose, and the longest route is about 60 kilometers to travel through the Yangshuo. In addition, climbing the Longji Terraced Fields and paying a visit to the village of minority people are popular but energy-consuming. Visitors can not enjoy the fantastic view of the terraced fields, but also see the traditional performance, wear the special costume or experience the lifestyle of the minority people to make your trip more memorable.
e. Photographer Trip
The Elephant Trunk Hill and Longji Terraced Fields cannot be missed by tourists who are crazy about photography, because both of them are perfect place to enjoy the sunrise or sunset and take the brilliant pictures of them. And when you take a cruise tour on Li river, you can also take photos about the uncanny workmanship of nature along the river.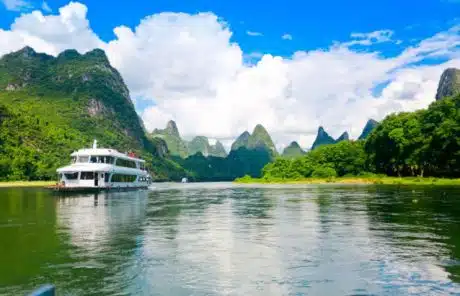 C. What is your travel budget?
a. If your trip is low- budget, we highly recommend that you can take part in any group tour and live Youth Hostel, which not only can help you save money, but will also help you make some new friends who have the same interest.
b. If you want to have a better travel experience, you can choose to rent a car and driver, make a personal travel plan and live in a luxury hotel during the days you stay in Guilin, which is more comfortable and free than taking part in a group tour.