The best time to visit Guilin is from April to October. In this period, you will meet the most comfortable weather with warm sunshine and gentle breeze. The average temperature ranges between 16°C (60.8°F) and 28°C (82.4 °F) in general.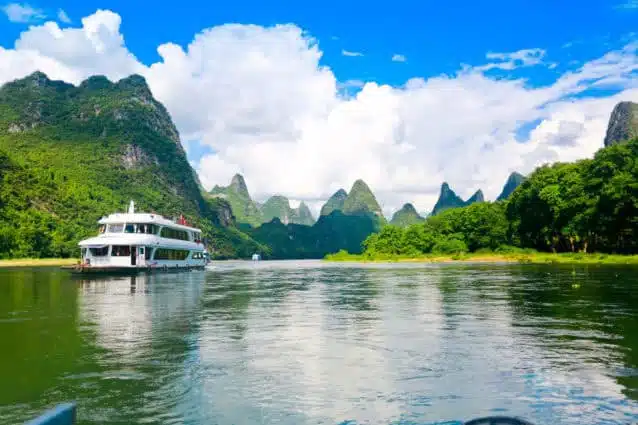 Although Guilin is a little hot in summer, its natural scenery is enchanting all the time. Tourists could experience the obscure beauty of the Li River after the drizzle on boat trips in April and May; challenge to hike along the Li River to capture the best green scenery in July and August, and marvel at the golden terraced fields reflecting the sunset glow in September and October.

Time Better to Avoid to Travel to Guilin
The best time to visit Guilin happens to include two of the busiest travel periods in China – summer vacation (July & August) and China's National Day holiday (October 1 to 7). As you can imagine, there will be a large number of visitors traveling to Guilin from all directions during these two periods, which would make the scenic spots extremely crowded. Higher airfare and accommodation costs can be a burden for budget travelers.
In addition, if time permits, the May Day holiday and Dragon Boat Festival should also be avoided as the Chinese government gives workers and students time off to rest and relax, which drives a large crowd to Guilin.
Peak Season & Slack Season of Guilin
Peak Season – March to October
March to October is the peak season for Guilin travel. The abundant rainfall makes the Li River the most attractive during this time. It's also a good period to get into the countryside to shoot the idyllic scenery; to ride a bicycle at the Ten-Mile Gallery; to discover the mystery of the Reed Flute Cave, and to catch a glimpse of the golden Longji Rice Terraces shining in the sunlight.
If you travel to Guilin in May and June (rainy season), remember to bring rain gear. You need to be mentally prepared for the fact that October 1st to October 7th is China's National Day holiday, when air tickets, train tickets and hotels will be heavily booked. Therefore, it is recommended that you plan your itinerary one month in advance if you want to go to Guilin during this period.
Slack Season – December to February
The cold and wet weather leads to the off-season from December to February in Guilin, when all the scenic areas receive very few tourists, providing you with a peaceful exploration. It is not the best time to visit Guilin, but it is a good choice for budget travelers because of the low cost of transportation and accommodation.
Spring Festival, also known as Lunar New Year, is the most celebrated event in China generally in late January or early February when you have a chance to experience the lively atmosphere of Chinese New Year with the local people.
Guilin Temperature by Month