Terrace is a kind of field which is built along the contour line in the hillside. It is an effective measure to prevent soil and water loss in sloping farmland. Longji terrace scenic area is located in Heping county of Longsheng ethnic autonomous county of Guilin city. It covers an area of 70.1 square kilometers and is 75 kilometers away from Guilin. Longji terrace, built in the Yuan dynasty and completed in the early Qing dynasty, has a long history and splendid national culture. It is honored as the "top of the terrace landscape" in the world due to its magnificent scale.
Basic Facts about the Longji Rice Terraces:
Longji rice terraces includes two main scenic spot that are Ping'an Zhuang Village Terraced Fields and Jinkeng Rice Terraces Fields (Dazhai Rice Terraces). Due to different mountains, they show diverse and charming scenery to people. With one in south and the other in north, the terraces deeply affectthe Zhuang and Yao minority culture.
Pingan Zhuang Village Terraced Fields like a giant dragon rising over a slope. It straddles two villages, Pingan and Longji.There are two unique and famous landscape: One is the "Seven Stars Accompany the Moon". The "seven stars" refers to the seven rocks standing in the center of the fields which looks like the twinkling stars and protects the moon-shaped terraced field. The other one is the "Nine Dragons and Five Tigers". "Nine dragons" refers to the nine ridges spreading from the main mountain, and the "five tigers" means the five tiger-shaped rocks here, all of them are rounded by the terraced fields.
Jinkeng terraced field, located in Dazhai village, is well-known for the production of gold. In addition to the legendary "two dragons robbing treasure" and "two lions jumping over the bar", there are otherthree famous scenic spots such as "thousand-layer terraces", "golden Buddha summit" and "west hill music", where visitors can not only enjoy the charming view of sunrise and sunset, but also take panoramic pictures of the terraced fields.
There are two villages inhabited by ethnic minorities: Huangluo Yao Villageand Ping'an Zhuang Village.Huangluo Yao Village is inhabited by the Yao minority people. Since ancient times, the women of Hongyao have formed the traditional habit of having long hair which is regarded as a good meaning, and their long hair, singing and dancing and Hongyao costumes have become precious ethnics culture. The majority of villagers here are hospitable and good at singing and When tourists come here, you can not only see the traditional performance of dancing and singing by Hongyao people or wear characteristic national costume, but also taste special snacks such as Camellia oleifera. Ping'an Zhuang Village, built in the late Qing dynasty, is the core village of Longji Terraced Fields. It is the residence of the Zhuang nationality, which retains the unique Zhuang costume and the primitive lifestyle. The village still maintains the traditional three-story wooden building, which is a typical architecture in the northern of Guangxi with the function of preventing moisture.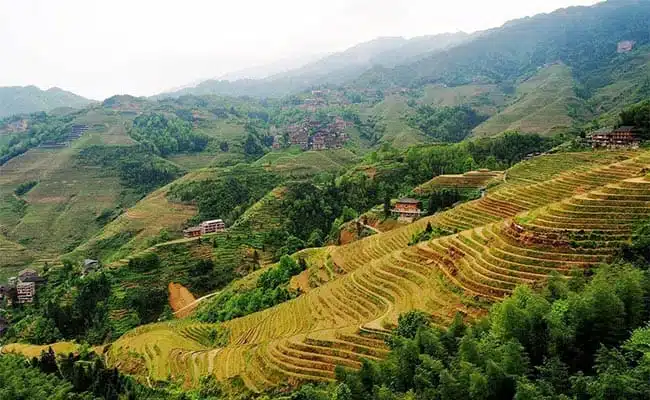 How to Buy Entrance Tickets:
Price of tickets: CNY80
Ticketing Time: 08:30 – 17:30
Opening time: All day
When is the best time to visit?
The best time to visit Longji Terraced Fields is in half a month after April 15 of the lunar calendar when the terraced fields start to fill the water for rice planting, and half a month after the Mid-Autumn festival also is the best time when the rice ripe. The snow scene of dragon ridge is also great, but the timing of the snow varies. The hottest month is July here with an average temperature of 28.3 degrees; The coldest month is January with an average temperature of 7.9 degrees. And if you want to take part in some featured minority activities, you can visit here at the lunar June 6 when the drying clothes festival is held.
Tips: Visitors had better avoid the official holiday in China, because many Chinese citizens choose to travel on official holidays to ease the pressure of their work. As a result, many Chinese tourist attractions are overcrowded and traffic jams are common. Therefore, visiting China at this time will bring tourists a less pleasant travel experience.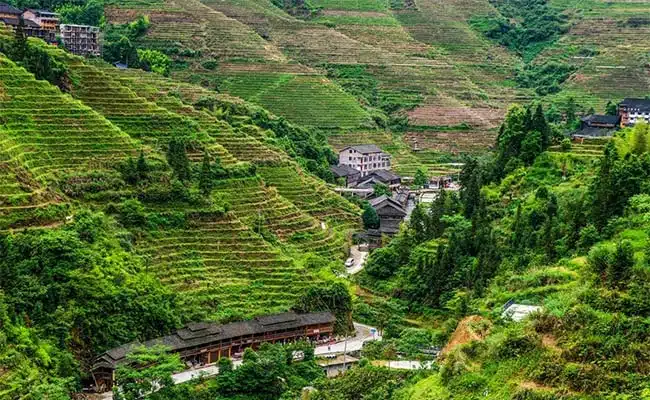 Official Holidays in China
| | |
| --- | --- |
| Chinese New Year | Around January or February |
| Winter vacation | January-February |
| Labor Day | May1st -3rd |
| Summer vacation(for students) | July-August31st |
| Mid-Autumn Festival | Around mid-September |
| National Day | October 1st-7th |
How to get to the Longji Terraced Fields?
From Guilin to Longji Terraced Fields
There is a direct shuttle bus from Guilin to Longji Terraced Field, which may take 2.5 to 3 hours.Tourists can take the bus at the Guilin Qintan Coach Station, Guilin West Railway Station or Guilin North Railway Station. (Note: The earliest one departs at 8:00, and the latest one departs at 15:00.)
Take the express busfrom Guilin to Longsheng county bus station (about 1 hour), then transfer the shuttle bus from Longsheng to Pingan parking lot (about 1 hour), and then walk for about 20 minutes to get to Pingan V
From Yangshuo to Longji Terraced Fields
Thereis a direct shuttle bus from Yangshuo to Dazhai Village, which takes about 4 to 4.5 hours. The earliest one departs at 8:30, and the latest one is 13:30. And the ticket price is CNY 70 per person.
More Information
Booking Method
Step 1: You can directly book online or please feel free to share your tour plans or thoughts at

[email protected]

, our travel consultant will contact you within 12 hours.
Step 2: A small amount deposit will be required to book a tour. After deposit received, a detailed service voucher will be sent to you to confirm the booking.
Step 3: Balance due will be required 7-15 days ahead of your travel date.
If you have any further question, please feel free to contact us!
Email: [email protected]
Cellphone number: +86 15129005119
WhatsApp / Wechat ID: 008615129005119
Facebook: @xianholidaystravelagency
Our Tour Guide
The core of our service is excellent travel guides. Over 20 years, we have built up a considerable professional guide team that is knowledgeable, attentive and flexible. The most experienced and reliable guides will be arranged for your unique China tour. Our passionate guide team is full of contagious enthusiasm and keen interest to share culture and history in a pleasant manner. We are always glad at your service to lead you to explore a real China and experience authentic local life in China.
Our Driver and Vehicle
The first mission of our service is to ensure you feel safe and comfortable during your travel. The vehicles we use are air-conditioned, clean and well-maintained. Our drivers are all licensed drivers with many years of driving experience. Moreover, we offer free baby seats for families with little kids.
Meals
Food is a very important part of Chinese culture. You won't want to miss the opportunity to taste the real local Chinese food!
Buffet breakfast will be included in the hotel if you would like accommodation to be arranged by us. Having lunch at local restaurants close and convenient to the attractions you will visit, you would enjoy the local dishes in each city. Chinese style, Vegetarian or Muslim meals are all available. If you have any other diet requirements or allergies, please feel free to let us know, we will try our best to organize it.
For daily dinner, you are suggested to have it on your own when you are exploring each city in your own time, this way would be more flexible for you to choose food as per your interest and preference.
Free Inquiry: