Best China Yunnan Tour Packages to Kunming, Lijiang, Dali, Shangri-La 2020/2021
Yunnan is a southwest province in China boasting its superb tourist resources as the busiest destination receiving a huge quantity of domestic travelers each year. It completely deserves its loud fame because you would hardly find another place like Yunnan to have so many landscapes at same time: hills, rivers, lakes, snowy mountains, canyons, ancient towns featured in folk ethnic culture, historic relics and even modern leisure bars… Words are pale to describe the unparallel beauty of Yunnan and we, China Xian Tour, as local collects the best highlights there to shed a light on travel to Yunnan: Stone Forest in Kunming, ethnic Lijiang Ancient City and Yulong Snowy Mountain, ethnic Dali Ancient City and Cangshang Mountain-Erhai Lake, Ancient Tea-Horse Raod, Tiger-leaping Gorge, "Small Potala Palace" and Pudacuo National Park in Shangri-La as well as tropical rain forest and ethnic customs in Xishuangbanna…
How Do I Plan My Yunnan Tour?
Frankly, Yunnan is so vast with many pearl-like attractions scattered that you need more time to explore it, usually we suggest you 5 days at least and tours of 7-10 days and more is proper. Benefiting from the advanced tourism, those major cities of Yunnan including Kunming, Lijiang, Dali, Xishuangbanna and Shangri-la have airports and railway stations to connect with other cities. Tailoring a Yunnan travel in flexible way by China Xian Tour will help you explore the fascinating land your way!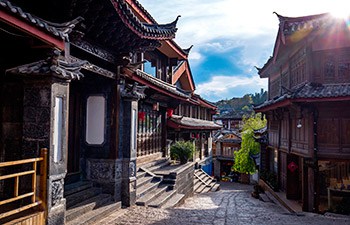 Yunnan completely deserves its loud fame because you would hardly find another place like Yunnan to have so many landscapes at same time: hills, rivers, lakes, snowy mountains, canyons, ancient towns featured in folk ethnic culture, historic relics and even modern leisure bars… Words are pale to des...
---
---
---
---
---
Take our 8 days classic Yunnan tour to explore the essential landscapes of Yunnan's Kunming, Dali, Lijiang, and Shangri-la, experience the local minority villages. Yunnan has always been at the top place on the list of Chinese travel destinations with its remarkable tourist resources. Located at sou...
---
Nothing
Nothing is here.wrong way!
This one day Lijiang private tour ideally covers the highlights of Lijiang Ancient Town and Shuhe Ancient Town, introducing you a wonderful way to explore the local minority culture and immerse you into the peaceful countryside life. Lijiang together with Dali is considered as "Utopias" for those wh...
---