One Day Lijiang Highlight Tour
Private tour guide + Driver + Vehicle + Tickets entrance fee + Lunch

Yes
Tour Overview
Lijiang together with Dali is considered as "Utopias" for those who are eager to escape from the stressful life, therefore Lijiang has listed as one of the most popular destinations in China. This one day Lijiang private tour ideally covers the highlights of Lijiang Ancient Town and Shuhe Ancient Town, introducing you a wonderful way to explore the local minority culture and immerse you into the peaceful countryside life. In this Lijiang day tour with professional commentary from our guide, you will discover the secret of Lijiang's fascination.
Highlights of this tour:
*Learn the legend history of the Mu Family and appreciate the exquisite gardens and buildings in Mufu Mansion.
*Experience the fascinating Naxi culture and history in ancient towns listed in UNESCO World Heritage Site in 1997- Shuhe Ancient Town and Lijiang Ancient Town.
*Immerse yourself in the breathtaking natural landscapes such as Jade Dragon Snow Mountain and Lion Hill.
*With private driver and English guide, as well as our 10+ years experience, you will love your tour and completely feel the magic of this wonderland.
Please be ready on time and open your one-day Lijiang highlight tour with a warm pickup by the tour guide from the hotel lobby.
The first stop is the Wangu Tower on Lion Hill where you will get the best angle to catch a full view of Lijiang Ancient Town and look out over the awe-inspiring Jade Dragon Snow Mountain. Paying further walking, you will come to Mu Fu Mansion which was the mansion of the local Mu Chieftain (the headmen under the system of appointing national minority hereditary in ancient China). Its architectural style indicates a fusion of the features of Central Plains in the Ming Dynasty, the local Bai Minority, and the Naxi Minority. As a landmark in Lijiang Ancient Town, Mu Fu Mansion is listed as a "must-visited" site where visitors will not only appreciate the exquisite gardens and buildings but also learn the legendary history of the Mu Family.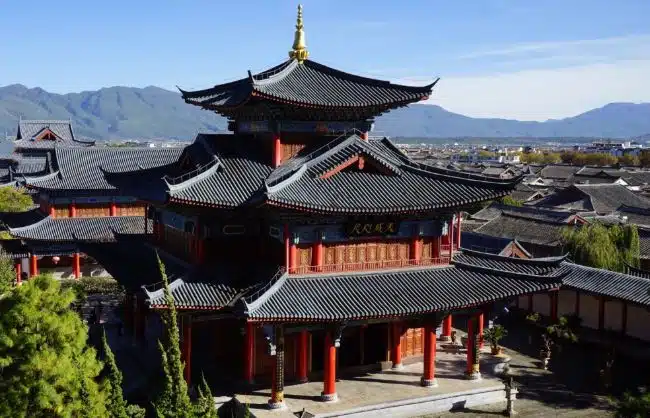 After the cultural exploration in Mu Fu Mansion, you are going to "date" with those lovely alleys winding through the local dwellings and immerse yourself into the peaceful Lijiang Ancient Town. Strolling on the stone-paved street, your eyes will be dazzled by an array of fancy goods at those hawking stalls.
After lunch, we will drive to Shuhe Ancient Town. When you walk around Shuhe Ancient Town, you will feel relaxed. People there just slow down the pace of life so you will experience the authentic countryside life here. There are ancient houses to enjoy and winding streets to explore.
Finally, come back to your hotel and end the tour today.