Hong Kong Travel Guide
Hong Kong, situated on the southern coast of China and east of the Pearl River estuary, holds the status of a special administrative region within China.
Comprising Hong Kong Island, Kowloon Peninsula, the New Territories, and over 260 outlying islands, it is home to approximately 7.4 million people representing diverse nationalities and ethnicities. With its high population density, Hong Kong ranks among the most densely populated places worldwide.
Renowned as a global financial, trading, and business hub, Hong Kong boasts a highly developed and diversified economy. The region's rich and intricate history reflects its exceptional role as a cultural bridge between the East and the West.
Following its period as a British colony from 1842 to 1997, Hong Kong returned to Chinese sovereignty under the principle of "one country, two systems." This arrangement grants Hong Kong a significant degree of autonomy in all internal matters, while foreign affairs and defense remain under the purview of China.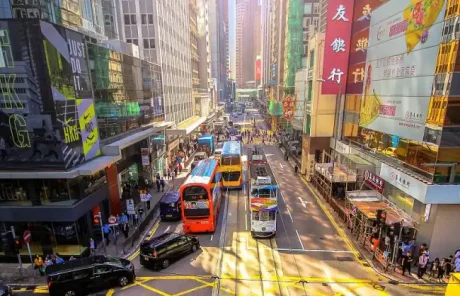 Official name: Hong Kong Special Administrative Region of the People's Republic of China
Location: East of the Pearl River estuary on the south coast of China
Population: 7.4 million (2021 census)
Official languages: Chinese and English
Regional language: Cantonese
Currency: Hong Kong dollar (HKD)
Why Visit Hong Kong
Convenient gateway to China: Hong Kong serves as a convenient gateway to China, offering excellent connectivity with over 100 international airlines and connections to more than 40 mainland cities.
Paradise for shoppers: With a plethora of markets ranging from upscale shops to charming street boutiques, Hong Kong is a paradise for shoppers, and the absence of tariffs makes it even more appealing to tourists. Read more about The 8 Best Markets in Hong Kong
Culinary delights: Embrace the culinary delights of Hong Kong, where a blend of cultures has given rise to iconic dishes such as seafood delicacies, flavorful wonton noodles, steamed dim sum, authentic Cantonese cuisine, and a tantalizing array of Western-style food that will leave your taste buds craving for more.
Captivating Skyline: Hong Kong's stunning skyline, with its iconic skyscrapers and illuminated buildings, is a sight that mesmerizes visitors.
Visa Free Policy: Hong Kong extends a visa-free policy to travelers from more than 145 countries, allowing them to visit for tourism or specific business-related purposes. The duration of the visa-free period varies between 7 and 180 days, depending on the visitor's nationality.
Top Attractions in Hong Kong
Top Things to Do in Hong Kong
Embark on an unforgettable journey in Hong Kong with these must-try experiences:
Ascend Victoria Peak:
Marvel at the breathtaking vistas of the city skyline, harbor, and surrounding islands from the summit of Victoria Peak, Hong Kong Island's highest point. Ride the historic Peak Tram or hike along scenic trails to reach the peak. Explore the Peak Tower, featuring a shopping mall, viewing deck, and Madame Tussauds wax museum.
Witness the Symphony of Lights:
Be dazzled by the Symphony of Lights, a captivating light and sound show that illuminates the skyscrapers along Victoria Harbour each night at 8 pm. Choose a vantage point like the Tsim Sha Tsui waterfront, Golden Bauhinia Square, or enjoy the show aboard a cruise boat. The spectacle highlights the vibrancy and diversity of Hong Kong.
Discover Lantau Island:
Immerse yourself in the natural beauty, cultural heritage, and entertainment offerings of Lantau Island, Hong Kong's largest island. Visit the awe-inspiring Tian Tan Buddha, a majestic bronze statue perched atop a hill, and explore the serene Po Lin Monastery. Take a ride on the Ngong Ping 360 cable car for breathtaking island and sea views. For a dose of fun and adventure, head to Disneyland Resort, home to themed lands, thrilling rides, captivating shows, and beloved characters.
Experience the Nightlife:
Unwind and indulge in Hong Kong's vibrant nightlife scene, boasting a myriad of bars, clubs, pubs, karaoke lounges, and live music venues catering to every preference. Explore hotspots like Lan Kwai Fong and SoHo in Central, Knutsford Terrace in Tsim Sha Tsui, or Wan Chai. Enhance your evening with a scenic night cruise on Victoria Harbour or catch an electrifying horse race at Happy Valley Racecourse.
Shop to Your Heart's Content: 
Delight in the shopper's paradise that is Hong Kong, offering an array of options from luxury brands to local treasures. Browse through modern shopping malls like Pacific Place, Times Square, and Harbour City, or immerse yourself in the bustling ambiance of street markets such as Temple Street Night Market, Ladies' Market, and Cat Street. Uncover unique finds at specialty shops dedicated to antiques, electronics, jade, tea, and more. Embrace the art of negotiation to secure the best prices and revel in the excitement of tax-free shopping.
Read more about Top Things to Do in Hong Kong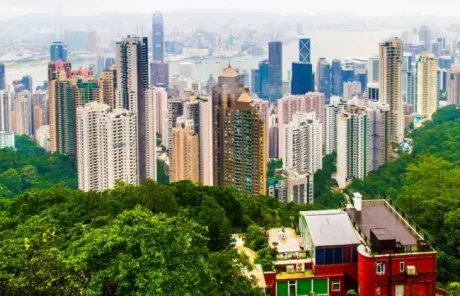 Districts of Hong Kong
Hong Kong is home to numerous renowned districts, each with its own distinct attractions and characteristics. Let's explore a brief overview of some of them:
Central & Western: Situated at the heart of Hong Kong, this district boasts iconic skyscrapers, including the famous Victoria Peak. Visitors can also enjoy the Star Ferry, delve into the vibrant nightlife of Lan Kwai Fong, and discover a multitude of cultural and historical sites.
Wan Chai: A vibrant district that seamlessly blends the old with the new, Wan Chai offers a diverse range of experiences. From shopping and dining to entertainment and cultural attractions, highlights include the Golden Bauhinia Square, the Hong Kong Convention and Exhibition Centre, the charming Blue House, and the lively Star Street Precinct.
Yau Tsim Mong: Located in the bustling heart of Kowloon, this district showcases the dynamic and diverse aspects of Hong Kong. Visitors can explore the iconic Tsim Sha Tsui waterfront, immerse themselves in the vibrant atmosphere of the Temple Street Night Market, indulge in retail therapy at the bustling Mong Kok shopping district, and unwind in the serene surroundings of Kowloon Park.
Wong Tai Sin: This district exudes a strong religious and cultural ambiance, anchored by the renowned Wong Tai Sin Temple, one of Hong Kong's most popular temples. Visitors can also explore the tranquil Nan Lian Garden, admire the graceful architecture of the Chi Lin Nunnery, and immerse themselves in the rich heritage of the Sik Sik Yuen Cultural Centre.
Islands: Encompassing the outlying islands of Hong Kong, such as Lantau Island, Lamma Island, Cheung Chau Island, and Peng Chau Island, this district offers a serene escape from the urban bustle. Visitors can soak in the natural beauty, experience rural life, and delve into the cultural heritage of these islands. Must-visit attractions include the magnificent Tian Tan Buddha, the breathtaking Ngong Ping 360 cable car ride, the quaint Tai O fishing village, and the enchanting Disneyland Resort.
Hong Kong Weather & Best Time to Visit
Hong Kong experiences a subtropical climate characterized by hot and humid summers, mild and dry winters, and abundant rainfall throughout the year. The city's weather is influenced by monsoon winds and its proximity to the South China Sea. To make the most of your visit, it's essential to consider the best time to explore Hong Kong.
The ideal time to visit Hong Kong is during the autumn season, which spans from September to November. During this period, the weather is pleasant with lower humidity levels, mild temperatures ranging from 20°C to 28°C (68°F to 82°F), and relatively less rainfall. The skies are clearer, offering excellent visibility for enjoying the city's breathtaking skyline and outdoor attractions.
Read more about Hong Kong Weather
Hong Kong Transportation
How to Get to Hong Kong
There are several ways to get to Hong Kong:
By air: Hong Kong has a major international airport, with over 120 airlines flying in from cities around the world. The airport is well-equipped and located on Lantau Island, around 40 km (25 miles) from the city center. You can easily reach the airport by bus, train, taxi, or private transfer.
By train: High-speed trains connect Hong Kong to cities in mainland China like Beijing, Shanghai, Guangzhou, Shenzhen, and Xiamen. Trains arrive at Hong Kong West Kowloon Station in the heart of Kowloon, which is connected to the city's MTR network.
By coach: Cross-boundary coaches operate between Hong Kong, Macao, and cities in mainland China. There are six major land crossings in Hong Kong where coaches operate, and they make stops at various locations in Hong Kong.
By ferry: Ferries connect Hong Kong to Macao and cities in mainland China such as Guangzhou, Zhuhai, Zhongshan, and Shenzhen. Ferries arrive at different terminals in Hong Kong, including Tsim Sha Tsui, Sheung Wan, Tuen Mun, and Hong Kong International Airport.
Getting around Hong Kong is easy with its efficient public transportation system. Here are the main options:
MTR: The subway system covers major districts and operates from around 5:30 a.m. to 1:30 a.m. It's fast, affordable, and connects to the airport, Disneyland, and Mainland China.
Bus: Comfortable and air-conditioned buses serve various areas, including those not reachable by the MTR. They operate from early morning until late at night.
Minibus: Green minibuses follow fixed routes, while red minibuses have flexible routes. They operate from early morning to late at night.
Tram: Slow but charming trams run along the northern coast of Hong Kong Island from around 6 a.m. to midnight.
Ferry: Scenic ferry services connect different areas, including the Outlying Islands. They operate from early morning to late at night.
Read more about Hong Kong Transportation