Xinjiang Travel Guide 2022: Things to Know before You Go
The western end of the Silk Road in China, Xinjiang Uyghur Autonomous Region is where west and east, ancient and modern culture collide in unique ways. It is the largest and westernmost province-level division of China, being teemed with exotic culture, spectacular landscapes, and stunning relics.
Xinjiang is known for the exotic Uyghur culture, diverse ethnic minorities, ancient towns and relics, fascinating Yardang landforms and desert scenery, unique architecture, tasty Xinjiang food, and tempting fruit.
Xinjiang Travel Restrictions: Both domestic tourists and foreign tourists can visit Xinjiang freely, no Xinjiang travel or extra visa permit is required. You can choose either solo travel or a guided tour to explore Xinjiang. Regarding the COVID-19-related travel restrictions in Xinjiang, it is relatively relaxed now, please consult our customer services to make sure of the latest policies.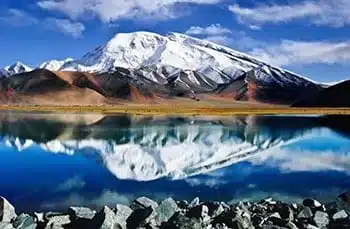 Chinese: 新疆 xinjiang
Location: Northwest China
Population (urban area): 23M
Amazing Natural Landscapes and Sceneries in Xinjiang
With three mountain ranges (the Altai Mountains, Tianshan Mountains, and the Kunlun Mountains) surrounding two basins (Tarim Basin and Junggar Basin), the topography of Xinjiang
endowed this vast land with a myriad of fascinating natural landscapes. You can expect dazzling mountain lakes like Sayram Lake, Karakul Lake, Heavenly Lake, unique Yardang landforms like Urho Ghost City, wild desert basins, idyllic Hemu Village, and verdant grasslands like Narati, Tangbula Grassland, and picturesque valleys with blooming flowers.
A Bulk of Historical Silk Road Sites and Heritages in Xinjiang
Half of the ancient China Silk Road was located in Xinjiang. Along the ancient route, western merchants brought their products and culture to Xinjiang, leaving a brilliant culture mix and numerous heritages in Xinjing. Nowadays, tourists can still get a rare chance to look into the thousands of years old relics and ruins in Xinjiang, say Jiaohe Ruins, beacon towers, ancient tombs, Buddhist grottoes (Kizil Caves, Bezeklik Thousand Buddha Caves), Gaochang Ancient Cities, Kashgar Ancient Town, etc.
Exotic Ethnic Culture and Customs in Xinjiang
Xinjiang is home to over 50 ethnic groups, including Han, Uygur, Kazak, Hui, Mongolian, etc., a harmonious region with the most ethnic groups in China. The many ethnic groups have their own customs, culture, arts, and lifestyles, so, that's no surprise that a Xinjiang trip will be a fantastic experience with various ethnic culture and custom experiences.
Tasty Xinjiang Foods and Fruits
Given the close connection between local food and local people, tasting Xinjiang food will surely enhance your travel experience and cultural understanding of Xinjiang. Xinjiang cuisine is predominantly halal, dominating meat dishes. Top representatives include Dapanji, roasted and boiled mutton, etc. Additionally, Xinjiang is also rich in juicy and sweet fruits and melons, and Turpan, Hami, and Korla are the recommended places to feast your stomach.
Top Xinjiang Tourist Attractions
Heavenly Lake of Tianshan Mountain is a half-moon-shaped alpine lake that is surrounded by towering snow mountains and grassland. An ideal place for sightseeing, hiking, boating, and exploring the local ethnic culture.
Xinjiang International Grand Bazaar, the largest bazaar in the world, is the place to peek into various ethical cultures, stalls selling ethnic flavored handicrafts, architecture and art of songs and dances of Xinjiang.
Id Kah Mosque, the largest Islamic temple in Xinjiang was built in the Ming Dynasty. It is an ancient Islamic architectural complex with strong ethnic and religious colors.
Kashgar Old Town with a history of over 2000 years is claimed as the best-preserved Islamic city in Central Asia. Walking along the crisscrossed narrow lanes, you will look into traditional brick-wood structures, workshops, and neighborhoods.
Karez Well System is a 2000-year-old underground irrigation system. It is the reason why Turpan can exist as an oasis of prosperity among the barren desert.
Kanas Lake, a valley lake nestled in the Altai Mountains, is known as the "Switzerland of the East". A paradise for nature and photography enthusiasts thanks to its breathtaking natural beauty combining magnificent glaciers, crystal-like lake, vast grassland, primeval forest, etc.
Jiaohe Ruins is the oldest and best-preserved earth building still in existence. A visit here will bring you back to over 2,300 years ago to trace the former prosperity of the ancient Silk Road.
Xinjiang Weather – Best Times to Visit Xinjiang
Xinjiang enjoys a cold semi-arid climate and is best to be visited in Autumn. In general, the best months to visit Xinjiang are August, September, and October.
Xinjiang is divided into the northern part and southern part by the Tianshan Mountains, and the two parts enjoy very different climates due to the influence of Tianshan Mountain on climate and the different geography in each part.
Northern Xinjiang features basin geography and vast grasslands, showing different charming scenes in different seasons. June to August are the best months to appreciate blooming wildflowers and verdant grassland in Ili. September will entertain you with golden autumn scenery, Kanas in September is at its most beautiful, and in Hemu Village, the cooking smoke curling up among the golden yellow birch forest is just like a huge oil painting.
Southern Xinjiang features a large area of barren desert and brilliant culture. April to October are all great months to visit Kashgar, Hetian, Aksu, etc. when the temperature is at its most comfortable.
Xinjiang Transportation – How to Get to Xinjiang & Travel Around Xinjiang
It is convenient to get to Xinjiang by flight or bullet train.
Xinjiang has the most civil aviation airports in China, and can be reached by air from nearly 80 cities in China. Most people choose to arrive at Urumqi Diwopu International Airport as it has the most flights to major cities in China. Kashgar Airport with many domestic flight routes is also popular.
Get to Xinjiang by Bullet Train
The Lanzhou Urumqi High-Speed Railway makes it convenient to travel along the Silk Road from Gansu to Xinjiang. The railway starts from Lanzhou in Gansu and finally arrives in Urumqi, passing through several important ancient Silk Road hubs, including Zhangye, Jiayuguan, Dunhuang, and Turpan.
Given the vast area of Xinjiang, there is a long distance between different attractions. Renting a car or joining in a tour with a private vehicle and driver are the most popular methods to explore Xinjiang.
If you need to travel between two cities that are far apart, the many provincial flights will provide great convenience. For example, you can efficiently transfer between Urumqi and Kashgar, Urumqi and Kanas by air. 
Xinjiang Accommodation – Where to Stay in Xinjiang
In Xinjiang, it is easy to find hotels with different star ratings according to your interest and budget.
In the most popular tourist cities like Urumqi, Kashgar, and Turpan, a wide range of excellent hotels from local featured ones to international chains are available for your choice.
While in some remote areas like Kanas, Hemu Village, Sayram Lake, etc., please note that the accommodation may be limited and the facilities were roughly basic.
Urumqi's downtown area is most recommended for the convenient transportation, short distance to popular sites like Xinjiang Museum and Xinjiang International Grand Bazaar.
Hotels around Urumqi International Airport are about 16 km from the downtown area, recommended if you arrive in Urumqi late or need to catch an early flight the next morning.
Around the Heavenly Lake Scenic Area, there are no places for accommodation.
You can stay in both Kashgar downtown and Kashgar Old City, most hotels are 3-star or local homestays that are decorated in Uyghur style.
Accommodating at Turpan downtown area should be the first choice thanks to the convenient transportation and many hotels of different standards.
Popular attractions in Turpan like Flaming Mountains, Grape Valley, and Bezeklik Thousand Buddha Caves, are all near the downtown area and can be reached within 1 hour by car.
Is It Safe to Travel in Xinjiang?
Yes, it is safe to travel to Xinjiang, for either group tours or solo travel, and it is also safe to take public transportation in Xinjiang. Local Uyghur people are incredibly friendly. You will never feel threatened or unsafe while in Xinjiang, though you might meet constant police checks.  
Just take the common precautions like in anywhere else in the world:
Avoid talking about sensitive religion or political issues;
Most local Uyghur people believe in Islam, please respect locals' customs and culture.
Dress modestly, especially when visiting mosques (females should wear long-sleeve clothes.);
Don't try to bargain if you are not planning to purchase;
Listen carefully to your guide's advice when visiting a local family, mosque, or taking pictures in some attractions.
Top Xinjiang Tours
Best 10 Days Northern Xinjiang Scenic Tour
9 Days Southern Xinjiang Adventure Tour
5 Days Best Urumqi-Kashgar Tour by Flight
12 Days Xinjiang Silk Road Tour for Nature and Culture Tracing
You can also contact our travel consultant to tailor-make your own Xinjiang tour.
Xinjiang Travel Guide
Located in the hinterland of the Eurasian continent, Xinjiang was an important passage of the ancient Silk Road in history. Now it is the only place to pass through the second "Eurasian Continental Bridge". Its strategic location is very important. Xinjiang currently has 47 ethnic groups, mainly inhabited by Uyghur, Han, Kazakh, Hui, Mongolian, Kirgiz, Xibe, Tajik, Uzbek, Manchu, Daur, Tatar, Russian and other ethnic groups. It is one of China's five ethnic minority autonomous regions.
Xinjiang is a mysterious and charming place. There are endless Gobi and grasslands, holy mosques and lively Grand Bazaar. The beautiful Uyghur girls are eye-catching that make people can't help but look back. The unique ethnic minority architecture is so beautiful. These are all the beauty of Xinjiang, every point is particularly attractive.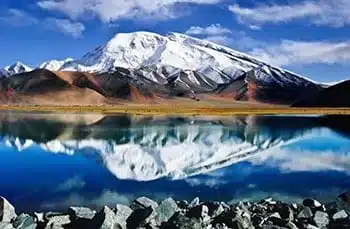 Chinese: 新疆 xinjiang
Location: Northwest China
Population (urban area): 23M

Why Visit Xinjiang – Top Features of Xinjiang?
Top 17 Travel Experiences in Xinjiang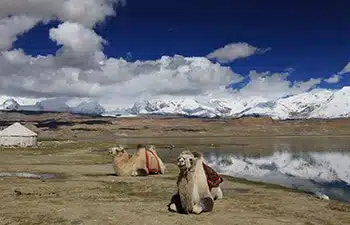 1. South Xinjiang Bazar
"Bazar" (巴扎) is a word that will raise your lips when you read. Bazar not only has a dazzling array of goods and gorgeously dressed locals, but also is a good place to concentrate on disappearing businesses, ancient laws of value and laws of integrity. There are bazars everywhere in Kashgar old town, all kinds of arts and works are gathered here; the grand bazaar of Hotan Aitika on Sunday is even more surprising. If you think the jade bazaar in Hotan is too "touristy", then go to the cattle and sheep bazaar in Huangdi Township to open your eyes. The bazaar in the old city of Yutian is not big. The locals wearing "Talibaik" are the biggest attraction. Don't forget to Xianbai Bazaar town on Saturday to enjoy delicious food. 
2. Kanas in Winter
If you can overcome the severe cold and get close to Kanas once in the winter when the snow is up to your waist, you will believe that the vulgar label of "Pure Land on Earth·Oriental Small Switzerland" is true. God temporarily takes back the palette in this season. Wrapped in silver, the Qiongzhi rime is gleaming, and it shows a faint blue under the sunlight. The color-changing lake is only white at this time, and the pebbles on the beach are covered with snow, as lovely as marshmallows. In addition to watching this freehand landscape painting, you can also experience horse-drawn sledges, skiing, and archery. Kanas in winter is quiet and not monotonous.
3. Crossing the Tianshan Mountains
Crossing the 6,000-meter-high Tianshan barrier has been an achievement that brave adventurers can only achieve for thousands of years. Today, from the East Tianshan to the West Tianshan, the ancient roads that have been silent for a thousand years under the glaciers are increasingly being excavated, becoming a paradise route that outdoor enthusiasts love and fear. Whether it's Bogda Peak near Urumqi, or from the Ili River Valley along the Wusun Ancient Road across the Tianshan Mountains to the oasis of the Taklimakan Desert, you will always remember hikers on the magnificent Tianshan Snow Line Xiata Ancient Road in the four-kilometer Daban when wind blowing fiercely on the gorgeous alpine grasslands and forests.
4. Appreciate flowers in Ili
In April, when snow and ice were still covered this city, the apricot blossoms in the Ili River Valley were already blooming in the cold mountain valleys, thus ushering in the half-year-long flowering season. In the spring of May, Tianshan safflower started the peak season of Tianshan wild flowers, and it continued until early summer at the end of June, when it was the most spectacular season of lavender in the valley. But don't think that Ili is just China's Provence. After July, under the snow line of the Tianshan Mountains, the endless rapeseed flowers, perilla and various wild flowers in the Turks Valley are all blooming with all their strength. In the vineyards and watermelon fields all over the valley, the dazzling sunflower always keeps your eyes on.
5. Kashgar Old Town
"If you have not been to Kashgar, you will not be counted as having been to Xinjiang." No one can deny Kashgar's unique western style. As a major trading town on the ancient Silk Road, the old city retains the only maze-like block with Islamic characteristics in China. The alleys still use the old Uyghur names. All kinds of bazars are the most authentic microcosms of the Uyghur people's lives. On the streets of the city, the air is always filled with the aroma of naan and barbecue. The faces of the Western Regions make people wonder where they are. Whenever the mosque's bell rings, the Muslims who come on time from all directions will become Another interpretation of Kashgar style.
6. Desert highway
It is about 1,000 kilometers long from east to west and 400 kilometers wide from north to south. This is the vast Taklimakan. Asphalt highways have woven a "皿"-shaped road network on the vast desert. Sand dunes, Populus euphratica, sunsets along the way will satisfy all your imagination of driving in the desert. The "two verticals in the middle" (Hetian-Alar, Minfeng Yiluntai) in the hinterland has become a popular self-driving route for travelers. The former puts the Revak Buddhist Temple and the Mazhatage Mountain in a string, while the latter shows the amazing achievements of oil development. In addition, don't ignore the G218 national highway on the eastern edge of the desert. The Tarim River landscape and the legend of Lop Nur have gradually made it popular here.
7. Wander inthe Silk Road Old City
In the Turpan Basin, at the foot of Huoyan Mountain, the ancient city of Jiaohe and the ancient city of Gaochang have witnessed the thousand-year glory of the Silk Road. They were once "super" cities on the ancient Silk Road, with streets extending in all directions, row upon row of houses, majestic palaces and Buddhist temples, although only ruined walls are left as time passed, they have left precious history. You can stroll through the labyrinthine ruins in the moonlight, listen to the past in the music of folk artists, or try to bring your thoughts back to the prosperous Tang Dynasty and imagine the majesty of the Buddha's singing in Gaochang City in front of the pagoda.
8. Grotto Art
Buddhism is spread east along the Silk Road, leaving the most complete and primitive Buddhist stone corridors in the Western Regions. The upper and lower seat of the Buddha statue in the Tuyugou Ganfo Cave in Shanshan is the Hu bed. The inscription is in Chinese and has gone through from Jin to Tang. In the long period of time, the artistic blending of Gaochang culture is revealed here. In Kuqa and Baicheng, which are concentrated in the Qiuci Grottoes, such as Kizil Thousand Buddha Caves, Kum Tula Grottoes, Senmusem Grottoes and Kizil Gaha Grottoes, you will be able to see the original Gandhara, the style of Motuluo statues, and the art of Qiuci created by combining them with the traditions of the Central Plains and Han, known as "the pinnacle of Central Asian art".
9. Tianshan grassland
The majestic Tianshan Mountains not only created endless glaciers and forests, but also created a graceful three-dimensional grassland with high mountains, refreshing your stereotyped understanding of the "endless" grassland. Riding on these mountain-shaped grasslands with undulating depths that exceed a drop of more than a kilometer, you can easily get lost by cliffs or under high slopes, but it doesn't matter, remember to visit those brave Kazakhs, who will take you to the sea of flowers under the glacier in June. Whether it is a yurt in the lower part of the grassland or a wooden house close to the forest, there is always a warm meal of naan, milk tea and horse meat, and the starry sky waiting for you.
10. Kazakh herders transition
When there was a traffic jam in northern Xinjiang in autumn, in all likelihood, you might bump into the army of the transition. The dust and smoke outside the window of the car, the herdsman riding on the horse, holding a long whip to drive, the camel carrying all the belongings, every step taken by the big hoof is heavy, the cattle and sheep are the most greedy, and they eat all the way, leaving a pile of fertilizer on the highway. This mighty scene is tantamount to a million heroes crossing the river. If you are in a hurry and press the horn, the timid sheep will rush from the left to the right in shock. All you can do is stop, give way, and wait for them to leave away. Don't forget to pick up your camera and record this migration pastoral for the Kazakhs.
11. Duku Highway
It took more than nine years for the engineers of the People's Liberation Army to repair this natural danger, and more than a hundred people gave their lives for it. Now you only have 4 months in a year to set foot on this monument in the history of highway construction, but you can experience spring, summer, autumn and winter in one day, and see the most exciting landscapes in Xinjiang. From the easternmost end of the Ili Basin, across the rugged Tianshan Mountains, to the vast grasslands of Bayinbuluk, across the snow-covered Daban, and finally usher in the red mountains and rivers and majestic gorges of southern Xinjiang. Crossing snow-capped mountains, glaciers, grasslands, and river valleys, you will feel how human engineering is seamlessly integrated with nature, and how hardships and beautiful scenery are interpreted to the extreme.
12. A Bite of Xinjiang Food
Xinjiang is definitely a paradise for meat lovers. All your vows to lose weight will be forgotten. Grilled lamb skewers, grilled fish, lamb head, and spicy lamb hooves can be seen everywhere. The light-flavored ones will definitely fall in love with the Hui nationality's meatball soup. The viscera lovers can try roasted lamb loin, roasted sepi, noodles and lungs. If you are curious, you may wish to try the Kazakh favorite horse meat. Noodle snacks of various ethnic groups are also emerging in endlessly. More than a dozen ways to eat such as roasted naan, roasted steamed buns, bratwurst and naren are enough to attract you. If you feel a little greasy, then a bowl of hot milk tea in winter and a yogurt shaved ice in summer will satisfy your stomach.
13. Muztag Peak
People call "Muztag" the "Father of the Iceberg". It is currently the only snow mountain that can provide mature commercial climbing services, and it is also the most well-known one of the "Kunlun Three Heroes". What leads you to the foot of it is the China-Pakistan Friendship Highway, known as the "eighth miracle of the world". In southern Xinjiang, which is known for its ethnic customs, it is also a three-dimensional landscape avenue across the Pamirs. At the foot of icebergs, lakes and grassland stretches everywhere, the Taheman Wetland is surrounded by mountains, and there are wild flowers, cattle and sheep everywhere in summer. If you are physically strong enough, you can also complete a hike from Karakule Lake to Muztag Base Camp in the Pamirs.
14. SayramLake
Sayram Lake is an exception in Xinjiang and even Central Asia. Unlike the lakes that are deep in the lowlands and deserts, it has an amazing clear blue at an altitude of more than 2,000 meters. It is surrounded by perfect forests and grasslands. It has always been the most cherished summer home of Kazakhs and Mongolians. You can drive or ride a bicycle around Sayram Lake, but it is best to rest on the Xihai grassland for a night. After greeting the swans by the lake at sunrise, ride a horse to the flower-filled forest, the cliff, the green hills and valleys on the south side, and the blue water and sky in the north will surprise you at the same time.
15. Feast Your Stomach with Sweet Fruits
The Silk Road not only brought the integration of economy and culture, but also brought melons and fruits from the Central Plains and the West, which became more fragrant under the warm sunshine of Xinjiang. The white pear and pink peach in the north and south of Tianshan and the passionate Maixilaifu under the grape rack are just sweet overtures. The festival named after various melons and fruits is the highlight of the year, from Eastern Xinjiang to Southern Xinjiang, from March to November, Korla fragrant pears, Kuqa small white apricots, Shihezi flat peaches, Aksu rock sugar heart apples, Turpan grapes, Lukeqin melons, and Hami dates mature in succession. The next step is to enjoy the feast of melons and fruits and meet all your imagination about sweet fruit.
16. Join the Golden Autumn Populus Carnival
This seems to be a golden assembly order issued by the land of the Western Regions. It only takes a few sunny days in autumn and the populus euphratica forests that grow arbitrarily on both sides of the Tarim River ushered in the annual carnival. They swayed gorgeously between the blue sky and yellow sand. In Mu Lei, Populus euphratica of various shapes are waiting for you to go on an autumn date; in Yiwu Naomao Lake, the ancient Populus euphratica forest shows people ten thousand years of tenacious vitality. This is also a festival for photographers who come from all over the world to participate this glorious visual feast.
174. Colorful City
There is no final conclusion about the formation of Wucai City. Many people believe that this miraculous landform is a miracle created by meteorites outside the sky. This colorful hill suddenly rises in the yellow sandy Gurbantunggut Desert, or towering or low, with red, yellow, gray, white and brown layered and mixed, forming a colorful dream. What you see on the viewing platform at sunset will surprise you. The sun shines on different places in Wucai City, gradually showing a splendid scene from golden to crimson. Even if you are a new photographer, you can still take an amazing picture at this moment.