c. more days tour
If you have plenty time in Dunhuang, we also offer the service that make a personal tour in Dunhuang according to your preferences and interests.
B. What are you interested in or what is your tour type ?
a. Family Trip
If you plan to have a family trip, we highly recommended that you can go to some attractions that are equipped with convenient public transportation and advanced tourist facilities, which are available for all ages tourists to visit, such as the Mogao caves, Echoing-sand mountain and crescent lake, Dunhuang Museum, Dunhuang Night Market and so on. At the same time, it is necessary for you to slow your travel pace and choose to live in five-star hotel that may provide you the most comfortable accommodation environment and professional service, which is conducive for you to have a good rest.
b. Gourmet Food Trip
Dunhuang night market, also known as Shazhou night market, located at Yangguan east road, is the largest local night market in Dunhuang. There is the gathering place of delicious delicacies and characteristic handicrafts of silk road, which is known as "night scene" and "classical painting" of Dunhuang because of its distinctive local characteristics and strong folk customs. The Yellow noodle with donkey meat, Mutton Soup with bean noodles, Dunhuang Niang Pi Zi, Apricot Peel Water here are so famous that almost every restaurant sells them. They are cheap and taste delicious, which are very worthy of tasting. And the prices of handicrafts and souvenirs here are also much cheaper than in the scenic area, and you can bargain with the seller if you buy a lot.
c. Historical Trip
If you are crazy about the Chinese history and precious art treasure, you cannot miss appreciating the exquisite and precious art treasure–Mogao Caves when you travelling in Dunhuang. Mogao caves, also known as Thousand Buddha Caves, is renowned for delicate fresco and statue. It was built in the pre-qin period of the sixteen kingdoms period and has been continuously built for nearly a thousand years, making the Mogao caves become the largest Buddhist art treasure house in the world with the richest contents and the longest history, which integrates architecture, stone carvings, murals and painted sculptures of various periods. These artistic treasures not only reflect the religious and social life of medieval China, but also show the outstanding wisdom and extraordinary achievements of the laboring people in ancient China. In 1987, the Mogao caves was listed as a world cultural heritage site. In China, Mogao caves in Dunhuang, Yungang grottoes in Datong, Longmen grottoes in Luoyang and Maijishan grottoes in Tianshui are known as "four major and famous grottoes".
d. Adventure Trip
Visitors at Echoing-sand mountain and crescent lake can not only appreciate the extraordinary natural scenery, but also experience a variety of desert tourism project such as riding camel, sliding on the sand, riding beach motorcycle, taking glider or helicopter to sightseeing and so on, which can bring a lot of fun of desert tour to tourists.
e. Photographer Trip
It is also a good choice to enjoy the sunset and starry sky at Echoing-sand mountain and crescent lake during the summer evening. When the sun gradually drops below the mountain, the sunset and the desert melt together, which just looks like a classic and charming oil painting.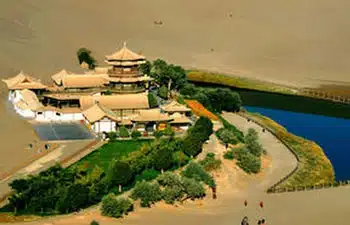 C. What is your travel budget?
a. If your trip is low- budget, we highly recommend that you can take part in any group tour and live Youth Hostel, which not only can help you save money, but will also help you make some new friends who havethe same
b. If you want to have a better travel experience, you can choose to rent a car and driver, make a personal travel plan and live ina luxury hotel during the days you stay in Dunhuang, which is more comfortable and free than taking part in a group tour.