Echoing-sand mountain and crescent lake, located 5 kilometers south of Dunhuang city, Gansu province, covers an area of 31,200 square kilometers. The main attractions here are echoing-sand mountain and crescent lake. Echoing-sand mountain is more than 40 kilometers long from east to west and about 20 kilometers wide from north to south, and the main peak is about 1,715 meters high. The mountain was named due to the sound of the sand. It is formed by accumulation of sand, and the sands here are red, yellow, green, white and black. Crescent lake is surrounded by the echoing-sand mountain, which got its name as its shape like a crescent moon. Sand coexist with springs is well-known for the "desert wonders" in the world.
Basic Facts about the Echoing-Sand Mountain (Mingsha Shan) and Crescent Lake:
Echoing sand, also known as the singing sand or music sand,is a uniquebut universal natural phenomenon in the world. In a desert or dune, fine grains of sand make sounds by wind blows, vibrates, slides or moves with each other, and numerous grains of sand rotate in the air due to various climatic and geographical factors. So the place is called the echoing sand because of making buzzing sound. In the western part of China, echoing sand is mainly in desert. These dunes are piled into mountains, so they are also called echoing sand Echoing sand mountain in Dunhuang, Shapotou in Zhongwei of Ningxia, Yinkantara desert in inner Mongolia and Barkol mountain in Xinjiang are known as the four major echoing sand in China.
Dunhuang echoing-sand mountain is made up of accumulation of fine sand. The sand grains here are red, yellow, blue, white and black. And the sand mountain has different forms: some are like the crescent moon, which are connected with each other to form a sand chain.  Some are like pyramids, rising high from the ground and looking angular and magnificent. Some looks like the golden dragons, wingding and stretching to the horizon. And all of them area wonderful and attracting desert scenery.
Since ancient times, many legends about the echoing sand have been created. It is said that there was a lush oasis in the ancient time, and a general of the Han dynasty led a large army to the western expedition, they were attacked by the enemy at night. While the two armies fighting, the wind suddenly became fierce and the yellow sand bury all peoplein the sand, and the echo is the sound of this fight.Therefore, it is called the Echoing-sand mountain.
Surrounded by echoing-sand mountain, crescentlakeis about 150 meters long and 50 meters wide, which got name due to its shape. Crescent spring is originated from the Dang River, relying on the constantly filling of the river, it can maintain clear and never-dry spring for thousand years even it was surrounded by yellow sand. Unfortunately, since the 1990s, the flow between the Dang river and the crescent lake has been cut off, so it can only be maintained by artificial way at present. Nowadays, some pavilions have been built along the lake, and with the rolling sand mountains, clear springs and attracting sunset, the scenery is very charming.
There isa legend about the crescent lake: When there was a great drought in ancienttime, the fields withered and many people died. The white cloud fairy floating in the sky saw this sad scene and cried, and her tears dropped on the sand and became a clear lake. Local people built a temple to thank and worship the white cloud fairy, and the incense in the temple always were strong. However, the Sand God thought the fairy took his reputation, so he wanted to destroy the clear spring by adding the sand in it, so the lake became smaller. When the goddess of the moon knew that, she tried her best to help the local people and make the spring clear. She put the crescent moon in front of the temple, and suddenly the crescent moon became a crystal lake, which is known as the crescent lake.
When travelling in Echoing-sand mountain and crescent lake, visitors can not only appreciate the extraordinary natural scenery, but also experience a variety of desert tourism project such as riding camel, sliding on the sand, riding beach motorcycle, taking glider or helicopter to sightseeingand so on. It is also a good choice to enjoy the sunset there. When the brilliant sun gradually drops below the mountain, the sunset and the desert melt together, which looks like a classic and charming oil painting.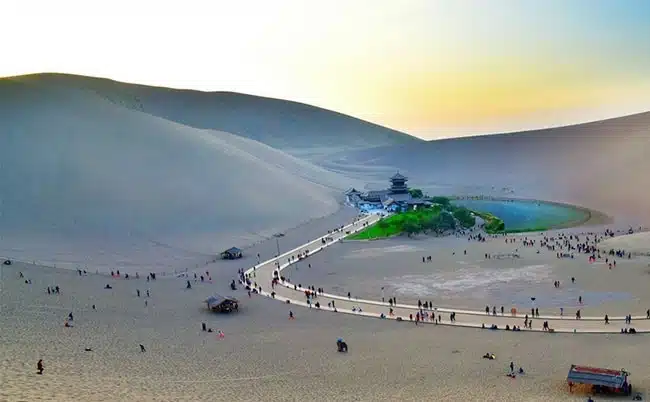 How to Buy Entrance Tickets:
| | |
| --- | --- |
| Peak Season(April 20th to October 19th ) | CNY 110 |
| Low Season(October 20th to April 19th ) | CNY 55 |
| Camel Ride | CNY 100 (Round Trip) |
| Sand Sliding | CNY 15 |
| Shoe Cover Rent | CNY 15 |
| Sightseeing Bus | CNY 10 (Single Trip); CNY 20 (Round Trip) |
| | |
| --- | --- |
| Peak Season(April 20th to October 19th ) | 05:00-20:30 |
| Low Season(October 20th to April 19th ) | 06:30-18:00 |
Note: The ticket is available forvisitors to use in three consecutive days without extra entry fee. People just need to record their fingerprints and face verification at the ticket barrier. But these policy is not applied for visitors who enjoy the free ticket.
When is the best time to visit?
The best time to visit the Echoing-Sand Mountain (Mingsha Shan) and Crescent Lake is June, July and August. During the summer, the weather is pleasant,which is also a good time for appreciating the sunset at the evening. 
Tips: Visitors had better avoid the official holiday in China, because many Chinese citizens choose to travel on official holidays to ease the pressure of their work. As a result, many Chinese tourist attractions are overcrowded and traffic jams are common. Therefore, visiting China at this time will bring tourists a less pleasant travel experience.
Official Holidays in China
| | |
| --- | --- |
| Chinese New Year | Around January or February |
| Winter vacation | January-February |
| Labor Day | May1st -3rd |
| Summer vacation(for students) | July-August31st |
| Mid-Autumn Festival | Around mid-September |
| National Day | October 1st-7th |
How to get to the Echoing-Sand Mountain (Mingsha Shan) and Crescent Lake?
Bus
Visitors can take Bus No.3 in the downtown, and get off at the last stop-the Yueyaquan(Crescent lake) Station.
Taxi
Taking a taxi from the downtown costs about CNY 20 and takes about 15 minutes.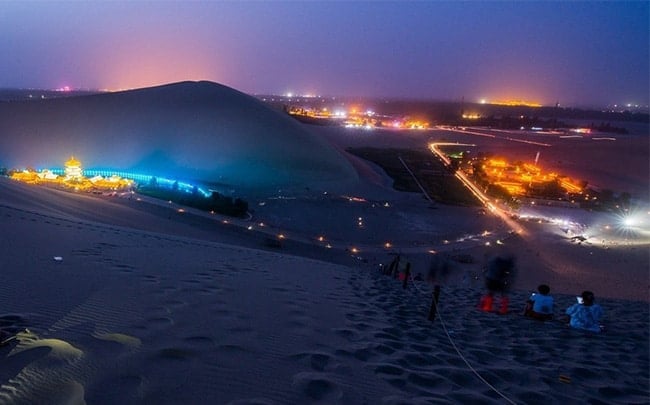 More Information
Booking Method
Step 1: You can directly book online or please feel free to share your tour plans or thoughts at

[email protected]

, our travel consultant will contact you within 12 hours.
Step 2: A small amount deposit will be required to book a tour. After deposit received, a detailed service voucher will be sent to you to confirm the booking.
Step 3: Balance due will be required 7-15 days ahead of your travel date.
If you have any further question, please feel free to contact us!
Email: [email protected]
Cellphone number: +86 15129005119
WhatsApp / Wechat ID: 008615129005119
Facebook: @xianholidaystravelagency
Our Tour Guide
The core of our service is excellent travel guides. Over 20 years, we have built up a considerable professional guide team that is knowledgeable, attentive and flexible. The most experienced and reliable guides will be arranged for your unique China tour. Our passionate guide team is full of contagious enthusiasm and keen interest to share culture and history in a pleasant manner. We are always glad at your service to lead you to explore a real China and experience authentic local life in China.
Our Driver and Vehicle
The first mission of our service is to ensure you feel safe and comfortable during your travel. The vehicles we use are air-conditioned, clean and well-maintained. Our drivers are all licensed drivers with many years of driving experience. Moreover, we offer free baby seats for families with little kids.
Meals
Food is a very important part of Chinese culture. You won't want to miss the opportunity to taste the real local Chinese food!
Buffet breakfast will be included in the hotel if you would like accommodation to be arranged by us. Having lunch at local restaurants close and convenient to the attractions you will visit, you would enjoy the local dishes in each city. Chinese style, Vegetarian or Muslim meals are all available. If you have any other diet requirements or allergies, please feel free to let us know, we will try our best to organize it.
For daily dinner, you are suggested to have it on your own when you are exploring each city in your own time, this way would be more flexible for you to choose food as per your interest and preference.
Free Inquiry: