The Yulin Grottoes, aka Ten-Thousand-Buddha Gorge, is a branch of the Dunhuang Mogao Grottoes art complex, which is located 76 km (47 miles) south of Guazhou county, nearly 180 km (112 miles) east of Dunhuang City, Gansu Province. The caves were excavated on the East-West cliffs on both sides of Yulin River Canyon, which was named after the elm trees on the river bank. There are 43 surviving caves in the Yulin Grottoes, with a total area of 4,200 square meters (45,208 square feet) of murals and over 244 painted sculptures of Buddha. Yulin Grottoes are similar to Mogao Grottoes in terms of mural theme and artistic style. It was included in the UNESCO World Heritage List as a part of the Silk Road.
Recommended visiting time: about 3 hours
Opening hours: 09:00-17:30 (May 1st to October 31st); 10:00-17:00 (November 1 to April 30)
Tickets:
55 CNY (about 8.5 USD) per person for regular caves;
Extra fee for the special caves: 200 CNY (31.5 USD) per person for Cave No.25; 150 CNY (23.5 USD) for Cave No.3; 100 CNY (15.5 USD) per person for Cave No.4 & No.2.
Background Story
Yulin Grottoes were initially carved in the Northern Wei Dynasty (386-534), with a 1,000-year construction spanning to the Qing Dynasty (1636-1912). During the peaceful period from the Five Dynasties (907-960) to the early Song Dynasty (960-1279), the Cao family built caves and painted murals in a corner of Guazhou county. A large number of grottoes were excavated during this period, accounting for half of all caves in the Yulin Grottoes. In the Western Xia (1038-1227) and the Yuan dynasties (1271-1368), under the influence of Esoteric Buddhism, a total of 16 caves with themes rarely seen in the previous dynasties such as the Tangut Water Moon Kwan-yin and the Mandala were constructed and rebuilt.
Highlights of the Yulin Grottoes
The Yulin Grottoes is renowned for its exquisite and colorful murals, which are painted from various dynasties, ranging from Buddha statues to Buddhist stories to flowers and animals. Among them, Cave No. 25 is known as the most famous one in the Mid-Tang Dynasty (766-835) and also one of the best works in Dunhuang frescoes. Strictly speaking, it is a Tibetan Buddhist cave with vivid mural paintings and other artworks in a clear "Tibetan style". The east wall of the cave is painted with eight figures of Bodhisattvas including Maitreya Buddha and the Bodhisattva Manjusri; while the south and north walls are carved with life scenes, like farming, banquets, and visiting relatives. Besides, you can find the mighty heavenly kings, white elephants as well as lifelike lions on the other walls of the cave.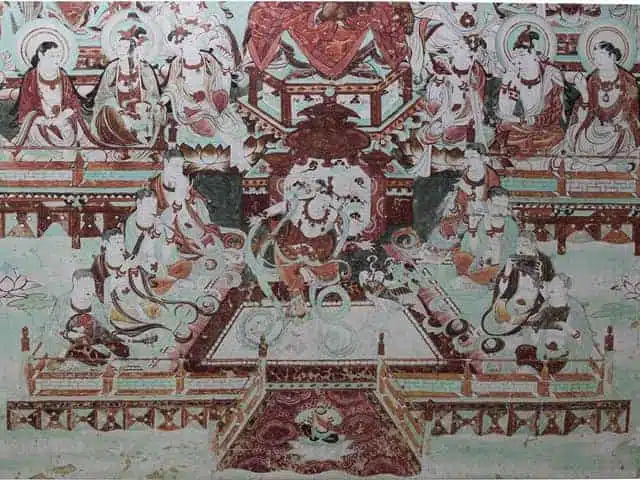 Cave No. 29 is another must-see grotto situated at the north end of the east cliff of Yulin Grottoes. Its murals are mature works from the late Western Xia Dynasty. The mural of Kwan-yin Sitting on the Moon in Water is well preserved in this cave, which depicts Kwan-yin (the Goddess of Mercy) sitting calmly on the Lotus Throne, shrouded in translucent light. In the 29th grotto, you will also see the murals of Thousand-Hands Kwan-yin.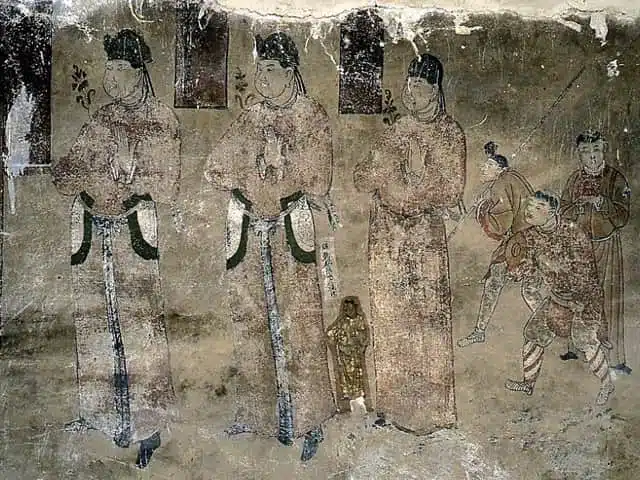 Cave No. 3 is the most mature and typical in the late Western Xia Dynasty with unique characteristics. The art murals of the Han nationality, Tibetan and Esoteric Buddhism are all present in this cave. Among them, the painting of Monk Xuanzang is a representative work.
Artistic Value of the Yulin Grottoes
Although boasting many excellent sculptures, Yulin Grottoes mainly reflect its value in murals. The murals in the Yulin Grottoes are very rich in content, including portraits of Buddhas and Bodhisattvas, stories of Buddhist, flowers and beasts, as well as decorative patterns. The mural paintings of the Yulin Grottoes in the aspect of content and forms of art are highly similar with that of Mogao grottoes. Thus, it is called the "Sister Caves" of the Mogao Caves. And it has a certain influence both at home and abroad. Walking through this art palace, you will see some of the figure paintings showing images of Tangut people and Mongolians with special clothes and looks. In fact, the murals of the Western Xia and the Yuan Dynasties are featured by the integration of the art traditions of the Han nationality and ethnic minorities. These grottoes are rare treasures that you can't even see in Mogao Grottoes. The Yulin Grottoes provide you with an opportunity to learn the history of the Western Xia Empire and the religious culture of Dunhuang during the millennium.
How to get there?
From Dunhuang city, you can charter a car to get to Yulin Grottoes, which takes 2.5 hours. The round trip costs a total of around 500 CNY (78.5 USD).
Or you can take a direct bus from Dunhuang Bus Station to Guazhou County. About 10 buses depart between 8:00 am to 18:30 pm and the duration is 1.5 hours, costing CNY 26 (4 USD) per person for the bus fee. And then transfer a taxi for 1.5 hours to Yulin Grottoes from Guazhou Bus Station, which costs about 150 CNY (23.5 USD) for one way.
Warm Travel Tips
The period from May to October is the best time to visit Yulin Grottoes.
With a dry climate, there is little rain all year round at the Yulin Therefore, you need to be fully prepared for the strong wind and sunlight. Remember to bring a hat and sunscreen!
Photographs are strictly prohibited when visiting inside the Yulin Grottoes. But you can take pictures outside the caves.
Recommended Related Tours You May Like
More Information
Booking Method
Step 1: You can directly book online or please feel free to share your tour plans or thoughts at

[email protected]

, our travel consultant will contact you within 12 hours.
Step 2: A small amount deposit will be required to book a tour. After deposit received, a detailed service voucher will be sent to you to confirm the booking.
Step 3: Balance due will be required 7-15 days ahead of your travel date.
If you have any further question, please feel free to contact us!
Email: [email protected]
Cellphone number: +86 15129005119
WhatsApp / Wechat ID: 008615129005119
Facebook: @xianholidaystravelagency
Our Tour Guide
The core of our service is excellent travel guides. Over 20 years, we have built up a considerable professional guide team that is knowledgeable, attentive and flexible. The most experienced and reliable guides will be arranged for your unique China tour. Our passionate guide team is full of contagious enthusiasm and keen interest to share culture and history in a pleasant manner. We are always glad at your service to lead you to explore a real China and experience authentic local life in China.
Our Driver and Vehicle
The first mission of our service is to ensure you feel safe and comfortable during your travel. The vehicles we use are air-conditioned, clean and well-maintained. Our drivers are all licensed drivers with many years of driving experience. Moreover, we offer free baby seats for families with little kids.
Meals
Food is a very important part of Chinese culture. You won't want to miss the opportunity to taste the real local Chinese food!
Buffet breakfast will be included in the hotel if you would like accommodation to be arranged by us. Having lunch at local restaurants close and convenient to the attractions you will visit, you would enjoy the local dishes in each city. Chinese style, Vegetarian or Muslim meals are all available. If you have any other diet requirements or allergies, please feel free to let us know, we will try our best to organize it.
For daily dinner, you are suggested to have it on your own when you are exploring each city in your own time, this way would be more flexible for you to choose food as per your interest and preference.
Free Inquiry: