Dunhuang, an important stop on the ancient Silk Road, holds a splendid treasure of Buddhist art, Mogao Grottoes. You may have seen many pictures and read lots of introductions about the place, but believe it or not, its magnificence will blow your mind when you see it in person. You will just stand there and stare in awe. Although the artisans who painted the delicate murals are just tiniest speck of dust now, the dry walls will still fill you with wild imaginations after more than 1000 years. The boundless Gobi deserts, glorious Silk Road, and diverse customs of northwest Chinese minorities will open a new world before you.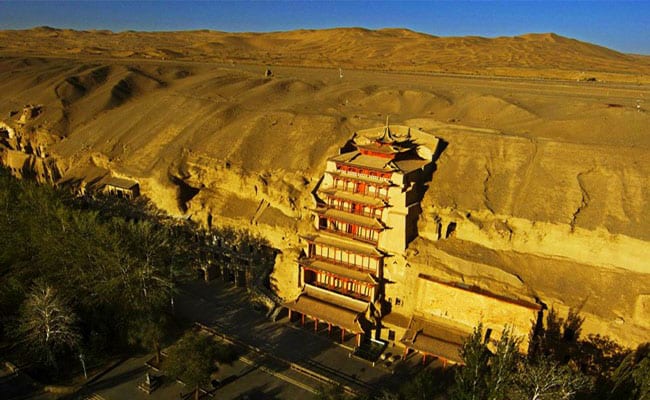 Mogao Grottoes is one of the four great grottoes in China (the other three are Maijishan Grottoes in Tianshui City, Longmen Grottoes in Luoyang City and Yungang Grottoes in Dataong City) and famous around the world for intricate murals and statues. In 1987, Mogao Grottoes was included in the first batch of World Heritage List of China by the UNESCO. Also known as "Thousand Buddha Grottoes", it was first constructed in 366 A.D. during the Sixteen Kingdoms Period and its construction lasted for almost one thousand and five hundred years across 11 dynasties. It is located on the eastern slope of Echoing Sand Mountain which is 25 km to the southeast of Dunhuang City and stretches for 1680 meters from south to north on a cliff. There are about 735 caves that can be divided into southern area and northern area. The southern area was once used for holding Buddhist activities with 492 caves, 2400 colored sculptures, 45000 square meters of murals, 5 wood-structure eaves from the Tang and Song dynasties, and the landmark nine-story pagoda rebuilt during the Republic of China. The northern area with 243 caves served as a place for the monks to meditate and live, and they were also buried there after they died. Among the caves, the largest one is more than 200 square meters in size, and the smallest one is less than 1 square meter. The themes of the murals are various, ranging from Buddhist stories, flying apsaras to the life of the laboring people.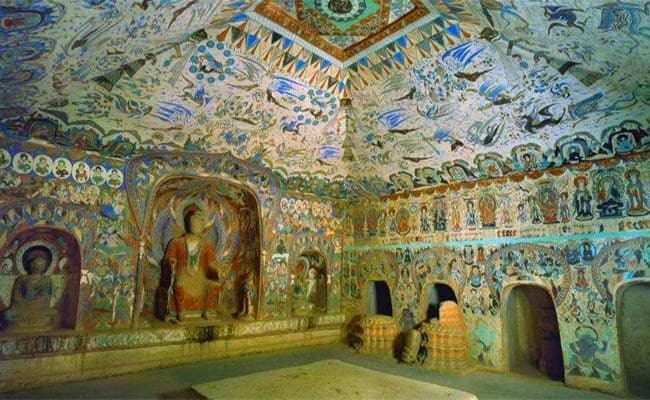 Besides knowing Mogao Grottoes is an amazing place to visit, there are some facts about visiting the caves. First, it's not allowed to take photos inside the caves because flashlight is not good for the murals, and even tour guides only use an electric torch. We all should be grateful for witnessing the magnificent grottoes after thousands of years and try our best to protect it so that future generations also have chance to see such beautiful things. Next, visitors must be accompanied by a tour guide to visit the caves. You will be assigned with a professional English speaking tour guide. At last, you should arrive at the digital exhibition center 30 minutes in advance to get your ticket with your passport. You will enjoy two informative and interesting movies about Dunhuang and Mogao Grottoes for about 45 minutes and then take a shuttle bus for about 15 minutes to admire the caves. A tour guide will come to pick up your group, give you earphones and lead you to the caves. After touring the caves, you will get back to the place where you are picked up on a shuttle bus.
All in all, if you are truly interested in Buddhist culture, painting and sculpture, highly recommend you visit this awesome place. It's better to do some related readings before your trip to help you appreciate grotto art. You will love this place very much.