Guizhou Travel Guide
Guizhou is a landlocked province located in Southwest China, known for its rich cultural heritage, stunning natural scenery, and diverse ethnic communities. The province is home to over 18 different ethnic groups, including the Miao, Dong, and Buyi, each with their unique customs, traditions, and festivals. Guizhou's rich history and cultural diversity are evident in its many historic sites and museums, such as the Miao and Dong Ethnic Villages, the Huangguoshu Waterfall, and the Qingyan Ancient Town.
In addition to its cultural attractions, Guizhou is also famous for its natural beauty. The province is home to many natural wonders, including the stunning karst landscapes of Libo, the picturesque Jiabang Rice Terraces, and the Huangguoshu Waterfall, one of the largest waterfalls in China. With its rich culture, diverse ethnic communities, and breathtaking scenery, Guizhou is a must-visit destination for anyone looking to explore the beauty of China. And a Guizhou travel guide is a must-have for anyone planning to visit this fascinating province.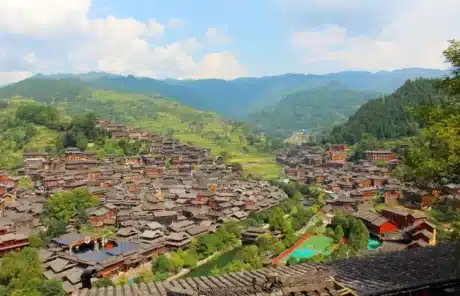 Chinese: 贵州 guì zhōu
Location: Southwest China
Population (urban area): 38,520,000
Why Visit Guizhou?
Cultural Diversity: Guizhou is home to over 18 different ethnic groups, each with its unique customs, traditions, and festivals, making it an ideal destination for anyone interested in exploring cultural diversity. (See Guizhou Ethnic Festivals)
Breathtaking Scenery: The province boasts stunning natural scenery, including the picturesque rice terraces of Longji and the Huangguoshu Waterfall, one of the largest waterfalls in China.
Authentic Villages: Visitors to Guizhou can experience authentic rural villages, such as the Miao and Dong Ethnic Villages, where they can witness traditional farming practices and learn about the locals' way of life. (See Top 12 Ethnic Villages in Guizhou)
Delicious Cuisine: Guizhou boasts a unique cuisine that combines spicy and sour flavors, with specialties such as sour fish soup and spicy hotpot, making it a foodie's paradise.
Historical Sites: The province is home to many historic sites and museums, such as the Qingyan Ancient Town and the Zhenyuan Ancient Town, where visitors can learn about the area's rich history and cultural heritage.
Read more:
Top 10 Things to Do in Guizhou
Guizhou Weather and Best Time to Visit
Guizhou has a subtropical humid monsoon climate with four distinct seasons. The best time to visit Guizhou is during spring (March to May) and autumn (September to November), when the temperature is mild and comfortable. During this time, the weather is mild and pleasant, and the natural beauty of the region is at its peak.
The spring months are ideal for visiting the area's numerous gardens, lakes, and waterfalls.
Autumn is the perfect time to explore the countryside's colorful foliage.
Summer (June to August) in Guizhou is hot and rainy. Visitors who do not mind the heat and humidity may enjoy Guizhou's summer, but the rain can make outdoor activities challenging.
Winters in Guizhou are cold and can be harsh, especially in the mountainous regions.
Read more on Guizhou Weather & Best Time to Visit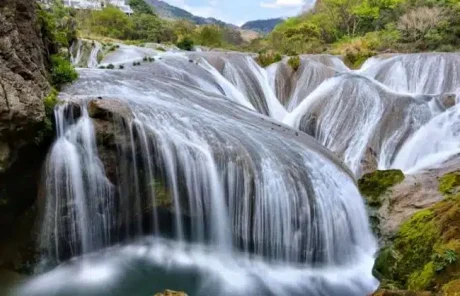 Guizhou Transportation
How to get to Guizhou?
To get to Guizhou, there are a number of options available to travelers.
By flying
One of the easiest ways to reach Guizhou is by flying into Guiyang Longdongbao International Airport. The airport is served by a number of domestic and international airlines and has connections to many cities in China and beyond.
By train
Another option is to take a train to Guizhou. There are numerous trains that operate to major cities in Guizhou, including Guiyang, Zunyi, and Anshun, from other cities in China. Train travel may take longer, but it can be a more affordable option for travelers.
By bus
Alternatively, you can also take a bus to Guizhou. Many cities in China have regular bus services to Guizhou, and this can be a convenient and cost-effective option, especially for shorter distances.
How to get around Guizhou?
Local buses and trains are a great way to explore Guizhou's cities, towns, and villages. They are inexpensive and offer frequent schedules, making it easy to travel between destinations.
You can also hire a private car or take a taxi for more flexibility and convenience, especially if you're traveling with a group or have a lot of luggage.
See more detailed information on Guizhou Transportation