Anshun Travel Guide
Anshun is a vibrant and bustling city located in southwest China's Guizhou Province, renowned for its stunning natural landscapes, diverse cultural heritages, and delicious foods.
The city is situated on the banks of the Wu River, surrounded by breathtaking scenery, including the Huangguoshu Waterfall, the largest waterfall in Asia.
Anshun is also home to numerous historical sites and landmarks that offer visitors a unique blend of modernity and traditional Chinese culture.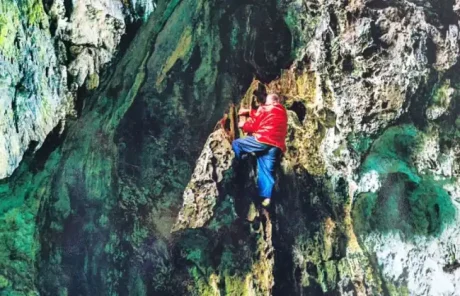 Chinese: 安顺 ān shùn
Location: Midwest Guizhou
Population (urban area): 2,455,500
Why Visit Anshun
Anshun is a must-visit destination for travelers seeking an authentic Chinese experience, with its unique blend of natural beauty and cultural attractions. Visitors can witness the majesty of the Huangguoshu Waterfall, explore ancient caves, and indulge in the local cuisine, all while immersing themselves in the region's rich history and culture.
Top Attractions in Anshun
Top Things to Do in Anshun
1. Visit the Huangguoshu Waterfall: The largest waterfall in Asia, Huangguoshu Waterfall is a must-visit attraction in Anshun. Visitors can take a boat ride to the base of the waterfall and experience its grandeur up close. Read more about 7 Beautiful Waterfalls in China
2. Explore the Dragon Palace Scenic Area: A natural wonder located about 30 kilometers from Anshun, Dragon Palace Scenic Area is an underground cave system with spectacular river passages, waterfalls, and stalactites and stalagmites. Visitors can explore the area's unique geological features and enjoy its stunning scenery.
3. Discover the history and culture of Tianlong Tunbao: Located about 20 kilometers from Anshun, Tianlong Tunbao is a well-preserved ancient town with a unique architectural style and cultural heritage. Visitors can explore its ancient houses, temples, and museums that offer insights into the town's unique customs and traditions.
4. Go spelunking in the Yelang Cave Scenic Spot: Located about 70 kilometers from Anshun, Yelang Cave Scenic Spot is a massive underground cavern with unique rock formations, crystal-clear pools, and towering stalagmites and stalactites. Visitors can take a boat ride through the cave and enjoy its stunning scenery.
5. Hike or horseback ride on the Yunshan Prairie: Located about 20 kilometers from Anshun, Yunshan Prairie is a picturesque grassland surrounded by rolling hills and mountains. Visitors can enjoy hiking or horseback riding on the prairie and take in the breathtaking views.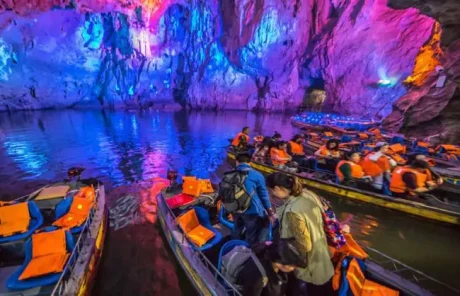 Anshun Weather
Anshun boasts a pleasant plateau type humid subtropical monsoon climate that is mild, humid, and comfortable all year round. The summers are not excessively hot while the winters are not too harsh, with an average annual temperature of 14.9°C (58.8°F) and an average annual rainfall of 1,200 mm (47.2 inches).
The ideal time to explore Anshun is between March and November, when the weather is amicable and the natural beauty of the region is at its finest. This is also the perfect time to witness the grandeur of the Huangguoshu Waterfall, the largest waterfall in China and Asia. The waterfall reaches its peak flow during July and August, forming an awe-inspiring curtain of water that can be viewed from multiple angles. However, this is also peak tourism season and the rainy season, which means that you may encounter more crowds and higher prices.
For those seeking to avoid the crowds and the rain, spring or autumn are great seasons to visit Anshun. During these seasons, the flowers and leaves are vibrant, and the temperature is pleasant, making it an ideal time to appreciate the Karst landscapes, mysterious caves, and rich ethnic cultures of the region with ease. The winter season is the slowest period for tourism, but some may find the cold and frosty weather too chilly for their liking.
Anshun Transportation
How to get to Anshun
By air
If you prefer flying, the nearest airport to Anshun is the Anshun Huangguoshu Airport, which is roughly 8km away from the city center. There are a direct flights operated by some domestic airlines from major airports such as Beijing, Guangzhou, and Shanghai, to name a few.
By train
Alternatively, you can take a train to Anshun Railway Station, which is well-connected to major cities across China. High-speed trains and regular trains both serve the station, so you can pick whichever train you're comfortable with.
By bus
There are also several long-distance bus services that connect Anshun with other cities in Guizhou province, as well as some neighboring provinces. Some of the popular bus routes include Guiyang to Anshun, Kunming to Anshun, and Chongqing to Anshun.
There are several ways to get around the city.
The most common and convenient mode of transportation is by bus. Anshun has an extensive public bus network, and the fares are quite affordable.
Additionally, taxis are also readily available, but the fares tend to be slightly higher than the bus fares.
Another popular way to get around Anshun is by bicycle. Biking is a fun way to explore the city and take in the sights. Many of the streets in Anshun are bike-friendly, and there are several bike rental shops located throughout the city.
For those who prefer a more eco-friendly option, electric scooters are also available for rent. These scooters are easy to use, and they allow visitors to cover more ground in a short period.