Xingyi Travel Guide
Xingyi, a city in Guizhou Province, is renowned for its breathtaking Karst landscape and vibrant ethnic culture.
Visitors can relish the mesmerizing views of the Ten Thousand Peaks (Wanfenglin), a collection of Karst hills with unique shapes and hues.
The Maling River Canyon is another must-see attraction, featuring a deep gorge with awe-inspiring waterfalls and caves.
Travelers can also immerse themselves in the diverse and rich cultural tapestry of the local ethnic groups, including the Bouyei, Miao, Yi, and Hui.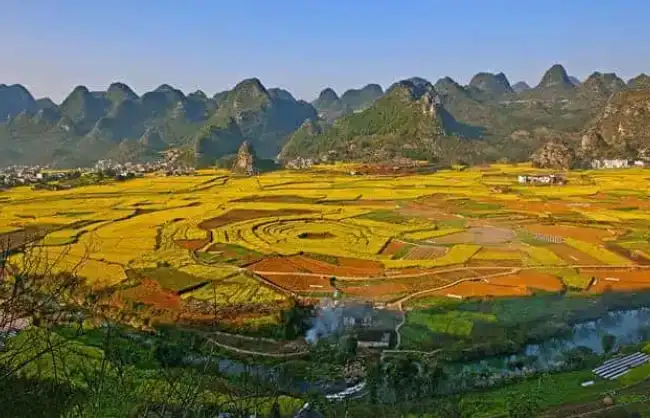 Chinese: 兴义 xīng yì
Location: Southwest Guizhou
Population (urban area): 1,005,000
This is title only editor
In an effort to contain the escalation of cases, many activities that may cause crowds to gather have been be canceled including events like large New Year celebrations, popular tourist attractions, movie releases and so on. We have received notice of the closure of tourist attractions in Beijing, Xi'an, Shanghai, Chengdu, Zhangjiajie, Huangshan, Guilin, etc. The reopening time of these attractions has not yet been decided. We do not recommend traveling to China before the end of February.
Our government has learned a lot from the SARS outbreak which we all remember. This time they have acted quickly and are co-operating with the WHO to keep the world informed about what is happening.
Yubulu Tiankeng Sceneic Area
Explore the Wanfenglin Scenic Area
The Wanfenglin Scenic Area is a natural wonderland with towering karst peaks, lush forests, and crystal-clear streams. Hiking to the top of the karst peaks is a must-do activity in Xingyi, offering breathtaking views of the surrounding landscape. Travelers can also take a boat ride on the streams to enjoy the serene beauty of the area.
Visit the Malinghe Gorge
The Malinghe Gorge is a picturesque canyon with turquoise waters, towering cliffs, and a thrilling glass walkway. Walking on the glass walkway is a unique experience, providing a bird's eye view of the stunning scenery. Travelers can also hike to the waterfalls and caves in the gorge, which are equally impressive.
Experience Local Culture
Xingyi is home to several ethnic minority groups, including the Miao, Bouyei, Yi, and Hui. Visitors can explore their unique cultures by visiting their villages, attending traditional festivals, and tasting their cuisine. The local cuisine of Xingyi is known for its spiciness and use of local ingredients such as bamboo shoots and wild mushrooms.
Discover Xingyi Museum
The Xingyi Museum is a must-visit attraction for those interested in history and culture. The museum showcases the rich history and cultural heritage of Xingyi, including the Miao and Bouyei ethnic groups. Visitors can learn about their customs, traditions, and unique way of life.
Enjoy Hot Springs
Xingyi is also known for its natural hot springs, which are believed to have therapeutic benefits. The Leigong Hot Springs is one of the most popular hot springs in Xingyi, offering a relaxing and rejuvenating experience. Travelers can soak in the hot springs while enjoying the scenic views of the surrounding landscape.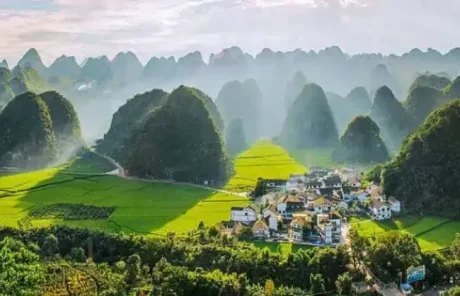 Xingyi Weather
Xingyi is best explored during two ideal seasons, which are from March to July and from August to November. During these periods, the weather is temperate and the natural beauty of the region is at its finest.
Xingyi experiences a subtropical mountain monsoon humid climate, which makes it mild and humid all year round. The summers are not too hot, and the winters are not too cold, with an average annual temperature of 16.2°C (61.2°F) and an average annual rainfall of 1,300 mm (51.2 inches).
Xingyi Transportation
Get to Xingyi
Traveling to Xingyi is easy with various transportation options available.
By air
If you prefer flying, you can take a flight to Xingyi Wanfenglin Airport (兴义万峰林机场), a small airport located approximately 7 km from Xingyi city center. The airport offers flights to major cities across China, including Beijing, Shanghai, Guangzhou, Shenzhen, Chengdu, Chongqing, Kunming, Guiyang, and more. Upon arrival, you can choose to take a shuttle bus or taxi to reach the city center.
By train
Alternatively, you can take a train to either Xingyi Railway Station (兴义站) or Xingyi South Railway Station (兴义南站), both of which are the primary railway stations in Xingyi. These stations connect Xingyi with many cities across China via high-speed trains or regular trains. For instance, you can board a bullet train from Guiyang (1 hour), Kunming (2 hours), Nanning (3 hours), Guangzhou (4 hours), Chengdu (4 hours), Chongqing (2 hours), and more. To get around upon arrival, you can opt for a taxi or bus from the railway stations, which are conveniently located near the city center.
By bus
Lastly, you can take a long-distance bus to either Xingyi Bus Station (兴义汽车站) or Xingyi South Bus Station (兴义南汽车站), the primary bus stations in Xingyi. These stations offer buses to various cities and counties in Guizhou Province and neighboring provinces such as Guangxi, Yunnan, Sichuan, and more. From the bus stations, you can choose to take a taxi or bus to reach your destination, as they are located near the city center.
Taxi
If you're in a hurry, taxis are a quicker and more efficient mode of transportation than city buses. With a flag fall of CNY 8 and an additional charge of CNY 2 per kilometer, taxis are reasonably priced. You can pay for your ride using cash or a transportation card.
Bus
Xingyi's bus system covers most of the primary areas of the city, making it an affordable option for getting around. The bus fare ranges from CNY 1 to CNY 2, depending on the type of bus. You can pay for your bus ride using cash or a transportation card.
Rent an electric scooter or bike
For a more adventurous way of exploring Xingyi, consider renting an electric scooter or bike for a day or longer. This option allows you to enjoy the stunning views of Ten Thousand Peaks (Wanfenglin), clusters of Karst hills in various shapes and colors. You can also visit ethnic villages and immerse yourself in their culture and customs. Electric scooter and bike rental locations can be found throughout the city.