Libo Travel Guide
Libo City is a county-level city located in the Qiannan Buyei and Miao Autonomous Prefecture in the southern part of Guizhou Province, China. It covers an area of approximately 2,597 square kilometers and has a population of around 480,000 as of 2020.
The city is famous for its natural landscape and tourist attractions such as the Libo Zhangjiang Scenic Area, which covers an area of 299 square kilometers and includes a karst forest, waterfalls, caves, and underground rivers. The scenic area is a UNESCO World Heritage Site and attracts visitors from all over the world.
Other notable attractions in Libo City include the Maolan National Nature Reserve, the Jinjiang River Scenic Area, and the Libo Ancient Town.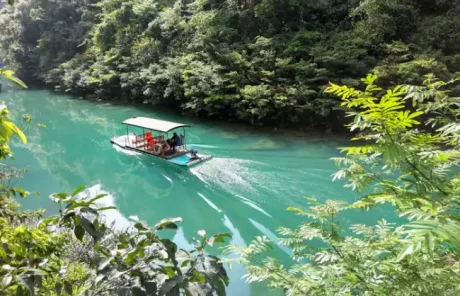 Chinese: 荔波 lì bō
Location: Southern Guizhou
Population (urban area): 186,039
Why Visit Libo?
Explore the UNESCO-listed Libo Karst Forest Reserve, which is home to breathtaking waterfalls, crystal-clear rivers, and towering karst formations.
Immerse yourself in the vibrant local culture and experience the colorful traditions of the Miao, Buyi, and Yao ethnic groups.
Discover the ancient history of the region by visiting the centuries-old stone bridges, pagodas, and temples.
Indulge in the mouth-watering local cuisine, which features a variety of unique flavors and ingredients.
Escape the hustle and bustle of the city and enjoy the peaceful and tranquil surroundings of this hidden gem.
Top Things to Do in Libo
Visit Libo Zhangjiang Scenic Area:
This national 5A-level scenic spot features stunning karst landforms, including waterfalls, lakes, and forests. You can hike through the area to enjoy the natural scenery or take a boat ride along the river.
Explore Maolan National Nature Reserve:
This nature reserve is home to a variety of plant and animal species, including the endangered South China tiger. You can hike through the reserve's forests and mountains, visit caves, and see the Maolan Karst Forest, which is a UNESCO World Heritage Site.
See the Jinjiang River Scenic Area:
This scenic area is known for its crystal-clear water and beautiful scenery. You can take a boat ride along the river to enjoy the views or hike along the riverbank to explore the area.
Try local cuisine:
Libo City is known for its delicious local cuisine, which includes dishes made with local ingredients like bamboo shoots, mushrooms, and river fish. Be sure to try some local specialties while you're in the area!
Libo Weather
Libo City has a subtropical humid monsoon climate, with mild temperatures and abundant rainfall throughout the year. The annual average temperature is around 16-18°C (61-64°F), with the hottest months being July and August, when temperatures can reach up to 30°C (86°F). The rainy season in Libo City is from May to October, with the heaviest rainfall occurring from June to August.
The ideal time to visit Libo City is during the months of March to May and September to November, when the weather is comfortable, and the scenery is mesmerizing. These months offer a chance to appreciate the natural beauty of the waterfalls and forests in the Libo Zhangjiang Scenic Area without experiencing extreme temperature or heavy rainfall. The mild and pleasant weather during these months allows visitors to explore the city comfortably and enjoy outdoor activities.
If you plan to visit Libo City during the summer months of June to August, be prepared for hot and humid weather and heavy rainfall. However, the rainy season can also be a good time to visit if you want to see the waterfalls at their fullest and most impressive. Just be sure to bring appropriate raingear and check weather forecasts before traveling.
Winter in Libo City can be quite cold, with temperatures sometimes dropping below freezing, but it can still be a good time to visit if you enjoy winter sports or want to experience the area's unique winter scenery.
Libo Transportation
Get to Libo
You can reach Libo by air, with flights available from major Chinese cities to Libo Airport, located 7 km from the city center. From there, you can take a shuttle bus or taxi to reach the city or scenic areas.
Trains are also available to reach Libo via Mawei Railway Station or Sandu Railway Station, connecting the city with several Chinese cities through high-speed and normal trains. The railway stations are approximately 50-60 km away from Libo city center, and you can take a bus or taxi to reach the city.
Another option is to take a long-distance bus to Libo Bus Station, the main bus station in the city, offering buses to many cities and counties in Guizhou Province and neighboring provinces such as Guangxi, Yunnan, and Sichuan. The bus station is located near the city center, and you can take a bus or taxi to get around.
By taxi: Taxis are available in Libo City and can be hailed on the street or booked through a ride-hailing app. Taxis are convenient for short trips around the city.
By bus: Libo City has a public bus system that connects the city center with surrounding areas and tourist attractions. Bus schedules and routes can be found at the bus stations or tourist information centers.
By bike: Biking is a popular way to get around Libo City, especially for short trips or sightseeing. Bikes can be rented from bike rental shops or some hotels.
By car: Renting a car or hiring a private driver is a good option if you want to explore the surrounding areas or visit attractions outside of the city center. However, driving in China can be challenging for foreigners due to language barriers and local traffic rules.
On foot: Walking is a good way to explore the city center and nearby attractions, especially if you want to take your time and enjoy the scenery.