Malinghe Canyon is located in the northeast of Xingyi City, Qianxinan Bouyei, and Miao Autonomous Prefecture, Guizhou Province, about 4 kilometers (2.5 miles) away from the downtown. It's a national scenic spot with steep cliffs, clear and rapid river water, diverse karst caves, lush bamboos, and various rare plants. Malinghe Canyon is 74.8 kilometers (46.5 miles) long in total, with a width of 50-150 meters (54.7-164 yards), and the deepest depth of 280 meters (918.6 feet). In a scenic area, you won't the whole canyon but the most beautiful parts; rafting on the river is also popular and attracts a large number of tourists at home and abroad.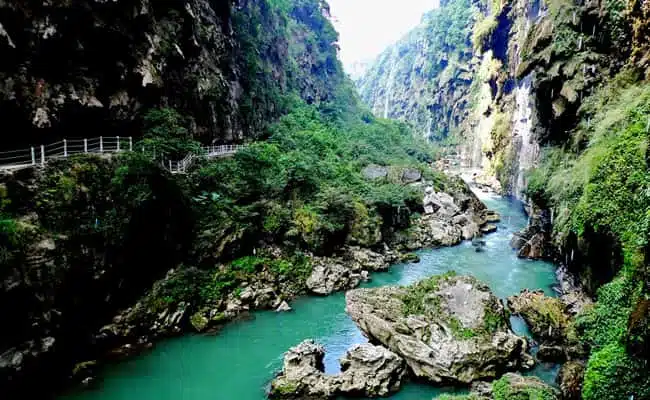 Fast Facts about Malinghe Canyon
Location: northeast of Xingyi City, Qianxinan Bouyei and Miao Autonomous Prefecture, Guizhou Province
What to see: steep cliffs, karst caves, rivers, waterfalls, bamboos, rare plants
Top things to do: river rafting, kayaking
Recommended for: people who love outdoor activities, nature sightseeing, hiking, etc.
The Most Beautiful Scar on Earth
Malinghe Canyon is a rift valley combined with the down-cutting of the turbulent river. Looking down to the canyon, it is like a seam on the ground; and looking up at the bottom of the canyon, you can see the thin strip of sky. Malinghe Canyon is regarded as "the most beautiful scar on the earth", boasting majestic and steep landscapes along the Malinghe River. It is also known as "one of the top rifts in the world" and "the best rafting place in China".
Top Things to Do in Malinghe Grand Canyon
Marvelous Calcareous Rock Cliffs
The calcareous rock cliffs are the main feature of Malinghe Canyon, which is a non-renewable and precious natural heritage. The Malinghe river water contains a lot of calcium carbonate; when the flowing waterfalls into the canyon, it releases carbon dioxide quickly to make the calcium carbonate attached to the cliffs. As time goes by, the calcium carbonate material on the cliffs gets thicker and thicker, so the huge travertine in various shapes is formed. You would see the natural wonders as well as the majestic stalactites in the Malinghe Canyon in person.
Stunning Tianxing Gallery
Tianxing Gallery is the core part and must-see of Malinghe Canyon, with the most famous large-scale waterfalls and calcareous rocks hanging on the cliffs. There are over 20 waterfalls within 1.7 kilometers (about 1 mile) Tianxing Gallery, such as Horses Roaring Waterfall, Pearl Waterfall, etc. These are so magnificent that you may marvel at the uncanny workmanship of nature.
Splendid Waterfall Cluster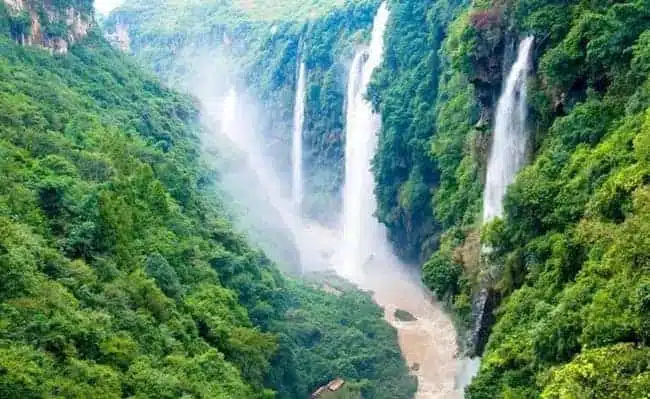 The waterfall cluster in Malinghe Canyon is the best-known scenery. As soon as you enter the scenic area, you can hear the roars of the rumbling waterfall from afar. You can see a number of waterfalls in various widths when walking on the plank path at bottom of Malinghe Canyon. In addition, there is also a group of waterfalls gather together. As they pour toward the Malinghe River at the same time, and huge water vapor column soars into the sky, which is particularly spectacular. In rainy season, the water volume would increase greatly, making the waterfalls more imposing.
Exciting Canyon Rafting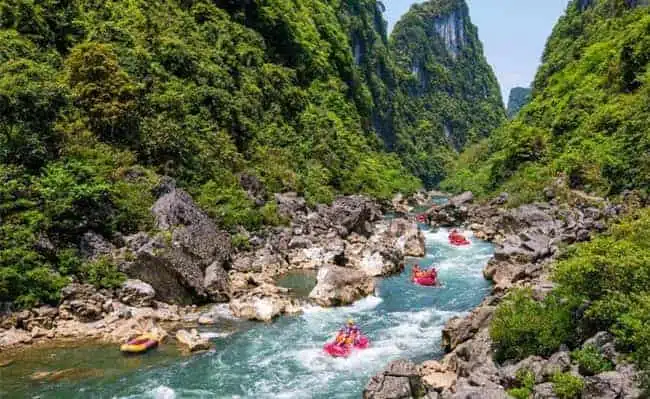 Malinghe Canyon is the only whitewater kayaking training base in Guizhou Province. In 1998, the first China International Kayak Rafting Competition was successfully held here. Every year, countless players come there for the thrills and coolness in summer. There are dozens of rapids, which make the rafting extremely breathtaking. Rafting down the Malinghe River on a rubber boat, you may also enjoy the peaks and cliffs on sides, ancient bridges, ancient temples and more in addition to the excitement. You needn't row the boat, as there is a professional operates the rudder for you. Whatever, take care of yourselves.
How to Get to Malinghe Canyon
You can take the city bus No.4 or Xingyi Tourist Bus Line 1 in Xingyi downtown, to reach Malinghe Canyon directly. RMB 2 per person for the city bus No.4; and at most RMB 5 for the Xingyi Tourist Bus Line 1.
Recommended Related Tours You May Like
More Information
Booking Method
Step 1: You can directly book online or please feel free to share your tour plans or thoughts at

[email protected]

, our travel consultant will contact you within 12 hours.
Step 2: A small amount deposit will be required to book a tour. After deposit received, a detailed service voucher will be sent to you to confirm the booking.
Step 3: Balance due will be required 7-15 days ahead of your travel date.
If you have any further question, please feel free to contact us!
Email: [email protected]
Cellphone number: +86 15129005119
WhatsApp / Wechat ID: 008615129005119
Facebook: @xianholidaystravelagency
Our Tour Guide
The core of our service is excellent travel guides. Over 20 years, we have built up a considerable professional guide team that is knowledgeable, attentive and flexible. The most experienced and reliable guides will be arranged for your unique China tour. Our passionate guide team is full of contagious enthusiasm and keen interest to share culture and history in a pleasant manner. We are always glad at your service to lead you to explore a real China and experience authentic local life in China.
Our Driver and Vehicle
The first mission of our service is to ensure you feel safe and comfortable during your travel. The vehicles we use are air-conditioned, clean and well-maintained. Our drivers are all licensed drivers with many years of driving experience. Moreover, we offer free baby seats for families with little kids.
Meals
Food is a very important part of Chinese culture. You won't want to miss the opportunity to taste the real local Chinese food!
Buffet breakfast will be included in the hotel if you would like accommodation to be arranged by us. Having lunch at local restaurants close and convenient to the attractions you will visit, you would enjoy the local dishes in each city. Chinese style, Vegetarian or Muslim meals are all available. If you have any other diet requirements or allergies, please feel free to let us know, we will try our best to organize it.
For daily dinner, you are suggested to have it on your own when you are exploring each city in your own time, this way would be more flexible for you to choose food as per your interest and preference.
Free Inquiry: