Wanfenglin, also known as the Forest of Ten Thousand Peaks, is a magnificent example of karst landforms located in the southwest region of China. It is acknowledged as the most representative and expansive karst peak forest in the country. This natural wonder is situated approximately 45 kilometers away from Xingyi City in Qianxinan, Guizhou Province. Wanfenglin comprises of two peak forests, East and West, but only the West Peak Forest is accessible to the public.
The West Peak Forest of Wanfenglin is renowned for its picturesque peaks surrounded by lush green fields, meandering rivers, and charming villages. The area is a visual treat with its stunning natural beauty and serene surroundings. Besides the breathtaking scenery, visitors can also explore several quaint Buoyei villages, including Erzhai, Leli, Shuangsheng, Yulong, and Nahui. These villages offer an opportunity to experience the unique customs and culture of the Buoyei people.
Fast Facts of Wanfenglin Scenic Area
Name: Wanfenglin (万峰林; means Forest of Ten Thousand Peaks literally)
Address: Qianxinan Buyei and Miao Autonomous Prefecture, south of Xingyi City, Guizhou
Opening Hours: 08:30 am – 17:30pm
What to do: see nearly 20 thousand green peaks, experience Bouyei & Miao ethnic culture, photography, hiking
Time Needed: about 3-4 hours
Wanfenglin, called Forest of Ten Thousand Peaks literally, is located in the southeast of Xingyi City, Guizhou Province. It is very magnificent with nearly 20 thousand peculiar peaks in the whole scenic area, as one of the three grandest karst parks in southwestern China, and one of the five most beautiful peak forests all over China. Being listed as a UNESCO World Heritage, it has been known as a museum of cone karst peaks. Apart from the incredible forest of peaks, Wanfenglin houses many unique plants, springs, Tiankeng – the natural sinkholes, and original Bouyei ethnic villages in the surroundings.
What to See and to Do in Wanfenglin Scenic Area
Wanfenglin is composed of Xifenglin and Dongfenglin. Currently, only the Xifenglin is open to the public for a tour.
Eight Trigrams Field
The distinctive Eight Trigrams Field is a landmark spot in Wanfenglin. The field is actually in a dish-shaped funnel terrain, with an underground river below. With the dissolution of surface water, the underground river caused a partial collapse of the ground. Then the local villagers plant grains and farm depending on the collapsed terrain in circles, making the field look like a colorful weaved eight trigrams image on the ground, so the field has been called an Eight Trigrams Field.
General Peak
General Peak is in front of the densest peak array in Wanfenglin. You will see the solitary karst peak in the "forest" soon after stepping into the scenic area. Resembling a human, it is just like a general standing alone in front of the army. On the left and right sides of the "general", there is a strange peak on each to guard and clear the way for him.
A Myriad of Stars Surround the Moon
There is a solitary peak embraced by mountains. Looking afar or overlooking, it is like a majestic bonsai, with exquisiteness and beauty. It has a special name called "A Myriad of Stars Surround the Moon", and the surrounding peaks are said to represent the directions of eight planets in the solar system. Does it sound interesting?
The Sea of Rape Flowers 
Imagine a picture of an endless rape flower field in a sunny spring, surrounded by green mountains and peaks. That's just what you could see in Wanfenglin. When the rape flowers are in full bloom in spring, you'll admire the sea of bright yellow rape fields, together with idyllic villages and karst peaks. You may feel like falling into a fairy tale in the endless field in spring.
Cycling Around the Forest of Peaks
In addition to taking the sightseeing vehicle to visit the vast area, freecycling is also a popular activity to stroll around the place, to see the pretty charming peaks, villages, and rice fields. In the scenic area, you can find many bicycles to rent here and there, taking about RMB 10-30 for day; and there are different bicycle types for one or more riders. You can go along the road with the Bouyei villages in the fields.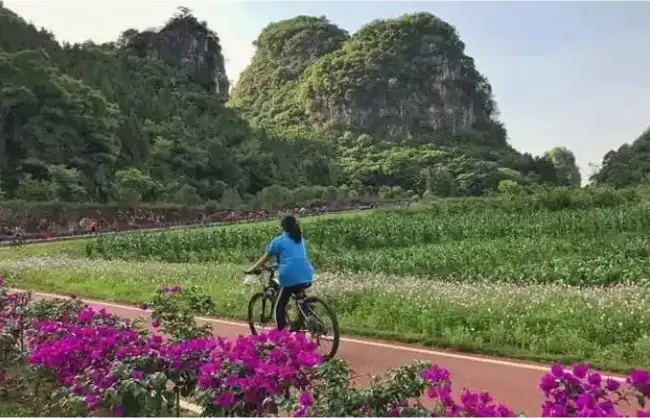 Enjoy Bouyei Culture and Local Food
Bouyei nationality is a large ethnic group in China, especially in the southwest. As some Bouyei villages scatter in Wanfenglin, you may learn about the ethnic culture and try their food while sightseeing. The Eight Bowls of Bouyei are the best eight dishes for Bouyei people to treat guests, which are stewed pig's trotters with milled beans, braised pork with tofu, stewed pig skin, crispy pork with vermicelli, stewed ribs with radishes, vegetarian pumpkin, braised tofu, and colored glutinous rice. Visiting Wanfenglin, you can taste these dishes in Bouyei style, which may be exotic and tempting.
Nuo Opera is the religious sacrificial ceremony of the Bouyei people. At first glance, you may feel it is horrifying. The villagers wear masks and pretend to be ghosts and gods, in order to worship the gods with sacrifices and pray for blessings. Meanwhile, it is to expel the plagues and something evil. Except for the Nuo Opera performance, you can also watch the traditional talking and sing with the singers sitting down and eight folk instruments.
Best Time to Visit Wanfenglin
Wanfenglin is suitable to travel in four seasons, and February to May is perhaps one of the most beautiful when the golden rape flowers are in full blossom, creating amazing scenery. June to August is also attractive when the rice gradually matures, some fields are lush green, and some are light yellow.
How to Get to Wanfenglin
From Xingyi downtown, the city bus No.19 and Tourist Bus Line 1 are available to take you to Wanfenglin. The price for the city bus No.19 is RMB 2; while the full price of the latter bus is RMB 10 between Malinghe Canyon and Wanfenglin.
You can also take a taxi to Wanfenglin, which is inexpensive and convenient, too.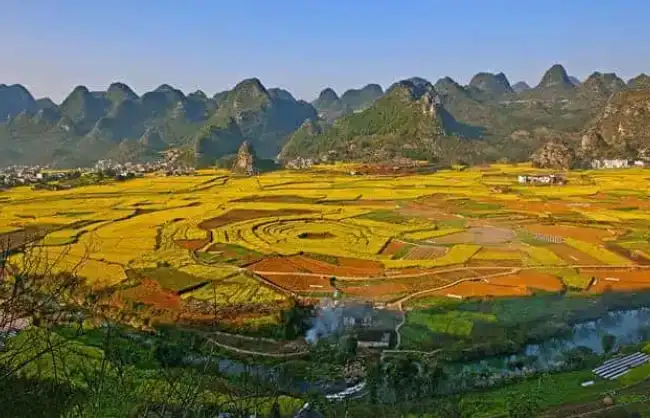 Tips for Visiting Wanfenglin
In the western part of Wanfenglin, there are two routes for tourists, a ring road around the peaks and a road through fields and villages. Only sightseeing vehicles are allowed to drive on the one-way ring road, as every vehicle is equipped with a tour guide in the about 2-hour journey. Bicycles or other vehicles from outside are allowed onto the two-way road through villages and fields.
Attractions Nearby Forest of Ten Thousand Peaks (Wanfenglin)
There are several attractions located near Wanfenglin that are worth visiting, including:
Maling River Canyon: A stunning canyon located in Xingyi City, Guizhou Province, known for its crystal-clear river and unique rock formations.
Libo Zhangjiang Scenic Area: A UNESCO World Heritage Site located in Libo County, Guizhou Province, known for its karst landscape and beautiful waterfalls.
Huangguoshu Waterfall: The largest waterfall in Asia located in Anshun City, Guizhou Province, known for its stunning natural beauty and scenic hiking trails.