Dunhuang night market, also known as Shazhou night market, located at Yangguan east road, is the largest local night market in Dunhuang. There is the gathering place of delicious delicacies and characteristic handicrafts of silk road, which is known as "night scene" and "classical painting" of Dunhuang because of its distinctive local characteristics and strong folk customs.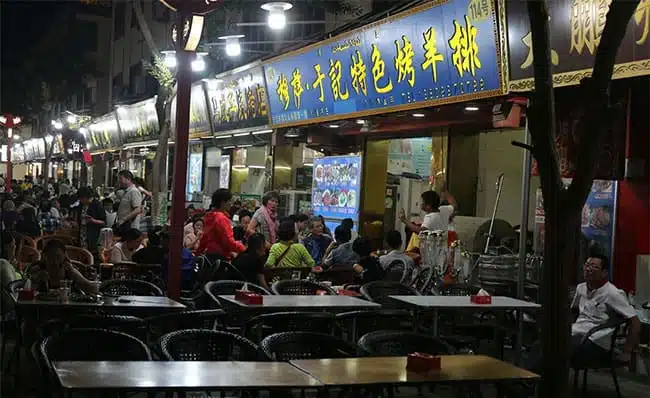 Basic Facts about the Dunhuang Night Market:
The main gate of Dunhuang night market is a building with the customs oftheHan and Tang dynasties. The vermeil gate is decorated with blue and green glazed tiles as well as red, blue and green paintings, which are gorgeous and exquisite. In the night market, the stalls for handicrafts and specialty products uses unified wooden cars of the Han and Tang dynasties. In the evening, the dazzling lights outline the elegant lines on the top of the wooden cars, forming a golden corridor, and the four corners of the wooden car hang antique
The night market is divided into five areas: local snacks, handicrafts, teahouse, agriculturalproducts and local specialty. People can not only taste the authentic northwest cuisine, but also buy distinctive crafts and relax in teahouses, cafes or bars. The night market is actually open during the day but it's more lively at night.
The Yellow noodle with donkey meat, Mutton Soup with bean noodles, Dunhuang Niang Pi Zi, Apricot Peel Waterareso popular that almost every restaurant sells them. They are cheap and  And the prices of handicrafts and souvenirs here are also much cheaper than that in the scenic area, and visitors could try to bargain with the seller.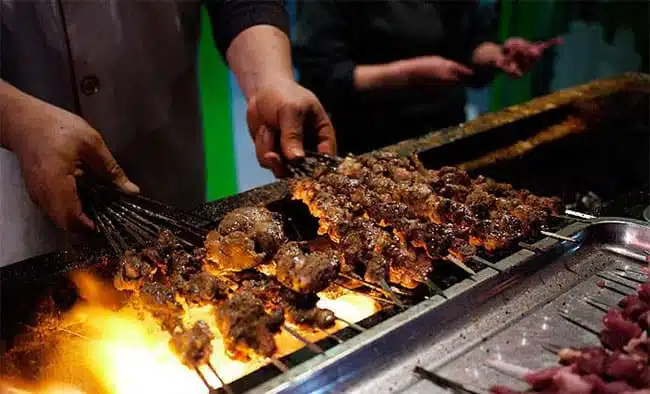 How to Buy Entrance Tickets:
Price of ticket: Free
Opening time:Whole day
When is the best time to visit?
People can visit Dunhuang night market at any time. it is a good place for visitors to relax especially after returning from scenic area around city. The night market is open during the day but it's more lively at night.
Tips: Visitors had better avoid the official holiday in China, because many Chinese citizens choose to travel on official holidays to ease the pressure of their work. As a result, many Chinese tourist attractions are overcrowded and traffic jams are common. Therefore, visiting China at this time will bring tourists a less pleasant travel experience.
Official Holidays in China
| | |
| --- | --- |
| Chinese New Year | Around January or February |
| Winter vacation | January-February |
| Labor Day | May1st -3rd |
| Summer vacation(for students) | July-August31st |
| Mid-Autumn Festival | Around mid-September |
| National Day | October 1st-7th |
How to get to the Dunhuang Night Market?
Bus
Visitors can take Bus No.1, 2, 3 or 4 to get to the night market.
Taxi
Taking a taxi atthe downtown to the night market costs about CNY 10.