Turpan Travel Guide
Turpan is a city located in the eastern part of the Xinjiang Uygur Autonomous Region in northwest China. It is situated in a depression 154 meters below sea level, making it one of the lowest places on Earth. The city has a unique geography, colorful culture, and rich history, making it a popular destination for travelers.
Turpan is known for its ancient Silk Road culture, with a history dating back over 2,000 years. The city boasts a range of attractions, including ancient ruins, historical sites, and stunning landscapes such as the Flaming Mountains and Grape Valley. Visitors to Turpan can immerse themselves in the local Uygur culture and traditions, taste delicious local cuisine, and experience the warmth and hospitality of the local people.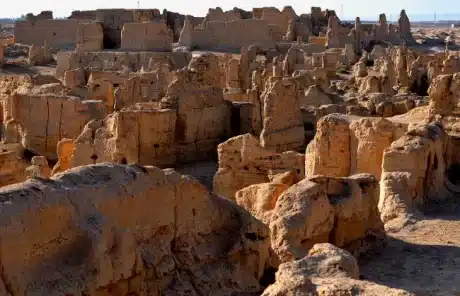 Chinese: 吐鲁番 tǔ lǔ fān
Location: Central Xinjiang
Population (urban area): 700,000
Why Visit Turpan?
Experience the historical Silk Road culture – Turpan is a city with a rich history dating back over 2,000 years, and it was an important stop on the ancient Silk Road trading route.
Explore the unique landscapes of Turpan, including the Flaming Mountains and Grape Valley.
Taste the delicious local food – Turpan is renowned for its flavorful cuisine, which blends Chinese and Uygur influences to create a unique culinary experience.
Discover the ancient ruins and historical sites – Turpan is home to a number of well-preserved historical sites, including ancient cities, temples, and fortifications, that offer a fascinating glimpse into the region's rich past.
Learn about the local Uygur culture and traditions – Turpan is home to a large population of Uygur people, an ethnic minority with a distinct culture, language, and way of life, making it an ideal destination for cultural immersion and exploration.
Top Things to Do in Turpan
Visit the Emin Minaret – The tallest minaret in China, the Emin Minaret is a stunning example of traditional Uygur architecture.
Explore the local bazaars and markets, such as the Turpan Grand Bazaar – These vibrant markets offer a chance to shop for local handicrafts, spices, and other goods.
Try the local Uygur cuisine, including lamb kebabs, hand-pulled noodles, and sweet grapes
Take a dip in the local hot springs, such as the Grape Valley Hot Springs – These natural hot springs are said to have therapeutic properties and offer a relaxing way to unwind after a day of sightseeing.
Attend a traditional Uygur music and dance performance – Turpan is home to a vibrant cultural scene, and attending a local performance is a great way to experience the region's unique music and dance traditions.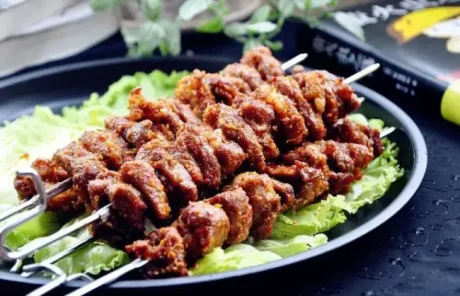 Turpan Weather
Turpan is located in a desert region of China, and as such, it has a dry and arid climate. The city is known for its extreme temperatures, with hot summers and cold winters.
The best time to visit Turpan is from April to October when the weather is warm and dry. During these months, temperatures can reach as high as 40°C, making it important to stay hydrated and wear appropriate clothing. However, the city is largely a desert, so it can get quite chilly at night.
In the winter months of December to February, temperatures can drop below freezing, especially at night. It is not recommended to visit Turpan during the winter months, as many tourist attractions close and the weather can be harsh and unpleasant.
In the spring months of March and April, Turpan experiences occasional sandstorms, while in the summer months of June to August, the city can experience occasional thunderstorms. The fall months of September and October have cool and pleasant weather, making it an ideal time to visit.
Turpan Transportation
Turpan is accessible by air, train, bus, taxi, and bike.
By air
Situated approximately 15 kilometers away from the city center, the Turpan Jiaohe Airport provides air connections to various major domestic cities such as Shanghai, Guangzhou, Shenzhen, Xi'an, Chengdu, and other cities in Xinjiang.
By train
Turpan has two railway stations: Turpan Railway Station and Turpan North Railway Station, with normal-speed trains to Urumqi, other places in Xinjiang, and some cities in western China.
By bus
Turpan also has two bus stations: Turpan Bus Station and Daheyan Bus Station, offering convenient buses to other cities in Xinjiang.
By taxi
Taxis are available and have a flag-down rate of CNY 5 for the first 3 kilometers and CNY 1 for each additional kilometer, with a 50% increase in fare at night.
By bike
Bike rentals are also available from some hostels or hotels for about CNY 10-20 per day, making it a good option for exploring Turpan's attractions, such as the Karez System, Jiaohe Ancient City, Bezeklik Thousand Buddha Caves, and Tuyuk Valley.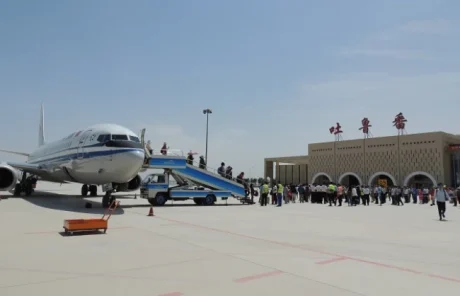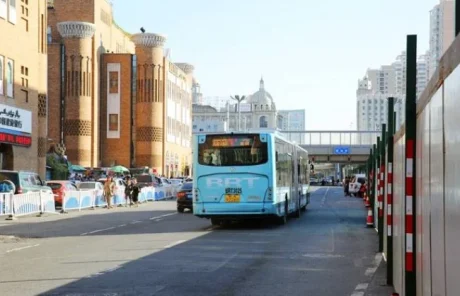 Tips for Traveling in Turpan
Dress appropriately, especially when visiting religious sites or interacting with locals.
Stay hydrated and wear sunscreen, especially during the summer months.
Be respectful of local customs and traditions.
Bargain when shopping in local markets and bazaars.
Be cautious when trying new foods.