Li River scenic site of Guilin, a world natural heritage site, is the largest and most beautiful karst landscape tourism spot in the world. Li river, also called Guishui, Guijiang or Dongjiang in history, flows through, and it is well-known for breeding the unique and charming natural landscape of Guilin.
Nowadays, Li river attracts a great number of tourists all over the world each year. There are many scenic spots in the Li river scenic area, if you don't have much time spent on Li river, it is wise for you just visit the main scenic spots such as the one river (Li river), two caves (Reed Flute Cave and Seven-Star Park) and three mountains (Solitary Beauty Peak, Fubo Hill and Piled Silk Hill ) which are the most representative scenic spots that are worthy of being visited.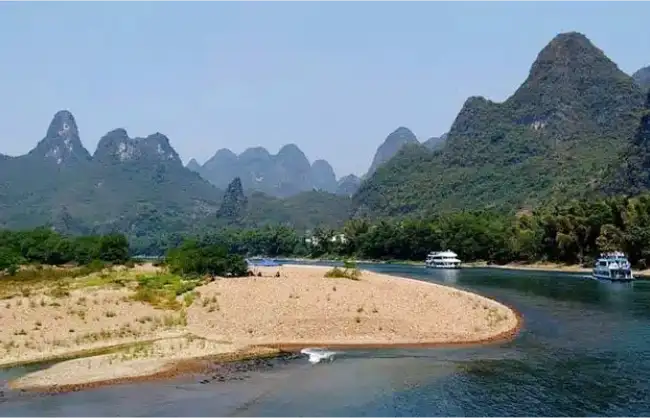 Basic Facts about the Li River:
Li river is the upper reaches of the Pearl river. Originating from the junction of Xingan and Ziyuan county at the south side of Yuecheng ling where the sea level is above 1,732 meters, the climate here is the subtropical monsoon climate with the rich and colorful natural landscape along the river.
With the strange stones and peaks standing along the river, Li river is like a green silk belt coiling among them and makes the scenery more charming, which just like a vivid Chinese ink and wash paintings. From the point of view of aesthetic, the characteristics of Li river can be summed up as four words in Chinese: qing, qi, qiao and bian. "Qing" means river here is clear and placid, and "Qi" in Chinese means strange, which refers to the various shapes of mountains and stones here. In addition, "Qiao" means wonderful, which refers to the charming and splendid natural scenery here. "Bian' refers to the changeable scenery depending on different time of one day or even different place.
Taking a boat tour on Li river, you can not only admire the clear and strange clear water, reflections of the mountains, and breath-taking natural scenery, but also enjoy the singing of shepherd boy and the rural lifestyle of fisherman. So visitors can choose to take a Li river cruise from Guilin to Yangshuo, which is 83 kilometers long and takes about 4 or 5 hours. The most beautiful section of the Li river is about 40 kilometers from the wharf to Xingping. Through the boat tour, visitors can see many noted scenic spots in different sections such as the Nine-Horse Fresco Hill, Yellow Cloth Shoal, Apple Hill, "carp hanging the wall" and so on.
How to Buy Cruise Tickets:
The cruise tour stars from Guilin to Yangshuo, which takes about 4 or 5 hours with the total length of 83 kilometers. During the tour,there are many renowned scenic spots such as Elephant Trunk Hill, Chuanshan Park, Daxu Ancient Town, Crown Cave (Guanyan), Half-Side Ferry (Ban Bian Du), Yellow Cloth Shoal, the scenery on the 20 yuan RMBand so on. At present, there are two kinds of boat to provide cruise services for visitors: one is three-star boats, and the other is four-star boats.
| | |
| --- | --- |
| Three-star Boat | CNY 245 |
| Four-star Boat | CNY 360 |
Notes: Three-star cruise ship is the most common and cost-effective choice for tourists. Compared with the three-star cruise ship, the four-star cruise ship is more private and comfortable with the buffet lunch on it, which will offer a better travel experience for tourists. Visitors can choose what to take based on budget and preferences.
Bamboo Raft is available from Yangdi wharf to Xingping wharf, which takes about 1.5 or 2 hours.
| | |
| --- | --- |
| Tickets of bamboo raft | CNY 160 (Xingping-Jiuma-Xingping, including the fare from Yangdi to Xingping ) |
| Tickets of bamboo raft | CNY 95 (Yangdi-Jiuma) |
Notes: A bamboo raft is available for 4 people, and visitors need to wear life vest during the journey.
When is the best time to visit?
Li river is suitable for sightseeing all year round, but the best time to visit is April to October. During these months, the natural scenery is charming and beautiful and the weather is pleasant.
Tips: Visitors had better avoid the official holiday in China, because many Chinese citizens choose to travel on official holidays to ease the pressure of their work. As a result, many Chinese tourist attractions are overcrowded and traffic jams are common. Therefore, visiting China at this time will bring tourists a less pleasant travel experience.
Official Holidays in China
| | |
| --- | --- |
| Chinese New Year | Around January or February |
| Winter vacation | January-February |
| Labor Day | May1st -3rd |
| Summer vacation(for students) | July-August31st |
| Mid-Autumn Festival | Around mid-September |
| National Day | October 1st-7th |
How to get to the Li River?
Visitors can take Bus No.9 and get off at Qifeng Road Station, and then take a taxi to Li river scenic site.