Yangshuo county, located in the northeast of Guangxi Zhuang Autonomous Region, is 65 kilometers away from the downtown of Guilin, covering a total area of 1,428 square kilometers. The county has a total population about 310,000, including 11 ethnic groups such as Han, Zhuang, Yao, Hui, etc. There exists not only beautiful natural scenery, but also traditional historical culture and minority culture. The most famous attraction of Yangshuo is the West Street which is the oldest street in the center of the county. As a commercial pedestrian street, it attracts many tourists all over the world each year.
Basic Facts about the Yangshuo:
The west street, in s-shaped, is paved with the marble with nearly 800 meters long. The buildings along the street have a great historyand full of local characteristics.Many of them were built in the Ming and Qing dynasty, which show the simple and elegant architectural features of Southern China. In addition, as the spread of Christianity to Yangzhou in 1917, the west street has long history about the fusion of Chinese and Western cultures. Nowadays, as the prosperous commercial pedestrian, there exist a great number of various kinds of bars and restaurants on the west street. If you have a chance to the west street, try to have a taste of the local specialty– beer fish.
There are many beautiful sceneries in Yangshuo. One instance isthe Moon Hill that is a big hole running through the hilltop, which looks like a bright moon on the sky, so it is named as the Moon Hill. At the Xanadu scenic spot, tourists can appreciate the beautiful scenery, breathe the fresh air and feel the charm of nature. What's more, Yangdi, located in the north of Yangzhou county, is the typical area of karst landform. It stars from the Guanyan village in the north and connects tothe Xingping, which is about 18 kilometers long and is the best section of Li river. Visitors here can take a bamboo raft to tour Li river, and you will see many noted scenery such as "a boy worships the Buddha", "painting brush peak", "wave-stone view", "five fingers hill", In addition, Totem Old Road have many stone tools, pottery, natural totem pole and old crossbow and some primitive life scenes which reproduce the life, religion, historical style and features of hunting culture 12,000–7,000 years ago.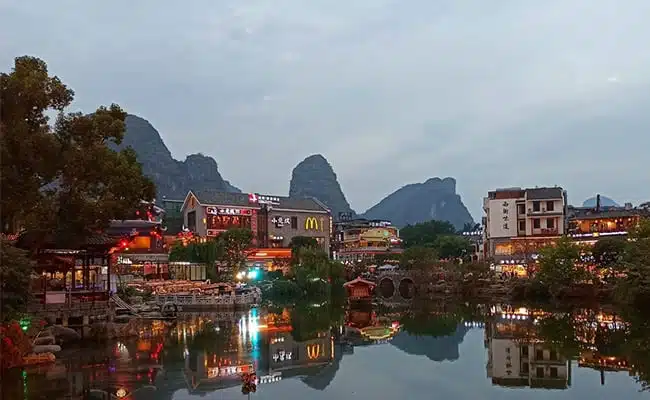 How to Buy Entrance Tickets:
Scenic Spot
Admission Fee
West Street
Free
Xanadu
CNY 60
Totem Old Road
CNY 35
Moon Hill
CNY 11 (only for entrance ticket)
CNY 99 (Entrance ticket + landscape subject-live performance)
| | |
| --- | --- |
| Scenic Spot | Opening Time |
| West Street | All day |
| Xanadu | 08:00-17:30 in Spring and Summer; 08:30-16:30 in Autumn and Winter |
| Totem Old Road | 08:00-17:30 |
| Moon Hill | 08:00-17:30 |
When is the best time to visit?
Yangshuo is suitable for sightseeing all year round, but the best time to visit is April to October. During these months, the natural scenery is charming and beautiful and the weather is pleasant, which may leave a deep and great impression on visitors.
Tips: Visitors had better avoid the official holiday in China, because many Chinese citizens choose to travel on official holidays to ease the pressure of their work. As a result, many Chinese tourist attractions are overcrowded and traffic jams are common. Therefore, visiting China at this time will bring tourists a less pleasant travel experience.
Official Holidays in China
| | |
| --- | --- |
| Chinese New Year | Around January or February |
| Winter vacation | January-February |
| Labor Day | May1st -3rd |
| Summer vacation(for students) | July-August31st |
| Mid-Autumn Festival | Around mid-September |
| National Day | October 1st-7th |
How to get to the Yangshuo?
Cruise
It is universal for tourists to take a cruise from Guilin to Yangshuo. During the cruise, visitors can appreciate the charming and renowned natural scenery as well as the rural lifestyle.
Bus
There are some buses bound to Yangshuo in Guangzhou Bus Station.
High-speed rail, Train or Airplane
There is no airport in Yangshuo, but there is high-speed rail connecting Guilin, Guangzhou and Shenzhen. So visitors can get to Guilin first, and take other public transportation such as high-speed rail, train or bus to get to Yangshuo. Or get to Guangzhou or Shenzhen at first, and then go to Yangshuo by taking high-speed rail.