Located on the east bank of the Li river in the center of Guilin, the seven-star park covering an area of 137.4 hectares. It is named after the seven mountain peaks which look like the big dipper hanging in the sky. It is the largest comprehensive park and landmark cultural landscape of Guilin and a famous scenic spot recommended by the world tourism organization.
Basic Facts about the Seven-Star Park:
The seven-star park is regarded as the epitome of landscape culture of Guilin, which contains the characteristics of green hills, clear water, strange caves and fantastic rocks. It gathersthe profound history and culture to showthe perfect integration of nature and humanity. the Seven Star Cave, an outstanding representative of karst landscape in the world, honored as the "palace of nature's art", gives us unlimited enjoyment of imagination and beauty.
There existsthe oldest multi-arch stone bridge with thin piers, which is called "flower bridge" and known as the "miracle of Chinese bridge architecture". The reflection of the bridge is one of the eight sights of Guilin. And the "first cave", called "Xixia zhenjing" in ancient time, is also one of the eight sights of Gulin. The cave has the largest stalactite lion in China, the magic dragon palace, the epitome of the Great Wall, elephant trunk hill and natural stalactite fresco.
Qixia Temple, the largest temple in the architectural style of Tang dynasty in China, has the highest statue of Goddess Guanyin made by white marble and the largest wood fresco of boxwood. The Guihai forest of steles is a famous area of stone tablet wonder. Camel Hill, formerly known as the Jiuhu Hill, looks like a dromedary, so it is named as the "Camel Hill". It is the top1 of eight sights of Guilin, and in 1997, Mr. Clinton, the President of the United States at that time, came and made a famous environmental speech at the foot of the mountain. There also existthe longest natural colored granite fresco and the only natural rock climbing field in Guilin.
Guilin zoo, located inside the seven star park, is the only professional zoo in Guilin. It was founded in 1959 and covers an area of 2.3 hectares. Nowadays, it houses more than 300 animals of 50 species. If you want to go to the zoo, it is necessary for you to buy anentrance ticket of the seven star park at first, and then buy the ticket of the zoo.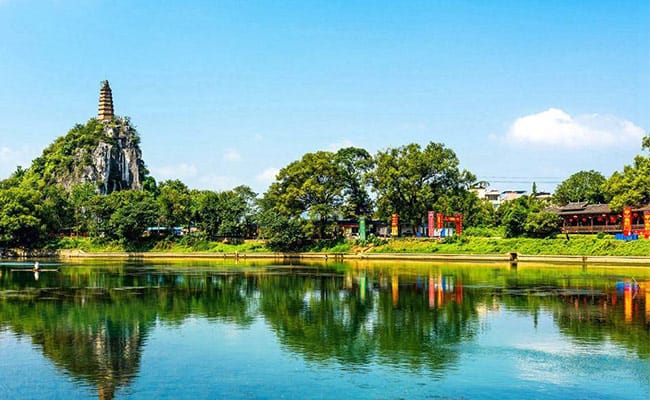 How to Buy Entrance Tickets:
| | |
| --- | --- |
| Admission Fee (only for entrance) | CNY 55 |
| Admission Fee (entrance ticket+battery car) | CNY 70 |
| Admission Fee (entrance ticket+seven star cave) | CNY 100 |
| Admission Fee (seven star park + Guilin Zoo) | CNY 105 |
Opening time: Seven-Star Park: 8:00-18:00
Seven Star Cave: 9:00-17:00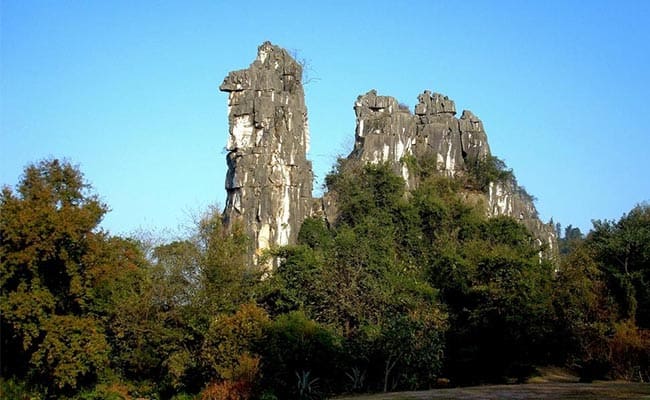 When is the best time to visit?
As the largest comprehensive park in Guilin, Seven Star park is suitable for sightseeing and leisure all year round, but the best time to visit is April to October. During these months, the natural scenery is charming and the weather is pleasant, which is good for people to do some outdoor activities.
Tips: Visitors had better avoid the official holiday in China, because many Chinese citizens choose to travel on official holidays to ease the pressure of their work. As a result, many Chinese tourist attractions are overcrowded and traffic jams are common. Therefore, visiting China at this time will bring tourists a less pleasant travel experience.
Official Holidays in China
| | |
| --- | --- |
| Chinese New Year | Around January or February |
| Winter vacation | January-February |
| Labor Day | May1st -3rd |
| Summer vacation(for students) | July-August31st |
| Mid-Autumn Festival | Around mid-September |
| National Day | October 1st-7th |
How to get to the Seven-Star Park?
Bus
Visitors can take Bus No.10, 11, 14, 18, 21, 24, 25, 28, 30, 97 or 204, then get off at Seven Stars Park Station.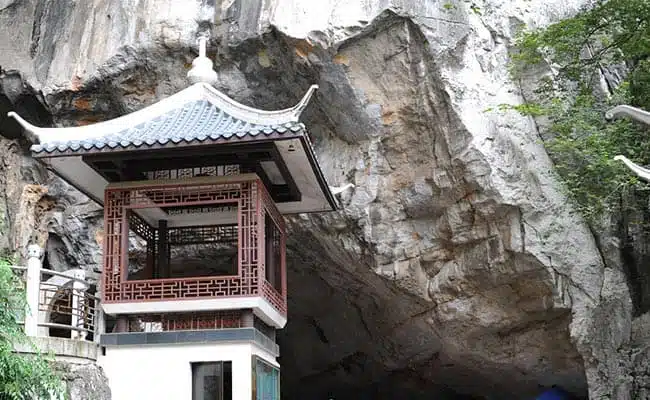 More Information
Booking Method
Step 1: You can directly book online or please feel free to share your tour plans or thoughts at

[email protected]

, our travel consultant will contact you within 12 hours.
Step 2: A small amount deposit will be required to book a tour. After deposit received, a detailed service voucher will be sent to you to confirm the booking.
Step 3: Balance due will be required 7-15 days ahead of your travel date.
If you have any further question, please feel free to contact us!
Email: [email protected]
Cellphone number: +86 15129005119
WhatsApp / Wechat ID: 008615129005119
Facebook: @xianholidaystravelagency
Our Tour Guide
The core of our service is excellent travel guides. Over 20 years, we have built up a considerable professional guide team that is knowledgeable, attentive and flexible. The most experienced and reliable guides will be arranged for your unique China tour. Our passionate guide team is full of contagious enthusiasm and keen interest to share culture and history in a pleasant manner. We are always glad at your service to lead you to explore a real China and experience authentic local life in China.
Our Driver and Vehicle
The first mission of our service is to ensure you feel safe and comfortable during your travel. The vehicles we use are air-conditioned, clean and well-maintained. Our drivers are all licensed drivers with many years of driving experience. Moreover, we offer free baby seats for families with little kids.
Meals
Food is a very important part of Chinese culture. You won't want to miss the opportunity to taste the real local Chinese food!
Buffet breakfast will be included in the hotel if you would like accommodation to be arranged by us. Having lunch at local restaurants close and convenient to the attractions you will visit, you would enjoy the local dishes in each city. Chinese style, Vegetarian or Muslim meals are all available. If you have any other diet requirements or allergies, please feel free to let us know, we will try our best to organize it.
For daily dinner, you are suggested to have it on your own when you are exploring each city in your own time, this way would be more flexible for you to choose food as per your interest and preference.
Free Inquiry: