Day 1
Guangzhou Best Day Tour and Departure to Guilin (L)
You will cover Guangzhou highlight attractions on the first day to appreciate the history and culture of the city and take bullet train to Guilin in the evening.
Meet your guide and driver at 8:00 am in your hotel lobby and start today's tour with Chen Clan Academy, the largest traditional Lingnan-style ancestral temple architecture in Guangdong Province. It was built in 1894 by Chen clans as temporary accommodation for their children attending imperial examination. The complex consists of 19 buildings with nine halls and six courtyards and combines different decoration techniques such as wood carving, stone carving, brick carving, pottery sculpture and wall painting. You will follow your guide to stroll around the courtyards and marvel at the artistic creations of local people. Next, you will visit Museum of the Mausoleum of the Nanyue King, which centers on the tomb of second Nanyue King Zhao Mo. The tomb was discovered in 1983 and more than 10,000 pieces of relics were unearthed, from which you will get to know politics, economy and culture of Lingnan region 2,000 years ago.
After being refreshed with a lunch, you will move on to Yuexiu Park, the biggest comprehensive park in Guangzhou. The park boasts of gorgeous natural scenery and houses plenty of historical remains including Ancient City Wall, Zhenhai Tower, and Sun Yat-sen Memorial Hall. The last site of the day is Shamian Island. Before the founding of new China, Shamian was concession of France and the United Kingdom. Due to its special history, there are about 150 European style buildings, forming an unique open-air building museum. Life pace on this tranquil island is different from other places in Guangzhou. You will find the roads there lined with cafes, restaurants and bars and can leisurely sit in the small chairs on the sidewalk.
At the end of the tour, the guide and driver will directly transfer you to the train station for the train to Guilin (D2980/19:25-21:56 or similar one, 2nd class seat). Upon your arrival in Guilin, our driver will greet you at the exit of the station by holding a sign with your name and transfer you to the hotel to have a good rest.
Accommodation: Guilin 3* Hotel
Day 2
Guilin City Li River Cruise and Yangshuo Group Day Tour (B+L)
Today is about the cruise on the beautiful Li River and old Yangshuo West Street. It's an enjoyable journey for both your eyes and souls.
When the river flows through Guilin city, it not only cuts out the ordered and special riverway but also forms skin texture of this city, which endows Guilin with its unique characteristic: soft, clean, bright and active. Taking the cruise on the Li River, you will admire the picturesque scenery of this land with a harmonious combination of the green hills, rivers, lakes and fields. But its beauty is not like a still painting, it's alive when vivid – brisk bamboo rafts leaving wrinkles on the water and cormorants hovering under the working fishermen…
Our guide will uncover the hidden history and culture behind the natural screen before you during your cruise. You will learn from the local expert about how the city formed and developed and how local people manage their life along the famous Li River.
After 4.5-hour cruise, you will embark at Yangshuo. Follow our guide to visit the famous local West Street where you will find local crafts and snacks gathering. Listen to the guide's introduction to explore there better. Finally, you will be transferred back to your hotel.
Accommodation: Guilin 3* Hotel
Day 3
Longji Terrace & Zhuang Village Group Day Tour (B+L)
It would be hardly complete without a visit to the impressive Rice Terraces if you travel to Guilin. Rice Terraces is an incredible work with amazing combination of ancient Chinese wisdom and local geographic conditions. This group tour with lunch included will take you to explore the picturesque terraces you may have seen many times on books or magazines in the company of an excellent tour guide.
In the morning around 08:30, your guide and driver will meet you at your downtown hotel lobby by holding a board with your name. After about 2 hours' drive, you will arrive at Longji Terraces Scenic Area. You will first enjoy a Long Hair Show performed by Yao Minority women in Huangluo village which was awarded "World's Longest Hair Village" by Guinness World Records. The women here are famous for long and shiny hair, and you may not believe that they only cut their hair once upon turning 18. Then after lunch, you will move on to the highlight of the day, the Terraces. On the way, you will have another special experience as the coach winds its way on the hilly roads with the steering wheel well controlled in the hands of the experienced driver. You will marvel at the beautiful scenery alongside and meanwhile awe at the driver's skill. The Terraces has been managed by the local Zhuang Minority people for thousands of years, hence today's large-scale rice fields with the stilted buildings inset. You will be definitely stunned by the rolling terraces especially when you look down from the top. There are cable cars available on your own cost if the hiking is too much for you.
At about 16:30, you will be transferred back to the hotel after a joyous day at this fantastic place.
Accommodation: Guilin 3* Hotel
Day 4
One Day Guilin City Sightseeing Bus Tour (B+L)
Today you will enjoy Guilin downtown attractions including Elephant Trunk Hill, Fubo Hill, Reed Flute Cave, and Seven Star Park.
Meet the guide and driver in your hotel lobby at about 09:00 am and then your sightseeing tour will start! The first stop will be Elephant Trunk Hill. The hill, located at joint-point of Peach River and Li River, is the symbol of Guilin City. Afterwards, head to Fubo Hill which towers in the river. Climbing up to the hill top you will have a overlook of Guilin City. Then continue the tour to Reed Flute Cave, one of the most famous Karst Caves in China. The last stop will be Seven Star Park, the best park in Guilin City where you will appreciate a great work including hills, rivers, courtyards, architecture, and cultural relics. At about 17:00, you will be escorted back to the hotel.
Accommodation: Guilin 3* Hotel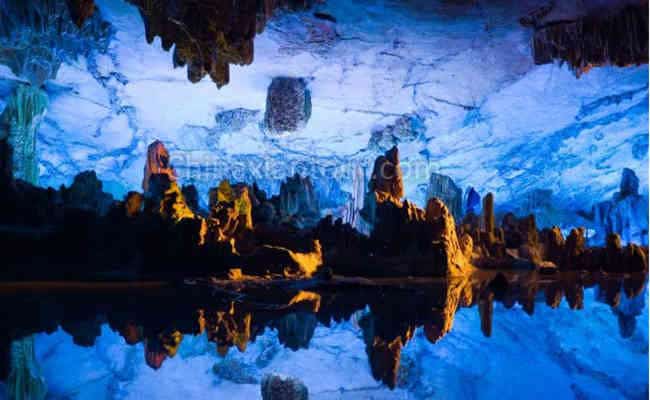 Day 5
Guilin Departure (B)
Our driver will pick you up from your hotel and transfer you to the airport or train station for your departure flight or bullet train.