Elephant Trunk Hill, formerly known as Li Hill, is located at the confluence of Taohua river and Li river in Guilin. It is named after its shape that looks like a giant elephant standing by the river and drinking water from the Li river. It is regarded as the symbol of Guilin's landscape and the city emblem of Guilin. Every year, many tourists from all over the world visit here and take pictures.
Basic Facts about the Elephant Trunk Hill:
Elephant trunk hill is well-known for its amazing shape that looks like a giant elephant. There is a water moon cave about 150 square meters between the trunk and leg of the elephant, which looks like a moon floating on the Li river. So, there is a wonderful view called "water moon of elephant hill". In addition, the "water moon of elephant hill" located on the west bank of Li river and the Chuanyue Cave on the east bank constitutea charming and fantastic scenery called "two moons of Li river".
Elephant trunk hill, 200 meters above sea-level and 55 meters above the surface of the river, it is a karst landform formed by pure limestone depositing on the seabed 360 million years ago. The main scenic spots of elephant trunk hill are Water Moon cave, Puxian pagoda, Hongfeng temple elephant eye rock, love islandand the exhibition hall of Taiping revolution situatedinside the temple.
There is a legend about the elephant trunk hill: long time ago, a little elephant came down to earth from the heavenly palace and was hurt badly. Luckily, the kind local people found him and saved his life. In order to thank the people who saved him, the elephant decided to stay here and tried his best to help them. Meanwhile,the Heavenly soldiers wanted to caught him back to the heavenly palace. However, the elephant had been accustomed tothe daily life here and was unwilling to go back. So, soldiers began to fight fiercely. During the break time of the fight, the elephant was killed by a sword stabbing into his back when he drank water from the Li river defenselessly. It is said that the today's Puxian temple is the sword which killed the elephant in the past, and the elephant became a beautiful hill standing along the river forever.
How to Buy Entrance Tickets:
Price of tickets: CNY55
Opening time:
| | |
| --- | --- |
| Peak Season (Apr.1st to Oct.31st ) | 06:30-18:30 |
| Low Season (Nov.1st to Mar.31st ) | 07:00-17:30 |
When is the best time to visit?
Generally speaking, the elephant trunk hill is suitable for sightseeing all year round, but the best time to visit is April to October, because the natural scenery is charming and beautiful and the weather is pleasant during these months. And the best time of a day to visit here is the early morning and night, because visitors can appreciate the scenery in the misty rain that is a representative scene of Li river, especially in Spring. When the night falls down, visitors can see the wonderful view called "water moon of the elephant trunk hill" under the moonlight.
Tips: Visitors had better avoid the official holiday in China, because many Chinese citizens choose to travel on official holidays to ease the pressure of their work. As a result, many Chinese tourist attractions are overcrowded and traffic jams are common. Therefore, visiting China at this time will bring tourists a less pleasant travel experience.
Official Holidays in China
| | |
| --- | --- |
| Chinese New Year | Around January or February |
| Winter vacation | January-February |
| Labor Day | May1st -3rd |
| Summer vacation(for students) | July-August31st |
| Mid-Autumn Festival | Around mid-September |
| National Day | October 1st-7th |
How to get to the Elephant Trunk Hill?
Bus
Visitors can take Bus No.16 or 23 and get off at Xiangshan Park (Elephant trunk hill)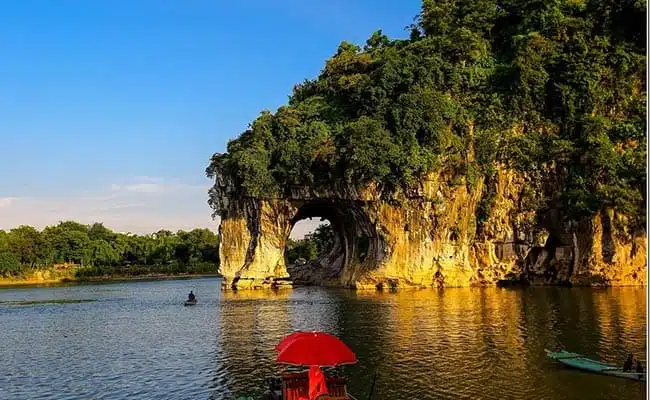 More Information
Booking Method
Step 1: You can directly book online or please feel free to share your tour plans or thoughts at

[email protected]

, our travel consultant will contact you within 12 hours.
Step 2: A small amount deposit will be required to book a tour. After deposit received, a detailed service voucher will be sent to you to confirm the booking.
Step 3: Balance due will be required 7-15 days ahead of your travel date.
If you have any further question, please feel free to contact us!
Email: [email protected]
Cellphone number: +86 15129005119
WhatsApp / Wechat ID: 008615129005119
Facebook: @xianholidaystravelagency
Our Tour Guide
The core of our service is excellent travel guides. Over 20 years, we have built up a considerable professional guide team that is knowledgeable, attentive and flexible. The most experienced and reliable guides will be arranged for your unique China tour. Our passionate guide team is full of contagious enthusiasm and keen interest to share culture and history in a pleasant manner. We are always glad at your service to lead you to explore a real China and experience authentic local life in China.
Our Driver and Vehicle
The first mission of our service is to ensure you feel safe and comfortable during your travel. The vehicles we use are air-conditioned, clean and well-maintained. Our drivers are all licensed drivers with many years of driving experience. Moreover, we offer free baby seats for families with little kids.
Meals
Food is a very important part of Chinese culture. You won't want to miss the opportunity to taste the real local Chinese food!
Buffet breakfast will be included in the hotel if you would like accommodation to be arranged by us. Having lunch at local restaurants close and convenient to the attractions you will visit, you would enjoy the local dishes in each city. Chinese style, Vegetarian or Muslim meals are all available. If you have any other diet requirements or allergies, please feel free to let us know, we will try our best to organize it.
For daily dinner, you are suggested to have it on your own when you are exploring each city in your own time, this way would be more flexible for you to choose food as per your interest and preference.
Free Inquiry: