Chengkan Village, also known as Longxi or Eight Diagram Village, is known as the No.1 village of Jiangnan, the township of ancient Chinese architecture and the best tourist town in Anhui province. Located at the southern foot of Yellow Mountain, Chengkan Village integrates natural landscape and cultural landscape. There are not only beautiful mountains and placid river, but also a great number of cultural heritages and a lot of eminent people in many fields. For example, more than 30 plaques inscribed by Dong Qichang who is the renowned painter and calligrapher in ancient time are left here. And since the Song dynasty, the culture and education here have been flourished as a result of the increasing importance of Huizhou merchants.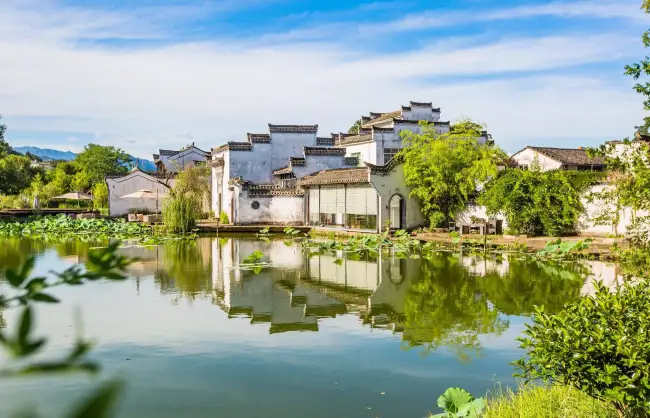 Basic Facts about the Chengkan Village:
Chengkan village was first built in the Han dynasty. However, as early as the Neolithic age, there were traces of human activities. Relics of eminent bronze culture of the Zhou dynasty could also be found here. And Shanyue people once lived here in a lifestyle of slash-and-burn cultivation.
Based on the theory that the unity of Yin (kan)and Yang (cheng) lead tothe unity of man and nature" in The Book of Changes, the layout and construction of Chengkan follow the rules of eight diagrams. In addition, the clear and placid Longxi river flowing from north to south like a soaring dragon, which is regarded as the boundary of Ying and Yang in the eight diagrams. And there are eight mountains standing in different directions, which are regarded as the eight orientation of the eight diagrams. The ingenious layout integrating human and natural eight diagrams makes Chengkan Village be regarded as a geomantic treasure land of Huizhou.
Nowadays, Chengkanstillcompletely preserves some unearthed neolithic, bronze ware and national key cultural relics, three main streets and ninety-nine lanes in the Three Kingdoms period of the Han dynasty, as well as more than 180 ancient buildings and ancient sites of the Tang, Song, Yuan, Ming and Qing dynasties. It is worthy of being honored as "famous village of Chinese history and culture", "hometown of ancient Chinese architecture", "hometown of national treasure", "best tourist town in China" and so on.
How to Buy Entrance Tickets:
When is the best time to visit?
The best time to visit the Chengkan Village is March to November. As during these months, the weather is pleasant and the natural landscape is fascinating.
Tips: Visitors had better avoid the official holiday in China, because many Chinese citizens choose to travel on official holidays to ease the pressure of their work. As a result, many Chinese tourist attractions are overcrowded and traffic jams are common. Therefore, visiting China at this time will bring tourists a less pleasant travel experience.
Official Holidays in China
| | |
| --- | --- |
| Chinese New Year | Around January or February |
| Winter vacation | January-February |
| Labor Day | May1st -3rd |
| Summer vacation(for students) | July-August31st |
| Mid-Autumn Festival | Around mid-September |
| National Day | October 1st-7th |
How to get to the Chengkan Village?
The direct bus is available at the Huangshan Coach Station. Visitors can take Bus No.3 at Huangshan Coach Station and get off at Chengkan Ancient Village Station.