Lijiang Travel Guide
Lijiang, a picturesque city nestled in the northwest of Yunnan province in China, offers a captivating blend of natural beauty, rich culture, and historical charm.
With its cobblestone streets, traditional Naxi architecture, and stunning mountain landscapes, Lijiang has become a popular destination for travelers seeking an immersive experience in one of China's most enchanting regions.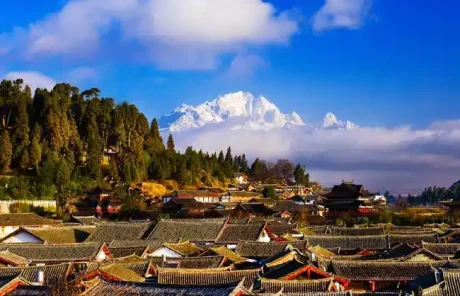 Chinese: 丽江 lì jiāng
Location: Northwest Yunnan
Population (urban area): 1,254,000
Why Visit Lijiang?
Cultural Delights: Lijiang is a cultural treasure trove, offering a glimpse into the unique traditions and heritage of the Naxi people. From their vibrant Dongba script to soul-stirring music and dance performances, Lijiang showcases a rich tapestry of cultural delights.
Ancient Town Charm: The UNESCO World Heritage-listed Lijiang Ancient Town beckons visitors with its narrow winding alleys, ancient buildings, and traditional courtyard homes. Exploring this well-preserved ancient town is like stepping back in time.
Majestic Jade Dragon Snow Mountain: Standing tall on the outskirts of Lijiang, the Jade Dragon Snow Mountain enthralls with its snow-capped peaks, verdant valleys, and diverse flora and fauna. It offers breathtaking vistas and exhilarating outdoor activities.
Tranquil Black Dragon Pool: The Black Dragon Pool Park, nestled at the foot of the Jade Dragon Snow Mountain, offers a serene escape from the bustle of the city. Its crystal-clear waters, graceful bridges, and pavilions create a tranquil oasis.
Lijiang Impression Show: Witness the mesmerizing Lijiang Impression Show, a captivating outdoor performance that showcases the local culture and traditions against the backdrop of the Jade Dragon Snow Mountain.
Top Attractions in Lijiang
Top Things to Do in and Around Lijiang
Take a leisurely stroll along the romantic and picturesque Lijiang Ancient Town, exploring its intricate maze of streets and indulging in the vibrant local culture.
Ride a cable car up the Jade Dragon Snow Mountain to enjoy panoramic views of the snow-capped peaks and engage in exhilarating activities like hiking, skiing, and exploring the Blue Moon Valley.
Experience the traditional Naxi way of life by visiting a local Naxi family and participating in their daily activities, such as cooking traditional dishes or learning traditional crafts.
Explore the enchanting beauty of the First Bend of the Yangtze River, where the mighty river abruptly changes its course, creating a stunning natural phenomenon.
Embark on a cycling tour through the idyllic countryside surrounding Lijiang, immersing yourself in the rural charm, breathtaking landscapes, and traditional villages.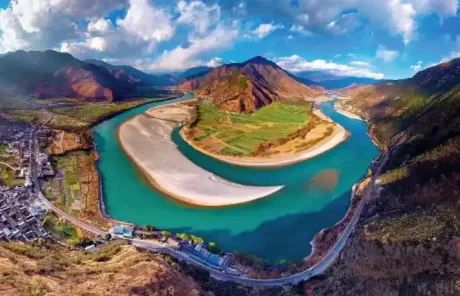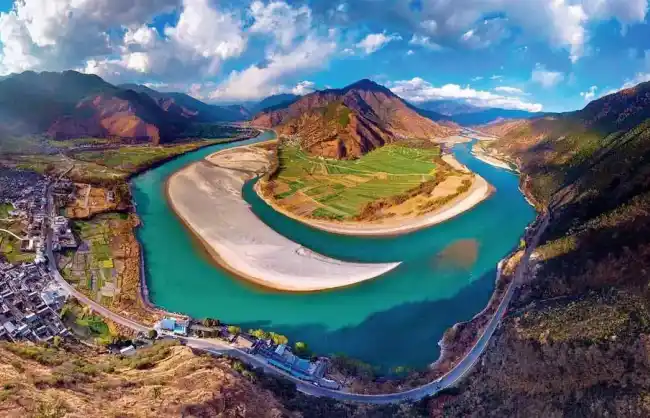 Lijiang Weather
Lijiang experiences a pleasant and mild climate throughout the year, characterized by its high elevation and mountainous surroundings. The best time to visit Lijiang is during spring (April to June) and autumn (September to November) when the weather is mild, and the landscapes come alive with vibrant colors.
During spring, Lijiang showcases blooming flowers and cherry blossoms, while autumn treats visitors to stunning foliage and clear skies. Summers in Lijiang are generally mild and rainy, while winters can be chilly with occasional snowfall.
Lijiang Transportation
Getting to Lijiang is convenient, with the city served by Lijiang Sanyi International Airport, which offers domestic and international flights. Alternatively, travelers can opt for a train journey to Lijiang Railway Station, which connects the city to other major cities in China.
Within Lijiang, transportation options include taxis, buses, and bicycles. Exploring Lijiang Ancient Town and nearby attractions on foot is highly recommended due to their proximity.