Jianshui Travel Guide
Located in the southern part of Yunnan, Jianshui is a historic town with a history dating back over 1,200 years. Renowned as a significant cultural and educational center during the Ming and Qing dynasties, Jianshui proudly displays its architectural heritage, ancient temples, traditional courtyard houses, and captivating natural beauty.
Whether you are a history enthusiast, a culture lover, or a nature admirer, Jianshui offers an array of attractions and experiences that will leave you spellbound.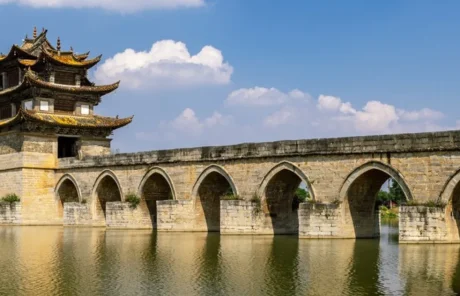 Chinese: 建水 jiàn shuǐ
Location: Eastern Yunnan
Population (urban area): 535,000
Why Visit Jianshui?
Immerse in Ancient Culture: Jianshui preserves its ancient charm, offering a glimpse into China's rich history.
Unique Architectural Marvels: Explore magnificent structures like the Zhu Family Garden and the Confucius Temple, showcasing exquisite craftsmanship.
Scenic Landscapes: Discover the mesmerizing beauty of the nearby Stone Forest and Tuanshan Village.
Authentic Local Cuisine: Indulge in mouthwatering local delicacies, such as Jianshui tofu and Jianshui rice cake.
Top Attractions in Jianshui
Top Things to Do in Jianshui
Explore Tuanshan Village: Wander through this charming village, filled with well-preserved traditional courtyard houses, reflecting the local cultural heritage.
Taste Local Delicacies: Sample the unique flavors of Jianshui by trying Jianshui tofu, Jianshui rice cake, and the famous Jianshui roast duck.
Attend a Cultural Performance: Immerse yourself in Jianshui's vibrant cultural scene by witnessing traditional dance and music performances.
Enjoy Local Festivals: Plan your visit during the Zhu Family Garden Lantern Festival or the Jianshui Third Month Fair to experience the town's festive spirit.
Jianshui Weather
Jianshui experiences a subtropical monsoon climate, characterized by mild temperatures and abundant rainfall.
Best Time to Visit Jianshui:
Spring (March to May) and autumn (September to November) offer pleasant weather with blooming flowers and vibrant foliage.
Weather in Different Seasons:
Summers are warm and humid, while winters are mild with occasional frost. Expect occasional rainfall throughout the year.
Jianshui Transportation
Getting to Jianshui:
The nearest airport to Jianshui is the Kunming Changshui International Airport which is about 260 kilometers from Jianshui. From the airport, you can take a taxi or a bus to Jianshui. The journey takes about 4-5 hours by bus and costs around 150 RMB per person.
Jianshui has a railway station that connects it to other major cities in Yunnan. There are several daily trains from Kunming to Jianshui, and the journey takes about 4-5 hours.
Jianshui has a bus station that serves both long-distance and local destinations. There are several daily buses from Kunming to Jianshui which take about 4-5 hours and cost around 100-150 RMB per person.
Jianshui is a small town, and many of its attractions are within walking distance of each other. Walking is the best way to explore the town's ancient streets, traditional architecture, and cultural landmarks.
Taxis are available in Jianshui and can be hailed on the street or hired from the taxi stand.
For people who want to explore the town's outskirts and nearby countryside, you can rent a bike or motorbike from local guesthouses or bike rental shops.