Yubeng Travel Guide
Nestled deep within the captivating landscapes of Yunnan, China, Yubeng is an enchanting village that offers a serene and unforgettable retreat from bustling city life.
Surrounded by towering snow-capped mountains, lush forests, and pristine waterfalls, this hidden gem is a sanctuary for nature enthusiasts and adventure seekers alike.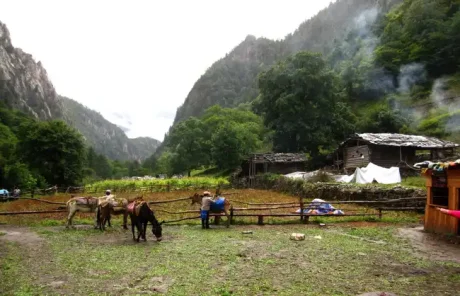 Chinese: 雨崩 yǔ bēng
Location: Northwest Yunnan
Population (urban area): 3,000+
Why Visit Yubeng?
Yubeng attracts visitors for several compelling reasons:
Immerse in Pristine Natural Beauty: Yubeng captivates with its untouched landscapes, allowing you to immerse yourself in the breathtaking beauty of majestic peaks, crystal-clear rivers, and dense forests.
Discover Sacred Waterfalls: The village is renowned for its sacred waterfalls, including the magnificent Upper and Lower Yubeng Waterfalls, offering a serene and awe-inspiring experience.
Trekking Paradise: Yubeng serves as a gateway to remarkable treks, such as the challenging yet rewarding pilgrimage to the Holy Meili Snow Mountain or the captivating Ice Lake Trek, providing an adventure of a lifetime.
Cultural Heritage: Experience the rich Tibetan culture and customs, interacting with friendly locals and discovering the spiritual significance of Yubeng.
Top Attractions in Yubeng
Top Things to Do at Yubeng Village
Yubeng offers a myriad of exhilarating activities to make your visit truly unforgettable:
Trek to the Sacred Waterfalls: Embark on an adventurous hike to the Upper and Lower Yubeng Waterfalls, allowing you to witness their majestic beauty up close.
Conquer the Holy Meili Snow Mountain: Challenge yourself with a pilgrimage to the Holy Meili Snow Mountain, traversing steep trails and immersing in the sacred atmosphere of the mountain.
Explore the Mingyong Glacier: Venture to the Mingyong Glacier and witness the breathtaking icy landscape, enjoying panoramic views of the surrounding peaks.
Experience Tibetan Culture: Engage with the local Tibetan community, visit ancient monasteries, and immerse yourself in the rich cultural heritage of Yubeng.
Yubeng Weather
Yubeng experiences diverse weather patterns throughout the year, each season offering its unique charm.
Best Time to Visit Yubeng:
The ideal time to visit Yubeng is during the spring and autumn seasons (April to May and September to October), when the weather is mild, and the landscapes are adorned with vibrant colors.
Summer (June to August):
Yubeng experiences warm temperatures during summer, making it a great time for trekking and enjoying the picturesque scenery.
Winter (December to February):
Yubeng transforms into a winter wonderland during this period, with snow-covered landscapes offering a unique and magical experience. However, note that certain treks and routes may be inaccessible due to heavy snowfall.
Yubeng Transportation
Getting to Yubeng:
To reach Yubeng, you can take a flight to Diqing Shangri-La Airport or Lijiang Sanyi Airport, and then proceed by road to Feilaisi. From Feilaisi, you can either hike or hire a local transportation service to reach Yubeng Village.
Getting around Yubeng:
Yubeng is a small village, and the best way to explore its beauty is by foot. The village is pedestrian-friendly, and most attractions and trails can be reached by walking. Hiring a local guide is recommended for trekking adventures.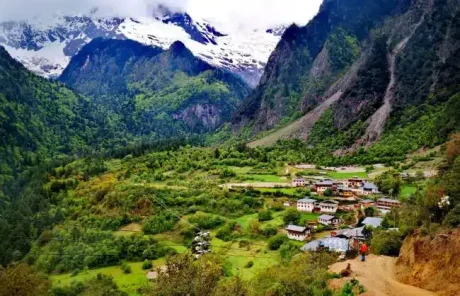 Other Popular Destinations in Yunnan
Yunnan is a province in China renowned for its stunning landscapes and diverse culture. Apart from Yubeng, other popular destinations in Yunnan include: