Mingyong Glacier, located in Yunnan Province, China, is one of the major glaciers in the country and is fed by snow that fall on the Meili Snow Mountain.
Fast Facts of Mingyong Glacier
Travel Essentials: Comfortable shoes, warm clothing, sunscreen, sunglasses, and a sense of adventure.
Opening hours: All day
Time Needed: 1-2 days
Highlights: Magnificent glacier, glacier trekking, stunning natural scenery.
Suited to: Nature lovers, hikers, and adventure seekers.
Overview of Mingyong Glacier
The glacier winds down the mountain and stretches for 11.7 kilometers with an altitude of 2,660 meters above sea level. It is sacred to the local people and is surrounded by well-preserved coniferous and latifoliate forests, making it a stunning natural wonder to behold.
The glacier is located on the mountainside of Kawagebo, the highest peak of Meili Snow Mountain, and is the lowest latitude and elevation of any glacier in China. The area surrounding the glacier is also home to cirques and glaciers, providing visitors with endless opportunities to explore the stunning natural scenery. Protected by the Tibetan people, the dense forests in the area stretch for 8 kilometers and are a testament to the beauty and preservation of the region.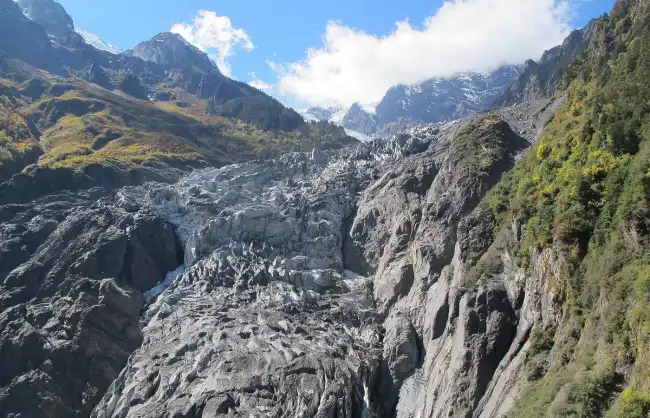 Travel Tips
1. There are two easy ways to ascend the mountain: a footpath and a horse-riding walkway, both of which are neatly paved with cinder. The entire route takes approximately two hours to complete.
2. The first viewing spot for the glacier and Meili Snow Mountain is Taizi Temple, a small temple. For those with enough time and energy, a one-hour walk along a plank road built into a cliff face will take you to Lotus Temple. On a sunny day, Lotus Temple provides the best views of Kawagebo.
3. It's recommended to bring fast food, as meals are only available upon returning to Mingyong Village.
How to get to Mingyong Glacier
A bus departs from Deqin Bus Station every afternoon at 3 o'clock to Mingyong Village, taking approximately one hour to arrive and costing 13 Yuan per person. The return bus from Mingyong Village to Deqin leaves at 8 o'clock every morning and costs 13 Yuan per person.
Attractions nearby Mingyong Glacier
Meili Snow Mountain: This mountain range is located near Mingyong Glacier and offers stunning views of snow-capped peaks and alpine meadows.
Feilai Temple: This temple is located near Mingyong Village and is known for its stunning architecture and religious significance.
Shengping Village: This village is located near Mingyong Glacier and offers a unique cultural experience.
Yubeng Village: This remote village is located in a valley near the Meili Snow Mountain and offers a secluded and peaceful escape from the hustle and bustle of city life.
Dongzhulin Monastery: This Buddhist monastery is located near the town of Benzilan and is known for its stunning architecture and religious significance.