Shangri-La Travel Guide
Shangri-La is a place where dreams intertwine with reality, and nature's breathtaking wonders come to life. Nestled in the tranquil province of Yunnan, China, Shangri-La is a mystical paradise that enchants visitors with its pristine landscapes, rich cultural heritage, and awe-inspiring attractions.
In this comprehensive travel guide, we invite you to embark on a journey of discovery, uncovering the reasons to visit, top attractions, things to do, weather insights, transportation options, and helpful tips to plan an unforgettable tour of Shangri-La and beyond.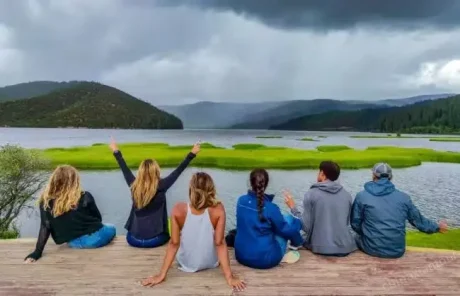 Chinese: 香格里拉 xiāng gé lǐ lā
Location: Northwest Yunnan
Population (urban area): 187,000
Why Visit Shangri-La?
Immerse in Cultural Splendor: Experience the unique blend of Tibetan and Han Chinese cultures, witness vibrant festivals, explore ancient monasteries, and encounter warm-hearted locals who preserve their traditions with pride.
Breathtaking Natural Beauty: Be captivated by the dramatic landscapes of Shangri-La, from snow-capped mountains and pristine lakes to verdant valleys and blooming meadows, offering picturesque views at every turn.
Spiritual Enlightenment: Discover the spiritual essence of Shangri-La as you encounter the serene ambiance of Tibetan Buddhist monasteries, including the iconic Songzanlin Monastery, immersing yourself in the tranquility of these sacred spaces.
Adventure Awaits: Engage in thrilling outdoor activities such as hiking, horseback riding, and exploring nature reserves, including the renowned Tiger Leaping Gorge, where the mighty Yangtze River roars through a majestic canyon.
Authentic Tibetan Cuisine: Delight your taste buds with the rich flavors of Tibetan cuisine, savoring aromatic yak meat dishes, butter tea, and traditional momo dumplings, offering a culinary journey unlike any other.
Top Attractions in Shangri-La
Top Things to Do in and Around Shangri-La
Trek the Tiger Leaping Gorge: Embark on a thrilling trek through one of the world's deepest canyons, marveling at the sheer cliffs, roaring rapids, and panoramic views of the Yangtze River.
Visit Songzanlin Monastery: Explore this stunning Tibetan monastery, also known as the "Little Potala Palace," and witness the intricate artwork, sacred relics, and panoramic vistas from its hilltop location.
Discover Shangri-La Old Town: Wander through the quaint streets of the old town, browsing local handicrafts, sipping butter tea in traditional teahouses, and capturing the essence of Shangri-La's charm.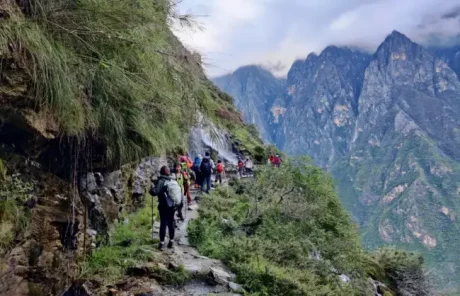 How Many Days to Stay in Shangri-La
The duration of your stay in Shangri-La depends on your preferences and the number of attractions and activities you wish to experience.
To fully immerse yourself in the beauty and culture of Shangri-La, it is recommended to spend at least 2 to 3 days in the area. This timeframe allows you to visit the top attractions, explore the ancient town, delve into the local culture, and engage in outdoor activities such as trekking or visiting nearby natural wonders.
However, if you have more time available, extending your stay to 4 or 5 days would offer a more relaxed pace and allow for deeper exploration of the region.
Shangri-La Weather
Nestled in the Himalayan foothills, Shangri-La experiences a temperate climate characterized by cool summers and chilly winters.
Best Time to Visit Shangri-La: 
Spring (April to June) and Autumn (September to November) offer the most pleasant weather, with clear skies, mild temperatures, and blooming wildflowers. These seasons provide ideal conditions for outdoor exploration and cultural festivities.
Summer (June to August): Enjoy mild temperatures during the day, but pack warm clothing for cool evenings. Rainfall is more frequent during this season, creating lush green landscapes.
Autumn (September to November): Experience mild temperatures and crisp air, perfect for exploring outdoor attractions and witnessing stunning fall foliage.
Winter (December to February): Expect cold temperatures and occasional snowfall, creating a magical winter wonderland. It's an excellent time for winter sports enthusiasts and those seeking a serene atmosphere.
Spring (March to May): Witness nature's rebirth as flowers bloom and landscapes come alive. Although temperatures remain cool, the beauty of the surroundings makes it a worthwhile visit.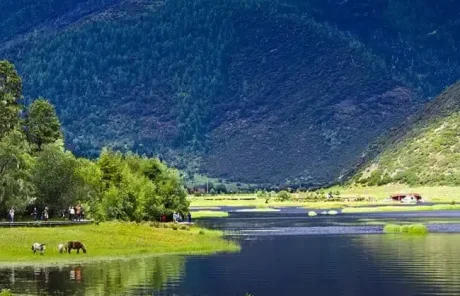 Shangri-La Transportation
Getting to Shangri-La:
Fly into Diqing Shangri-La Airport, which offers domestic flights from major cities in China. Alternatively, take a train or bus to reach Shangri-La, enjoying scenic routes through the picturesque Yunnan province.
Getting Around Shangri-La:
The most convenient way to explore Shangri-La and its surroundings is by hiring a local guide or joining organized tours. Taxis, buses, and bicycles are also available for shorter journeys, while walking allows for a more intimate experience within the town.