Badaling, one of the must-visitsections and the most outstanding representatives of the Great Wall of China, was an important strategy center in ancient time. It was built in the Ming Dynasty, and it is situated in Yanqing District–about 75 kilometers (46 miles) northwest of Beijing. At Badaling, roads extend in all directions and people can go anywhere, so that's why it is called Bada– in Chinese it means "convenient transportation". At present, it is the most well-equipped and well-preserved section of the Great Wall.
Basic Facts aboutthe Badaling Great Wall:
 The total length of this section is 12 kilometers(7.5miles), but nowadays it only opens 3.74 kilometers(2.3miles) for visitors. Generally, we suggest visitor could spend 4 or 5 hours there.
There are total 43 watchtowers built at each intervals with regular distance, and each of them is two stories high. The watchtowers were not only used as a shelter by soldiers, but also to store some arms and ammunition and observe the enemies. At present, visitors can only visit 19 watchtowers.
It has attracted a great number of tourists of home and abroad each year, and many national leaders and celebrities around the world have visited the Great Wall, such as former US presidents Nixon, Reagan and Gorge W Bush, Queen Elizabeth II and Margaret Thatcher of UK , Vladimir Putin of Russia and so on.
Since 1996, many cultural exchanges programs between China and other countries have been held here.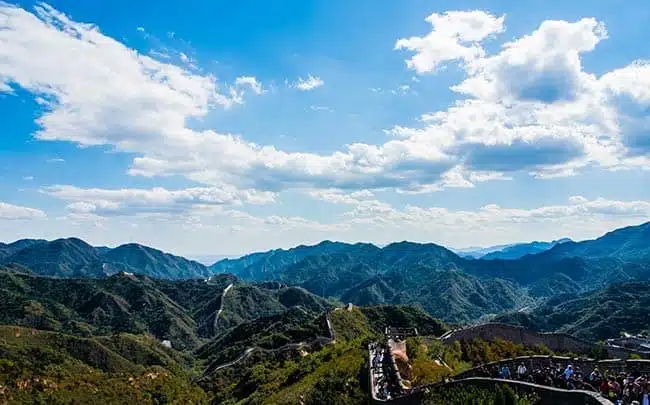 Why Choose to Visit the Badaling:
It is the most famous section of the Great Wall.
It is the most well-equipped attractions with various kinds of tourism facilities such as the barrier-free facilities, cable car, handrails and so on, which could bring more conveniences for visitors and save their energies during visit.
It is only about 75 kilometers(46 miles) away from Beijing, and visitors can go there by public transportation.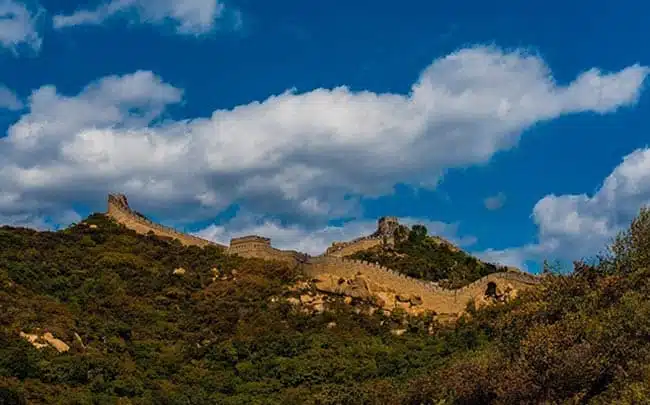 How to Buy Entrance Tickets:
 From June 1,2019, the Badaling Great Wall implement the real-name system to book the ticket online, and the websites for booking are official ticketing system or Badaling official account of Wechat. The maximum visitor capacity per day is 65,000 people, so it's better to book tickets 7 days in advance. (Notice: The websites of booking tickets currently only offer booking services in Chinese, so foreign tourists could book tickets with the help of the travel agencies.)
Price of Entrance Tickets: the ticket price of the Badaling Great Wall is different in peak season (Apr. 1st to Oct.31st) and low season(Nov.1st to Mar.31st).
| | |
| --- | --- |
| Peak season | CNY 40 |
| Low season | CNY 35 |
Opening time:
| | |
| --- | --- |
| Apr. 1st to Jun.30th(peak season) | 06:30-19:00 |
| Jul. 1st to Aug.31st(summer vacation time) | 06:00-19:30 |
| Sep. 1st to Oct.31st(peak season) | 06:30-19:00 |
| Nov.1st to Mar.31st(low season) | 07:30-18:00 |
Notice: Jul. 1st to Aug.31st is summer vacation in China, so there are more tourists than other time.
Price of Cable car and Pulley
Cable car is available both in north and south parts of Badaling, but pulley is only for the north part. Cable car is suitable for tourists at any age, but the pulley is not suitable for seniors or little children.
Cable car: Single Trip: CNY 100, Round Trip: CNY 140
Pulley: Single Trip: CNY 80, Roud Trip: CNY 100
Opening time: Apr. – Oct.: 8:00 – 16:30; Nov. – Mar.: 8:30 – 16:00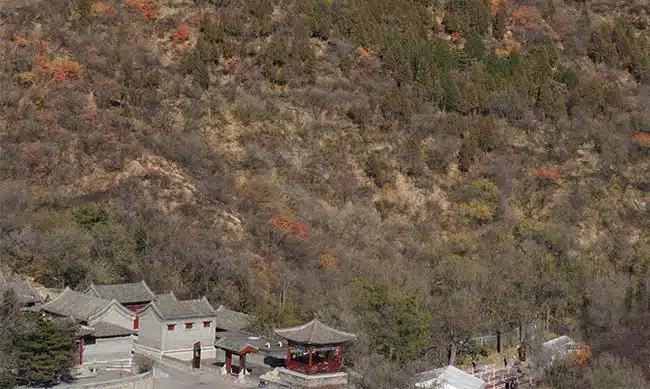 When is the best time to visit?
We highly recommended that the best time to visit the Badaling Great Wall is April, May, September and October. During these months, the weather is pleasant and the scenery is awe-inspiring. If you travel at these months, the scenery will definitely leave a deep impression on you.
Tips: Visitors had better avoid the official holiday in China, because many Chinese citizens choose to travel on official holidays to ease the pressure of their work. As a result, many Chinese tourist attractions are overcrowded and traffic jams are common. Therefore, visiting China at this time will bring tourists a less pleasant travel experience.
Official Holidays in China
| | |
| --- | --- |
| Chinese New Year | Around January or February |
| Winter vacation | January-February |
| Labor Day | May1st -3rd |
| Summer vacation(for students) | July-August31st |
| Mid-Autumn Festival | Around mid-September |
| National Day | October 1st-7th |
How to get to the Badaling Great Wall?
Driving Route: There is an expressway to the Badaling Great Wall from the downtown. The total length of this route is about 70 kilometers, which takes about5h.
Toll: about CNY 30
Bus: Bus887: Deshengmen ⇔ Badaling
Taking bus is the cheapest way to get to the Badaling Great Wall. This bus departs from Dengshengmen, and the bus station is close to Jishuitan subway station, so visitors can walk from subway station Exit A(northwest) or Exit B(southeast). It would take about 1-1.5h with non-stop.
Price of bus ticket: about CNY 20 per person
Running time: 06:00 – 12:30(Apr. 1st – Nov. 15th)
06:30 – 12:30(Nov. 16th – Mar. 31st)
Tourist bus: Tourist Bus Line 1: Qianmen ⇔ Badaling
This tourist bus line 1 departs from Southwest of Qianmen Arrow Tower, and it would take about 100 minutes.
Price of bus ticket: about CNY 18 per person
Running time: 11:00 – 16:30
Railway: Beijing Suburban Railway Line 2: The train starts from Huangtudian Railway, and a single trip would take about 1.5 hours. After getting off the train, visitorscan take a free shuttle bus to get to the Badaling Great Wall.
Price of train ticket: about CNY 10 per person
Beijing-Zhangjiakou Intercity Railway: After the completion of Beijing-Zhangjiakou Intercity Railway in 2020, visitors can take high-speed railway from Beijing North Station to the Badaling Great Wall, which will just take1 hour. After taking elevator from underground, visitorscan take the cable car to the Badaling Great Wall.