Jinshanling Great Wall, located in luanping county, Hebei province, is adjacent to Miyun district, Beijing, which is 130 kilometers (80 miles) away from downtown Beijing. The Jinshanling Great Wall was built in the Ming dynasty, and it is connected to Simatai Great Wall in the east and Gubeikou Great Wall in the west. Nowadays, it is regarded as "the essence of the Great Wall", and enjoys great reputation all over the world.
Basic Facts about Jinshanling Great Wall:
The defense system of general building is unique in Jinshanling Great Wall. It is famous for its wide vision, dense defendingbuildings, peculiar landscape, exquisite architectural art and perfect preservation.
Barrier Walls, Bricks Engraved with Writing, and the Horse Barrier Wallare the three wonders of Jinshanling Great Wall, and the morning and evening sceneryof it is most attractive. After raining in summer and autumn, the clouds and rainbows become a famous natural landscape. Therefore, Jinshanling is also known as "the paradise of photographers"
There are many scenic spots worth visiting, such as Heigu Tower, Flower Tower, General Tower, Zhuanduoguan Pass, Big Jinshan Tower and so on, and all of them are the fusion of military defense and architectural art.
Why Choose to Visit Jinshanling Great Wall:
The Jinshanling Great Wall with breathtaking views has been restored and it is easier for tourists to hike than before,but it is rarely visited by tourists than othersections.
Various kinds ofevents take Jinshanling as the site, such as International Photography Festival, Marathon, Art Festival, Apricot Festival, soit's possible for tourists to take part in and have a good time.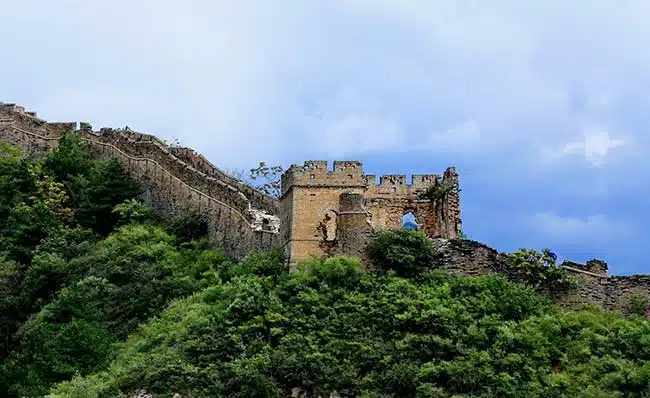 How to Buy Entrance Tickets:
Price of Entrance Tickets: the ticket price of Jinshanling Great Wall is different in peak season and low season.
| | |
| --- | --- |
| Peak Season ( Mar 16-Nov 15) | CNY 65 |
| Low Season ( Nov 16 -Mar 15) | CNY 65 |
Opening time:
| | |
| --- | --- |
| Peak Season ( Mar 16-Nov 15) | 06:00 – 18:00 |
| Low Season ( Nov 16 -Mar 15) | 07:00 – 18:00 |
| | |
| --- | --- |
| Single Trip: CNY 40 | Round Trip: CNY 60 |
Opening time: 8:30- 16:30
When is the best time to visit?
Although Jinshanling Great Wall is suitable for sightseeing all year round, visitors will enjoy the most beautiful scenery in summer and autumn, especially in April when apricot flowers bloom all over the mountains. If visitors travel at these seasons, the most fascinating scenery will be seen.
Tips: Visitors had better avoid the official holidays in China, because many Chinese citizens choose to travel on official holidays. As a result, most Chinese tourist attractions are overcrowded and traffic jams are quite common.
Official Holidays in China
| | |
| --- | --- |
| Chinese New Year | Around January or February |
| Winter vacation | January-February |
| Labor Day | May1st -3rd |
| Summer vacation(for students) | July-August31st |
| Mid-Autumn Festival | Around mid-September |
| National Day | October 1st-7th |
How to get to Jinshanling Great Wall?
Driving Route:Peoplecould drive along the Jingcheng expressway from the fourth ring road in Beijing, and then drive on the Daguang expressway to reach Jinshanling Great Wall scenic area. The total length of this route is about 150 kilometers, which could take about5h.
Toll: about CNY 65
Jinshanling tourist bus line: The Jinshanling tourist bus departs from Dongzhimen, and the bus station is near to the Exit B of Dongzhimen Subway Station.
Departure time: 8:00
Return time: 16:00
Price of bus ticket: about CNY 50 per person(Single Trip)