Beijing zoo, covering an area of about 86 hectares, is located in Xizhimenwai Street, Xicheng district of Beijing with the Beijing exhibition hall and the Moscow Restaurant in the east. It was built in 1906 (Qing Dynasty) which is the earliest zoo opened in north China and has the largest variety of animals. It is also the birthplace of Chinese modern zoo, botanical garden and museum.
Basic Facts about the Beijing Zoo:
Beijing zoobreedsand exhibits more than 500 kinds of animal The whole zoo is divided into three parts: the east area, the west area and the north area. There is no denying that the most renowned and popular one is the Giant Panda Hall in the east area, and visitors could watch the cute giant pandas loll on the ground or eat delicious bamboo.
visitors see not only the unique animals of Chinasuch as crested ibis, giant panda but also many exotic animals fromdifferent continents, such as callithricidae, polar bear, flamingo, penguin, Amur leopards.
There are totally about 30 halls and areas divided according to various species and continents, such as Australian Animal Area, American Animal Area, African Animal Area, Amphibians and Reptiles Hall, Nocturnal Animal Hall, Canidae House, Felidae House, Hippo and Rhino, Elephant, Lion and Tiger, Bear, Eagle, Tapir, Waterfowl and so on.
Beijing Aquarium, the largest inland aquarium in Asia, is in the north area of Beijing Zoo where visitors can have a chance to explore the beauty and mystery of the sea world, and enjoymarine animals shows.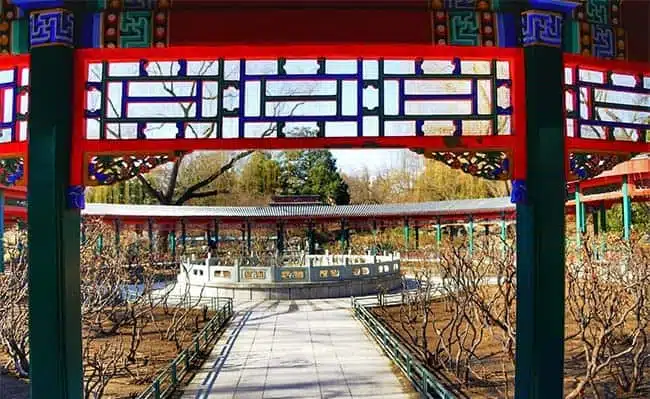 How to Buy Entrance Tickets:
Price of Entrance Tickets:
The ticket price of Beijing Zoo is different in peak season (Apr. 1 to Oct.31) and low season (Nov.1 to Mar.31), and it has combo ticket (entrance ticket of Beijing Zoo and the Giant Panda Hall)
| | |
| --- | --- |
| Admission Fee for Beijing Zoo | Peak season CNY 15/ Low season CNY 10 |
| Combo Ticket | Peak season CNY 19/ Low season CNY 14 |
| Sightseeing Car | CNY 10 |
Opening time:
| | |
| --- | --- |
| November 1st – March 31st | 07:30 – 17:00 |
| April 1st – October 31st | 07:30 – 18:00 |
The ticket price of Beijing Aquarium including the Beijing Zoo: CNY 175
| | |
| --- | --- |
| November 1st – March 31st | Opening Time: 10:00 – 16:00/ Ticketing Time: 15:30 |
| April 1st – October 31st | Opening Time: 09:00 – 17: 30/ Ticketing Time: 16:30 |
Show Time:
| | |
| --- | --- |
| Marine Animals Show | 11:00, 15:00 (Monday- Friday)/ 11:00, 13:30, 16:00 (Saturday& Sunday) |
| Diving Show in | 10:30, 14:00 (Monday, Wednesday- Sunday) |
When is the Best Time for Beijing Zoo Tour?
The Beijing Zoo is a popular tourist attraction for tourists all year round.
Tips: Visitors had better avoid the official holidays in China, because many Chinese citizens choose to travel on official holidays. As a result, most Chinese tourist attractions are overcrowded and traffic jams are quite common.
Official Holidays in China
| | |
| --- | --- |
| Chinese New Year | Around January or February |
| Winter vacation | January-February |
| Labor Day | May1st -3rd |
| Summer vacation(for students) | July-August31st |
| Mid-Autumn Festival | Around mid-September |
| National Day | October 1st-7th |
How to get to the Beijing Zoo?
Visitors can get off at Beijing Zoo Station. Bus No.7, No.15, No,19, No.27, No.65, No.87,No.332, No.334, No.347, No36. No.362, No.534, No.563, No.685, No.697, No.808, No.814, Te-4, Te-5, Yuntong104,105,106 and 205 are available for visitors to choose.
Visitors can take subway line 4 and get off at Beijing Zoo Station, and then walk through the Exit B to get to the South Gate of Beijing Zoo.