Upon your arrival in Shanghai by flight/bullet train, our driver will wait for you at the exit of the arrival hall/train station by holding a board with your name and then transfer you to the hotel for check in. The rest of the day is free at your disposal.
Accommodation: Shanghai Local Hotel
Day 2
Best of Shanghai One Day Group Tour (B+L)
See the highlights of Shanghai with an excellent English-speaking guide.
Our guide and driver will pick you up from your hotel in the early morning after the breakfast and transfer you to Jade Buddha Temple.  This more than 100-year-old temple was built to keep two jade Buddha statues brought back from Burma by a monk named Huigen. Then you will pay a short visit to a Fresh Water Pearl Gallery to appreciate some fine pearl artworks. Afterwards, you will stroll on People Square to have a glimpse of the daily life of the locals. The square now is most famous for its match-making corner where parents try to seek partners for their children. Next, you will head to Shanghai Museum which houses millions of collections and especially features bronze wares, porcelain works, paintings and calligraphy works.
After lunch, you will move on to Yuyuan Garden. It is a famous classical garden which was originally built by the owner as a place for his parents to enjoy a tranquil and happy time in their old age. Then you will wander around Shanghai Old Street which combines sightseeing, shopping, entertainment and cultural exhibition. The next stop is the Bund. You will admire buildings of various styles, enjoy the beautiful Huangpu River, and listen to your guide explaining its history. After a leisure walk at the Bund, you will visit a Silk Factory to see how the silk is processed.  Then you will visit former French Concession, a perfect place to learn the history of Shanghai from 1849 to 1943. The last stop of today is Xin Tian Di, a walking street converted based on the old Shikumen building district, where you can find nice bars, cafes and square. After the tour ends, the guide and driver will escort you back to your hotel for a good rest.
Accommodation: Shanghai Local Hotel
Day 3
One Day Shanghai  Small Group Tour: Suzhou & Zhouzhuang (B+L)
Today you will head to Suzhou to see the picturesque water town, classical Chinese garden, ancient City Wall and the Grand Canal.
Meet your guide and driver at the hotel lobby in the morning and start for Suzhou. The first stop is Net Master Garden, which could be traced back to 1174 during Southern Song Dynasty and had been renovated and changed hands many times. Next, you will pay an outer visit to the Ancient City Wall to learn how it developed in its more than 2500 years history. Then move on to the Grand Canal, the longest and earliest canal in the world, is renowned as three great projects in ancient China together with the Great Wall and Karez Well. You will also stop at a Silk Spinning Factory to learn something about silk spinning. After lunch, you will get to the last site of today – Zhouzhuang, one of the most famous water towns in China. It is not only noted for the breathtaking natural scenery but also profound culture. You will have a pleasant cruise by Chinese style gondola, going through stone bridges and passing by antique folk houses on the banks. Finally go back to your hotel.
Accommodation: Shanghai Local Hotel
Day 4
Shanghai-Xian by Bullet Train and Xian City Tour (B+D)
You will take a bullet train to explore an ancient Chinese capital – Xian today.
Our driver will pick you up from your hotel in the early morning and transfer you to Shanghai train station for your bullet train to Xian (G360/08:36-14:32 or similar one). When you arrive in Xian, our Xian guide and driver will wait for you at the Passenger Service Center by holding a board with your name.
Then directly go to Bell Tower & Drum Tower Square, a landmark building in Xian. Next, you will go to the famous Muslim Street, which is a paradise for food lovers where you will find all kinds of delicious local snacks such as Biang Biang Noodle, Roujiamo (Chinese Hamburger), and Yangrou Paomo (Mutton and Bread Pieces in Soup).  After sampling some popular dishes, you will visit the Big Wild Goose Pagoda. The pagoda was initially built to preserve the Buddhist sutras and statues brought back from ancient India by Monk Xuanzang in Tang Dynasty.
In the evening, a dumpling banquet and Tang Dynasty Show will be waiting for you. Dumpling is one of the most representative foods of Chinese dietary. You will try various dumplings stuffed with delicious vegetable, meat and seafood. After the tasty dumpling dinner, you will enjoy a splendid Tang Dynasty Show  which will bring you back to the glorious Tang Dynasty. Then return to your hotel  in a comfortable air-conditioned car.
Accommodation: Xian Local Hotel
Day 5
Terracotta Warriors and City Wall Group Day Tour (B+L)
Today follow your guide to see the eighth wonder of the world and climb the ancient city wall.
Depart from you hotel in the morning and head to the Terracotta Warrior Museum. Before exploring the museum, you will first make a short visit to a terracotta figurine factory which specializes in the reproduction of the clay warriors. Watch the artisans craft the miniature statues and take the opportunity to try carving a figurine by yourself. Then your guide will show you around the Terracotta Warriors Museum. The museum was accidentally discovered in 1974 by a farmer who was digging wells and listed by UNESCO as a world cultural heritage site in 1987. It includes three pits, among which Pit 1 is the largest, as well as the exhibition hall of the chariots and horses.
After lunch, you will go back to downtown Xian to visit the City Wall, the largest and best preserved ancient city wall in China, which served as military defensive system in ancient times. You can optionally ride a bike on the top of city wall and enjoy the amazing view of the entire area inside the City Wall. Your tour will conclude with dropping off at your hotel.
Accommodation: Xian Local Hotel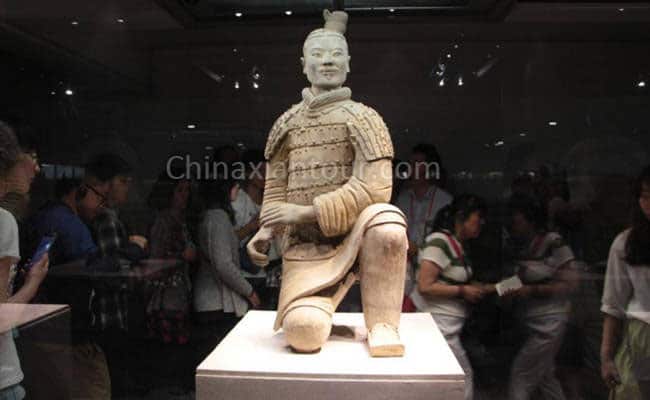 You will say farewell to Xian today. Our driver will pick you up from your hotel and transfer you to the airport or train station for your departure flight or bullet train.