Shanghai City Walk Tour at Night Market & Snack Street
Nanjing Road, Wujiang Road

Driver + Vehicle + Private Tour Guide

Yes

Start from

$30

per person
Tour Overview
For many people, the cloud-kissing skyscrapers of Shanghai don't appeal them that much but the local culture and history draws the interest. This Shanghai night city walk tour is designed under the intention to help you escaping Shanghai' face of quick-paced metropolis but coming to those small vendors at Wujiang Road selling all sorts of local snacks as well as busy night market at Nanjiang Road.
At some 5:30 pm, you'll be picked up by our local guide and driver at your Shanghai hotel lobby in the downtown area. For foodies, night markets are the must-go places on their tour schedule besides the normal sightseeing of the tourism attractions. There are plenty of vendors along the way of Nanjing Road and the food street offers a large scale collection of snacks that you might haven't see before: Roasted Mutton Cubes on spit, Garlic fans steamed scallop in shell, Fried bean curd and beef with cayenne pepper, Spicy Crayfish and more.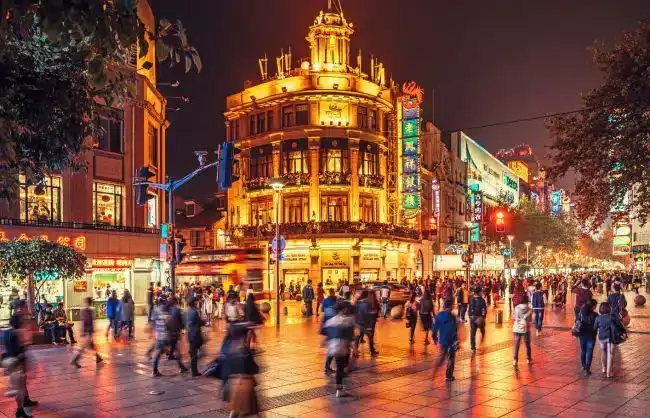 Next you will go to Wujiang Road-the most popular snack street in the city. It is a wonderful dining place for you to relax after your tired shopping and browsing in Nanjing Road. Many old eateries along this road are famous for authentic and delicious Shanghai snacks. There are also many western-style restaurants and cafes running here which provide you with various choices.
As you get well contented in this food-exploration journey, you'll be transferred back to your downtown hotel.
Tour Price Per Person
Book the tour with $50 deposit. ($=USD)
Travelers
1 People
2 People
3 People
4 People
5 People
Tour Price
$148
$79
$58
$48
$40
Travelers
6 People
7 People
8 People
9 People
10 People
Tour Price
$39
$36
$33
$32
$30
Book the Tour