Xian Muslim Quarter: 2-Hour Night Walking Foodie Tour
Xian Muslim Quarter

Excellent local tour guide

No

Start from

$31

per person
Tour Overview
Xian attracts increasing people from every corner of the world to visit, not only because of its splendid history and culture but also amazing food. This city, known as the ancient capital of 13 dynasties, has rooted its own special gourmet type based on fusion and exchange with other cuisines. With a group of 8 people or fewer, this tour will please both your noses and taste buds. Follow a real expert guide to kick off a fantastic food tour.
Highlights of this tour:
1. Immerse yourself in Xi'an's bustling night scene.
2. Hunt for a variety of delicious snacks according to your guide's insider advice, and learn the hidden stories about those unknown snacks.
The daily departure time is 6pm. The meeting place is the lobby of Bell Tower Hotel located in the very center of the city. You will easily find your tour guide and other members. If it's not easy for you to find the way to get there from your hotel, you can choose the option including transfer to get a driver to pick you up from your hotel, drive you to the meeting place and send you back when the tour ends.
Then walk through the puzzling underpass and get to the Drum Tower Square in 5 minutes. The guide will introduce you some basic facts of this old city and its must-see attractions on the way and you will soon reach the grand Drum Tower which has stood there for more than 600 years. Behind it is the today's destination, Muslim Quarter. How busy and bustling it is! Most people think of this word when seeing it. Yes, it's always crowded from early morning to night. It has such a magic charm. You will be dazzled by various stalls and amused at vendors' interesting hawking. Follow your guide to find your way in the crowds and learn the hidden stories about those unknown snacks.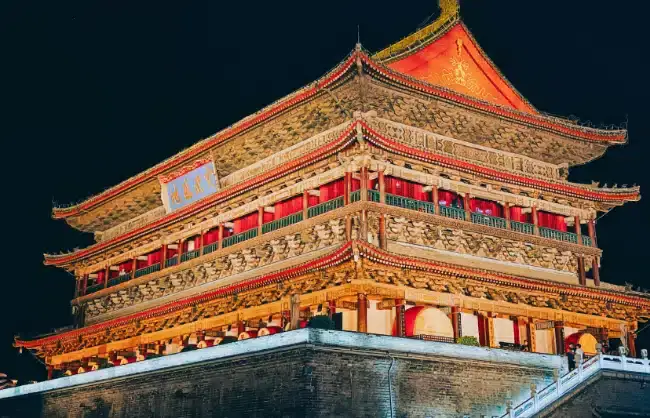 When reaching the end of the main street, your tour guide will lead you to a small lane into Sajinqiao area where you will find the real delicacy including Roujiamo (Chinese Hamburger), Liangpi (Cold Noodles), Yangrou Paomo (Mutton and Bread Pieces in Soup), Biang Biang Mian (Biang Biang Noodle), Zenggao (Glutinous Rice and Date Cake), Suan Tang Shui Jiao (Hot and Sour Soup Dumpling), Jiasan Guantangbao (Jiasan Soup Dumpling). Your tour guide will point out the best stall to have these foods.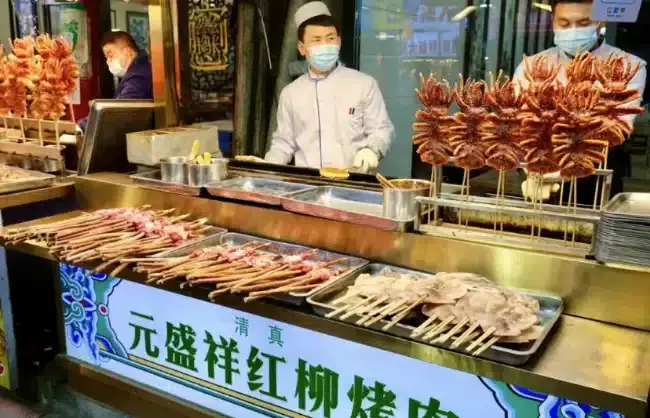 Finally, the guide will escort you back to Bell Tower Hotel or the nearest subway/bus station and then you will find your way back to the hotel. Your 2-Hour Xian Muslim Quarter Food Tour ends here.
Kind Notice:
The price for the option with direct transfer to the meeting place from your hotel (within 2nd ring of Xian) is USD42. Please contact us if you need this option.

Tour Price ($=USD)
From

$45 P.P

, which is based on a private tour for

2 people

. The price varies depending on the activity, number of people, travel date, and selected hotel.
Price includes
Professional English-speaking guide
Meeting service from tour guide at Bell Tower Hotel
Direct transfer to the meeting place, if option selected
Your local expert guide will point out the most authentic local foods according to your taste
Price excludes
Any meal
Gratuities (recommended)
Book Now