Terracotta Warriors and Yuanjiacun Village Day Tour
Terracotta Warriors and Horses, Yuanjiacun Folk Culture Village

Private tour guide + Driver + Vehicle

Yes

Start from

$61

per person
Tour Overview
This one day tour is about the world miracle and Xian local food. In the morning, you will hop on a comfortable private car to Yuanjiacun Folk Culture Village to experience unique customs, try awesome local food and see countryside scenery. In the afternoon, you will go to see the over 2000-year-old awe-inspiring subterranean army. Standing in front of the row upon row of life-size soldiers, you will feel like stepping onto a battlefield. Local farmers accidently discovered the site while digging a well in 1974, which brought Xian to global attention. Millions of people come here to see the terracotta warriors every year. Just set your date and we will take care of the rest.
Tour highlights:
1. Experience the unique folklore of Yuanjiacun Village, taste delicious local snacks, and enjoy the countryside life.
2. Have the opportunity to watch a Qin opera performance and try milling flour, making vinegar, waving cloth, and grinding soybean to make Tofu (Bean Curd).
3. Admire the eighth wonder of the world, the Terracotta Army, which was accidentally discovered by a local farmer while drilling a well.
AM: In the morning, our guide and driver will pick you up from your Xian downtown hotel to start a local food & world wonder tour. After about 1.5 hours' driving, we will arrive at Yuanjiacun Village which is free of charge. You will have chance to watch Qin Opera Show, taste authentic local food, and try milling flour, making vinegar, waving cloth, and grinding soybean to make Tofu (Bean Curd). There are lots of local eateries in the village. Our guide will recommend some best ones when wandering in street.
Noon: We will leave lunch to your own arrangement, so you can try as many kinds of local food as you like.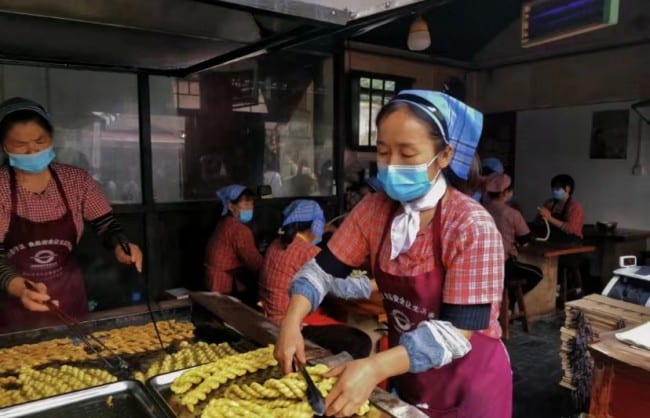 PM: In the afternoon, we will drive to visit the famous Terracotta Warriors and Horses. Known as "the Eighth Wonder of the World" and one of the most significant archaeological discoveries in the 20th century, the museum shows a surprisingly high level in sculpture. It has three pits with a total area of 22,780 square meters. The splendid battle formation will leave you an impressive memory.
At the end of the tour, your guide and driver will escort you back to your hotel.
Tour Price ($=USD)
From $148 P.P, which is based on a private tour for 2 people. The price varies depending on the activity, number of people, travel date, and selected hotel.
Book Now