A Sight for Sore Eyes! Yamdrok Lake
Nestled about 100 kilometers southwest of Lhasa, Yamdrok Lake attracts numerous pilgrims and visitors each year. It is one of the three largest sacred lakes in Tibet with an area of more than 700 square kilometers and average depth of over 30 meters (the deepest point is almost 60 meters). The surface of the lake is 4,441 meters above the sea level. It formed billions of years ago when river channels were blocked by glacier debris flow. Its shape is very irregular with plenty of bifurcations, and the banks have many twists and turns. What's unique about the lake is that its water comes from the surrounding snow mountains, but there is no water outlet, and melting of snow and evaporation of lake water reach a dynamic balance.
If you have no idea what to do and where to go in Lhasa, the breathtaking Yamdrok Lake definitely should be put on your list. You will never regret this decision which will reward you unforgettable memories. It takes about two hours from Lhasa to Yamdrok Lake. Looking out of the car windows, you can enjoy amazing natural scenery and watch local residential houses pass by along the long and winding road. When reaching the lake, you can freely stroll around but you can't see the whole picture of it because it is not a regular lake as mentioned before. Under the sunshine, the turquoise waters stretch endlessly and sparkle brightly, like a precious sapphire among the mountains.
You will see cattle and goat herds leisurely grazing beside the lake. As the largest bird habitat in the southern Tibet, the lake is home to many kinds of water birds such as swans, yellow ducks, herons and sand gulls. During the spawning season, the 21 large and small islands turn into natural egg farms. It's really a spectacular scene with tens of thousands of white birds flying over the lake. Moreover, the lake also abounds with plateau naked carp, and its meat is tender and delicious.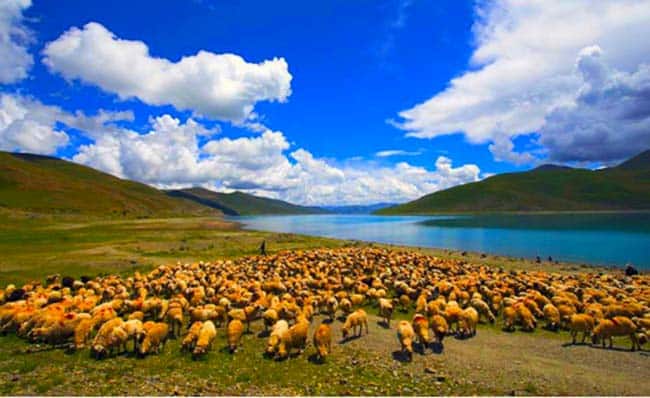 Please note that the altitude here is higher than in Lhasa. Many travelers have different degrees of altitude sickness with symptoms like difficult breathing, headache, chest tightness and weakness in the first few days when they arrive at the plateau. Although such reaction is normal, it's important to arrange your schedule according to your physical conditions. Here are some suggestions. You can take some drugs in advance to prevent altitude sickness. Have a good rest at your hotel on the arrival day. Please avoid walking fast and doing physical labor. You may try buttered tea, a traditional daily drink for Tibetan people, which is said to be good for overcoming altitude reaction. All in all, if you plan to visit Lhasa in the future and have any questions about the attractions, hotel, transportation, food and other things, please do not hesitate to contact us. Our travel consultants are always at your service. Hope this will be helpful for you and wish you a fantastic time in Lhasa!