If you are looking for a Northern Xinjiang tour to Ili River Valley and Tianshan Mountains in summer, there's no need to waste time endlessly browsing. Here is an itinerary to take you return to mother nature and get the unspoiled scenery of the picturesque Ili River Valley and magnificent Tianshan Mountains. If you like horse riding, you even can explore the gorgeous scenery on horseback. Without going to the popular Lavender Manor, bustling Tekes Eight-Diagram City, and over-commercialized Xiata Scenic Area and Nalat Grassland, you will go to experience the real wild side this part of the world has to offer.
Tuohulasu Prairie
Tuohulasu Prairie is the first summer pasture in your Silk Road itinerary. After you arrive in Urumqi, you can spend some time at International Bazaar, Erdaoqiao Food Street and Xinjiang Regional Museum, and head to Jinghe City next day. You will take the ancient Yijing Pastoral Road (Suiye Path) which can only be reached by off-road vehicles to cross the eastern Tianshan Mountains and arrive at Tuohulasu Prairie in the western Tianshan Mountains. Surrounded by mountains and with more than 10 streams flowing through it, the prairie is a summer paradise for Kazakh herdsmen in Tacheng area and Guozigou. There's even a crystal clear mirror-like alpine lake.
Because Tuohulasu Pastoral Road runs through the mountains, it is pretty rough and more difficult when covered with snow in autumn and winter. In the late Ming and early Qing dynasties, it was the main road to Yili area, but it was gradually abandoned after Agui, General of Yili, proposed to the imperial court to rebuild the old Taleqi Path (also known as Guozigou Pastoral Road) in the 27th year of Emperor Qianlong (1726) in the Qing Dynasty.
Every year from late June to early July, the Kazakh people living in the Ili River Valley pack their yurts and cooking utensils and herd flocks of horses, cattle and sheep to their traditional summer pasture. Summer pasture is usually located higher or deeper in the mountains with adequate rainfall and abundant grass so as to fatten up the animals. Kazakh herdsmen take advantage of the wonderful summer time to make felts, produce dairy products, and hold weddings and celebrations. They just enjoy the gifts nature gives them. They live here until the end of August and early September.
The Kazakh people can both sing and dance well. Every year, they throw a grand Arkin Playing and Singing Party on summer pasture to show their versatility."Arkin" refers to folk singers.
There are two forms of Arkin Playing and Singing. One is a singer singing (mostly long narrative poems and folk songs) and playing Dombra (a traditional plucked stringed musical instrument popular among Kazakhs in Kazakhstan and Xinjiang, China) at the same time, and the other is two people or many people singing to each other.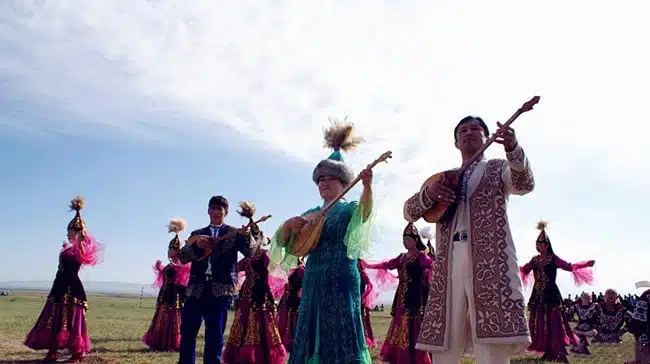 Jade Lake of Zhaosu County
After saying goodbye to Tuohulasu Prairie, you will hit the road again. This time you will take Yining-Zhaosu Highway, a road which is as beautiful as the famous Dushanzi-Kuqa Highway. Zhaosu County, located at the foot of the western Tianshan Mountains, is breathtaking from pretty much any angle. The second summer pasture in the itinerary will be waiting for you here. Aheyazigou is shared by Kazakhs, Mongolians and Kirgiz people living in Zhaosu area. Right, you can experience various ethnic customs on this pasture.
Then you will go further into the depths of the western Tianshan Mountains where lies a secret wonderland, Jade Lake. Its water comes from the melted glaciers of Tianshan Mountains. It is hard not to be impressed by its beauty. If you have seen Kanas Lake hidden in Altai Mountains and was stunned by its amazing scenery, this lake will also take your breath away.
Summer Pasture in the Deep Kalajun Grassland
Next comes the highlight of this trip. You will explore deep into the summer pasture of Kalajun Grassland on horseback. The grassland is very large, and the scenic area is only a small part of it. The pasture that Kazakh herdsmen really lives every summer is far from the scenic area. The summer pasture is located in the eastern part of the grassland. The only way to get access to the pasture is riding a horse in the company of the herdsmen.
There is a less-known hiking route: get into the summer pasture by riding a horse and then hike across to the Tarim Forest Park in Gongliu County. So if you want to experience hiking, please bring proper hiking boots. You can go for lots of canters or gallops among the spectacular scenery and do some hiking.
A Secret Road Across the Western Tianshan Mountains
Starting from Xinyuan County in the Yili River Valley, you will drive towards the western Tianshan Mountains and Kuerdening. This winding secret road will take you across the huge mountains and finally arrive at Bayinbluk Grassland. Forests, snow mountains, pastures and wild flowers are to be seen everywhere on the way.
You will also pass the high point of the Yili River Valley, Kuerdening Forest Park. What's unique about Kuerdening is that it runs north-south parallel to the snow mountains just as its name indicates (Kuerdening means "horizontal ravine" in Kazak language), while most ravines in the Yili River Valley run downhill from east to west. It boasts the most lush forest through the Tianshan Mountains. It is home to the Picea Schrenkiana Nature Reserve in Xinjiang with rare spruce forest resources and also a national-level Western Tianshan Mountains Nature Reserve. Its complete primitive forest types and vegetation are the most representative ones of the entire Tianshan Mountains forest ecosystem.
As Kuerdening disappears into the horizon, you will drive into the hinterland of the western Tianshan Mountains. Get your camera ready for some absolutely stunning scenery!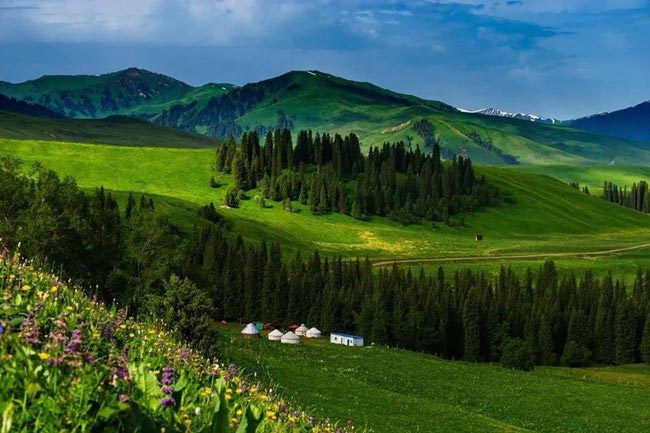 Bayinbluk Grassland Far From the Busy Scenic Area
Then you will make it to the breathtaking Bayinbluk Grassland, a must stop along Dushanzi-Kuqa Highway. At an elevation of about 2,500 meters, it has extraordinary scenery typical to alpine pastures. As tourists crowd into the Nine Turns and Eighteen Bends as well as Swan Lake scenic area, you will turn around and drive away to the opposite direction towards the place Bayanbulak Grassland bordering the Tianshan Mountains.
You will see cattle and sheep roaming the grassland and shepherds passing by on horses. You can put up a tent at a spot with great views and invite local Mongolians to have some food and wine.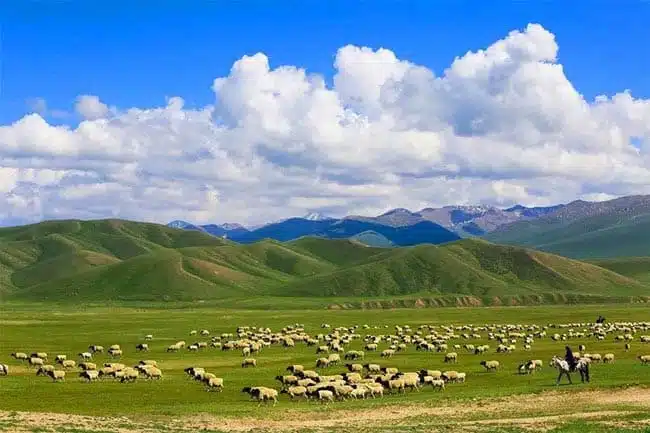 Tangbula Grassland and Fairy Lake
After leaving Bayinbluk Grassland, you will head north via Dushanzi-Kuqa Highway to Tangbula Grassland. Its enchanting scenery just unfolds before your eyes like a watercolour painting, but it is considerably less visited than Kalajun Grassland and Nalat Grassland because of its special geographical location and transportation (large-sized and medium-sized buses are not allowed on Dushanzi-Kuqa Highway, so normal tour groups have to give up scenic spots like Tangbula Grassland to avoid returning from a long distance).
You can wander about the picturesque Hundred-li Gallery on horseback and then go deep into the eastern Tianshan Mountains to see the Fairy Lake that can be reached only by horses.
Hundred-li Danxia Landform on S101 Highway
Although S101 Highway is in bad conditions, it has beautiful scenery and is considered as a paradise for photography, adventure, and hiking. Anyone who have traveled this road said it's so amazing — far more than expected. It was once abandoned for various reasons, but its advantage of crossing the eastern Tianshan Mountains have attracted many travelers.
The colorful Hundred-li Danxia Landform is hidden in this road. It shows different charm of the Tianshan Mountains. It is definitely worth a visit!
Please note that Dushanzi-Kuqa Highway is closed from the end of each September to next May to ensure the safety of tourists. If you want any information about Xinjiang tours, please do not hesitate to contact our travel consultants. We are always ready to help you and show you the vast and varied land of China. There's something for everyone.