Lhasa is famous for its beautiful scenery, long history, unique folk customs, and strong religious colors. It is not only a sacred place of pilgrimage, but also a dream place for all travelers. Besides Lhasa, Tibet has more charming destinations such as Yamdrok Lake, Shigatse, Tsedang, Damxung and so on. You can plan a Tibet tour beyond Lhasa according to your interests and preferences. Here are some itineraries from Lhasa full of adventures and surprises that will take you through amazing natural beauty and folklore.
Beginning from Lhasa, embark on an amazing expedition to the glamorous Everest Base Camp. This 8 days journey will take you into monasteries and pilgrimage sites to witness devout faith of pilgrims, pass breathtaking plateau lakes, across mountainous passes offering awesome scenery, and through impo...
---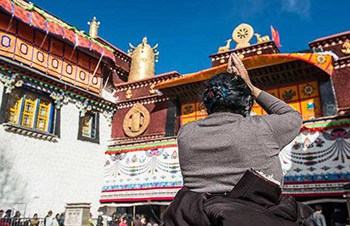 Why do some people always say that you must have the experience of going to Tibet in your life? Located in the southwest of China's Qinghai-Tibet Plateau, Tibet occupies more than half of the area of the Qinghai-Tibet Plateau. It is known as the "Roof of the World" and "The Third Pole of the Earth" ...
---
Tibet, sitting on the Qinghai-Tibetan Plateau in the southwest of China, is the well-known "World Roof" with an average altitude of over 4,000 meters. Not restrained only on geographical concept, you will acknowledge its status as "World Roof" in world religious fields if you only see the devout pil...
---
Free Inquiry: