One Day Nanjing Tianluokeng Tulou Tour from Xiamen
Private tour guide + Driver + Vehicle + Entrance tickets + Lunch

Yes
Tour Overview
Are you interested in learning about some folk culture in Tulou? It is a unique mythical mountain village inhabitant building in the world and a unique existence in ancient Chinese architecture. By virtue of its long history, unique style, grand scale, exquisite structure and unique characteristics, it is famous among the world's residents of architectural art. Fujian Tulou appeared in the 10th Century and got developed in the following centuries. Till today some local people in country area still live in Tulou. This private day tour will lead you to visit Tianluokeng Tulou in Nanjing County nearby Xiamen city.
Highlights of this tour:
*Appreciate the charming natural scenery and cultural Tulou buildings in Tianluokeng Tulou Complex and Yunshuiyao Scenic Area
*Stay one night in Taxiacun Village of Tianluokeng Tulou Complex, to further enjoy the real Hakka culture
*In-depth exploration to find the hidden culture and stories of Fujian Tulou which reputed as the"Architectural Treasure in the World" and "Oriental Old Castle"
*With private driver and English guide, as well as our 10+ years experience, you will love your tour and completely feel the magic of this wonderland.
In the morning, the English speaking guide and driver will pick you up from Xiamen downtown hotel and drive around 2.5 hours to Nanjing.
Today you will visit Tianluokeng Tulou Complex and Yunshuiyao Scenic Area.
Tianloukeng wins its loud fame in the unparalleled overviews of the Tulou group: one Tulou sits in the middle and the other four Tulou cluster together around it. Maybe you have seen the scene many times on those classic publicity photos of Tulou, it's still astonishing when you stand on the Upper Viewing Platform to behold the UFO-like Tulou buildings. That's not a joke. These Tulou buildings had been thought of as nuclear bases by the CIA. From the Lower Viewing Platform, you could catch the sights of Tulou from a closer angle.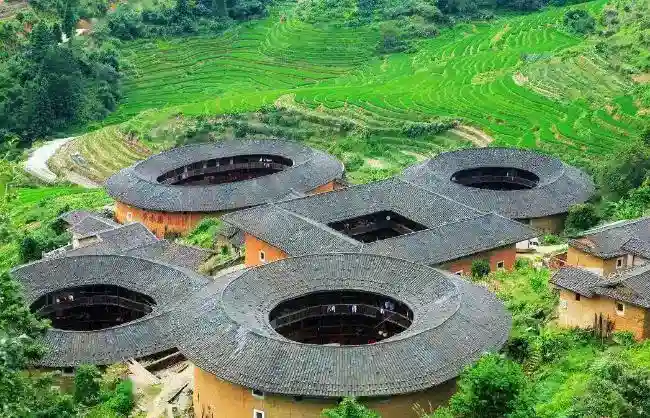 Yuchanglou is the most famous Tulou in Tianluokeng. You might think it too common with nothing special when seeing Yuchanglou from outside, but you will realize that you were wrong once you step into the gate: the columns on the corridors are slanted! How could such a huge building be supported by lean columns! Stay calm and no worry for the safety to keep visiting here. Yuchanglou has suffered from rain, wind, and earthquakes in the past 700 years but still survived well.
Taxia Village depicts a picturesque countryside view where the visitors could get real relief from the busy life and work. A stream meanders out from the valley, the beautiful bridges are over it every other mile, ducks are chasing one after another in the water…the 42 Tulou buildings stand in such a peaceful environment to witnesses how their people make life and develop for generations. Deyuantang (Zhang's Family Temple) is an outstanding view in Taxia Village. Through the grand building and beautiful decorations inside, you can read the ever glory of this large family.
Yunshuiyao, with the ever name of Changjiao Village, has been well known in China mainly because the Movie Yunshuiyao had been shot here. Different from those archaistic villages or towns, the dwelling houses, streets, markets, trees along the roads, and the scattered Tulou in Yunshuiyao could be traced with profound histories.
Huaiyuanlou had been a private school for the large family in ancient times where you still find many relics and learn the private education culture of ancient Chinese families.
After the One Day Nanjing Tianluokeng Tulou Tour, you will be escorted back to hotel in Xiamen downtown area.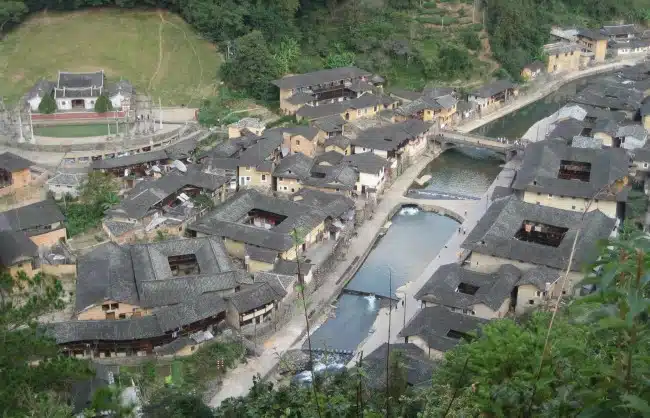 Price includes
Air-conditioned car and licensed driver
English speaking tour guide
Entrance fee
Chinese style lunch
Price excludes
Personal expenses
Gratuities (recommended)