Terracotta Warriors and Horses Discovery Day Tour
Terracotta Warriors and Horses, Terracotta figure making, Muslim Quarter

Private tour guide + Driver + Vehicle + Entrance fee + Lunch

Yes

Start from

$85

per person
Tour Overview
This tour covers two highlights in Xian: Terracotta Warriors and Muslim Quarter. Terracotta Warriors and Horses Museum is one of the most important historic sites in the world and always the No.1 attraction for all travelers to Xian. It is said that the figures in those giant exhibition pits are models of Emperor Qingshihuang's real army. It's truly a masterpiece from more than 2000 years ago. You may wonder how the figures were made. Before visiting the terracotta army, you will have an interesting lesson about how to make terracotta figures and you will have chance to make a figure by yourself. The tour will end at the bustling Muslim Street, the best place to see Islamic heritage in Xian and also one of the most sought-after food streets. You will find answers to all of your questions about the Terracotta Warriors and really like local food!
Tour highlights:
1. Take a fun terracotta-making class at Terracotta Figures Factory, and try to make your own mini terracotta warrior.
2. Visit the Terracotta Warriors, the most significant ancient burial site in existence, and uncover the amazing stories behind it.
3. Head to the Muslim Quarter, one of the most popular food streets, to see the daily life of local Muslims and taste the variety of cuisine.
AM: Our English-speaking tour guide will pick you up from your downtown hotel in the morning at 08:30. On the way to Terracotta Warriors and Horses Museum, we will stop at the Terracotta Figures Factory where you will have a lesson about terracotta figure-making. With the help of a teacher, you will make your own terracotta soldier. Afterward, we will visit Terracotta Warriors and Horses. Known as "the Eighth Wonder of the World" and one of the most significant archaeological discoveries of the 20th century, the museum shows a surprisingly high level of sculpture. The splendid battle formation will leave you with an impressive memory.
Noon: Lunch in a local restaurant.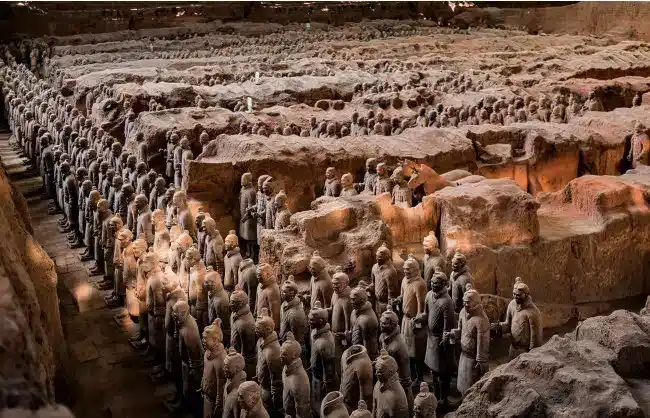 PM: In the afternoon, continue the tour to the Muslim Quarter, the most famous food street in Xian. You can try some authentic dishes (at your own expense). If you like, our guide will escort you to some more alleyways of the Muslim Quarter to see the daily life of local Muslim people. Today's tour ends here and the guide and driver will escort you back to the hotel.
Tour Price ($=USD)
From $159 P.P, which is based on a private tour for

2 people

. The price varies depending on the activity, number of people, travel date, and selected hotel.