Get Lost in Sea of Rape Flower in the Coming Spring
With the sunlight becomes increasingly warm, Spring is coming and every thing will be awake from their winter sleep. The most eyeable ones would be tender green plants and colorful flowers. Every spring rape flower appreciating tour would be one of the most welcomed tour for Chinese people. Getting away from the crowded city and taking some fresh air with rage flower fragrance in country side would be among the top choices for citizens to spend their weekends. Traveling like local would always add some lifetime memory to one's experience. Following cities are some great places to see rape flowers. Which one is your preference?
Hanzhong City in Southern Shaanxi Province
Best time for rape flower seeing: March 20 – April 15
Hanzhong City lies south side of Qingling Mountain Ranges. There are 78400 hectare rage planted. Every year when spring is coming the golden rape flowers, the green wheat, and the sounded hills and waters make up a picturesque scenery.  Yangxian County is Hanzhong City is one of the most popular destination for rape flower seeing. Why? Besides the rape flower, the county has Crested Ibis and giant pandas! After seeing flowers a panda tour will be even more exciting.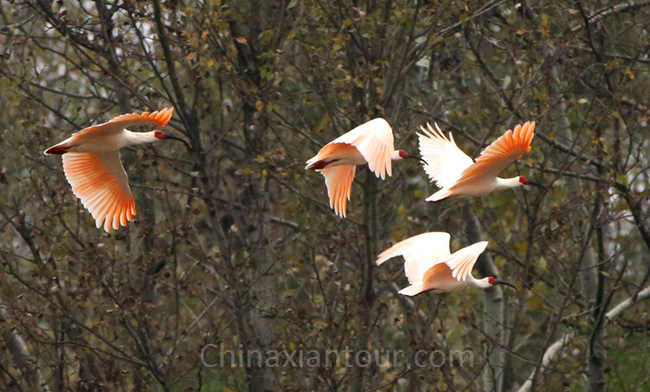 Jixi in Anhui Province 
Best time for rape flower seeing: Early March – Early April
Villages dotting in rape field is the most distinctive feature of Jixi area in Spring.On hillsides there are golden rape fields, pink peach flower, snow-white pear flower, etc. They spread in farm lands, among villages and along roads. Even if you are going there for the Mt Huangshan Tour but not for rape flower, the city will give you a surprise for free as long as you go there in spring.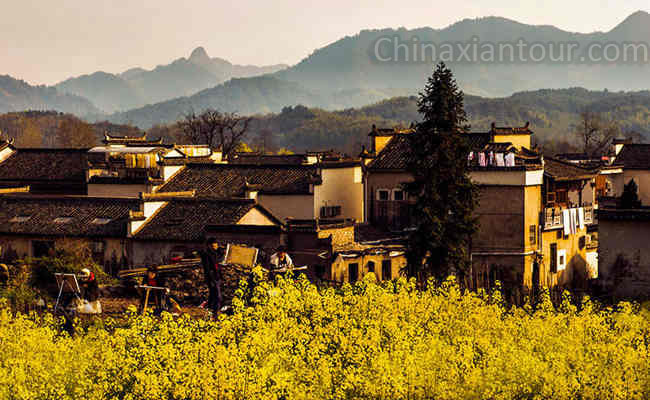 Fengxian District in Shanghai City
Best time for rape flower seeing: Late March –Mid April
When mention Shanghai side tour, ancient water town is always the first that comes to one's mind. Whenever you go to Shanghai, these water towns are always here. But only in Spring you could have chance to see rape flower sea nearby Shanghai.
Qinghai Lake Nearby Xining
Best time for rape flower seeing: July – Early August 
Even without rape flower Qinghai Lake is already a highlight attraction and the must see to one's Qinghai tour. But if you go there in July or early August, the lake would be more beautiful. And summer itself is the best time to visit Qinghai Lake because in either seasons the weather is less nice.