Reviews on Huaqing Hot Springs
Visitor 1: "Worth a Look"
If your heading to the Warriors, this is another good attraction to visit. Take a few hours here for a leisurely stroll through the Bathing Houses and Gardens. We had a private guide for the day and he was very informative. If its a clear day I would suggest take the gondola to the top of the mountain. Didn't do this ourselves as there was low cloud and pollution. Well worth the visit.
Visitor 2: "China's Version of the Roman Baths"
After a trip to the Terracotta Army it makes sense to combine your visit with China's version of the Roman baths as they are not that far apart and as we had chartered a taxi for the round trip from our hotel it made a great day out. Situated at the northern foot of mount Lishan approx 30 km out of town these hot springs used to provide the water for the Emperors bathing pools back in the Tang Dynasty. You can still experience the hot spring within two large basins and wash your hands and face in the mineral rich water, or paddle in the shallow pool situated in these tranquil surroundings all for 150RMB per person. There is also a cable car return trip cost of 60 REM but we advised prior to purchasing tickets that the waiting time was over an hour and the park closed at 5pm and it was already gone 4pm so we were unable to experience this additional attraction. However the remainder was well worth a visit. Recommended.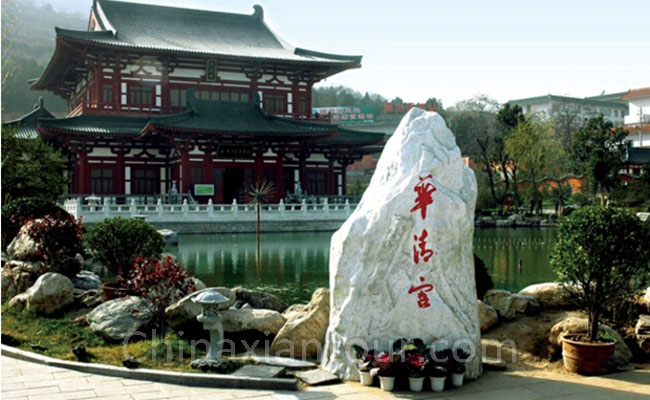 Huaqing Hot Spring
Visitor 3: "Added bonus for a trip to the Terracotta Army"
The Huaqing Hot Springs and Palace ruins are on a sprawling complex in the foothills of Lishan Mountain. This place is on the way either to or from the Terracotta army and if you're doing a DIY tour with the local public buses, then you can get the bus to drop you off or pick you up at Huaqing – the bus stop is some 300 or 400 m from the entrance to the complex. You can show an ISIC international student card to get a discount on the admission price, I think we paid something like RMB50 to get in.
Inside there are a few very old original baths originally fed by springs and a much larger collection of modern reproduction buildings in typical chinese Tang style.
However the one thing you can easily miss is that one of these buildings – a tallish 3 story one with no windows – houses a fairly impressive 3D Audio-Visual presentation. When I was there this was badly signposted. You have to put protective shoe covers on to stop excessive dust getting into building and messing up the AV show. The show attempts to set some context for the chinese audience of what they are about to see – when I was there in March 2013 it really was all in chinese – you can obviously watch and appreciate something, it would be great if they could put up some subtitles for the foreigners. It's worth having a look if the queue is not too long – it will take you about 20mins once you're inside to go through the presentations on each floor of the property.
Huaqing is worth a look if you're on the way to or from the Terracotta Army. It doesn't seem to really focus on the foreigner itenaries for Xi'an and many of the visitors here are asian tour groups. But the complex is big enough that you can get away from the madding crowd and appreciate it.
There are evening shows that run from April through to September or October but as I was there in March I didn't get the chance to see this.
Definitely worth a look if your itinerary permits it, but possibly not worth doing a special trip out from Xi'an just for this.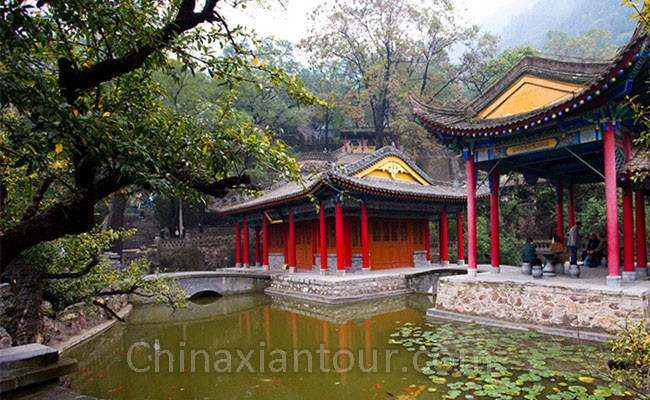 Huaqing Hot Spring
Visitor 4: "Get there early otherwise they wont' let you in!"
We arrived later in the afternoon and were not allowed in as the park closes for a period of time. The great thing was that when they reopened at night, we visited a spectacular show put on using the Hot Springs as the venue. The show had been recommended by a friend who said this was the best show in Xi'an and we would have to agree. It was a delightful night, before the heat of summer, and we were treated really well. We bought the mid price tickets and had great seats.
Visitor 5: "Great Architecture, Interesting History"
I did this as part of an organised day trip to the Terracotta Warriors and so the cost of entry was included in the overall ticket price. It was a beautiful park with a lot of different buildings and lakes as well as the original baths and a forrest of steeles. It had signs in English and was a lovely location to enjoy some of the local history.
Visitor 6: "Some distance from the city but well worth the journey."
The Hauqing Hot Springs has something to appeal to just about everybody.There are swings and toffee apples for the kids, wonderful gardens and superb ancient buildings. This is where the Emperor lived with his concubines and it's worth paying an English-speaking guide to explain the purpose of each building. These ancient emperors had quite a wild time!
Visitor 7: "Great atmophere and interesting history"
Not far from the terra cotta warriors, this palce contains the remains of bath houses used by the Emperor and his lady love as well as a very interesting history of Chiang Kai Shek . The grounds give an idea of the slendour of the original palace.