Barkhor Street, also called Bajiao Street, is a famous turning scripture path and business center in Lhasa, conserving well the traditional appearance and living custom of the ancient Lhasa. Enrolled on the list of "Ten National Historical and Cultural Street", Barkhor Street is considered as one of most charming and special street nationwide, miniaturizing the history development of Tibet.
It was originally a single turning scripture path around the Jakhang Temple and held its position as "Holy Path" in Tibetan's eyes, while now develops into a large old block surrounding the Jakhang Temple. West Barkhor Street meets Tibetan Hospital, south is along the Hedong Road, north reaches the East Xingfu Road and east is near East Helinkuo Road, with the Jokhang Temple as its center. Consisting of East, West, South and North Barkhor Road, Barkhor Street actually is in the shape of a circle, with over 1000m long and having 35 turnoffs.
Barkhor Street had developed along with the construction of Jakhang Temple and people's pilgrimage to this temple, existing for more than 1300 years. In the middle of 7th century B.D. Songtsan Gambo had issued the order to build a temple to worship the life-sized statue of Sakyamuni brought by the Princess Chizun, and some palaces for the Princess and officials which become the first buildings on the Barkhor Street later.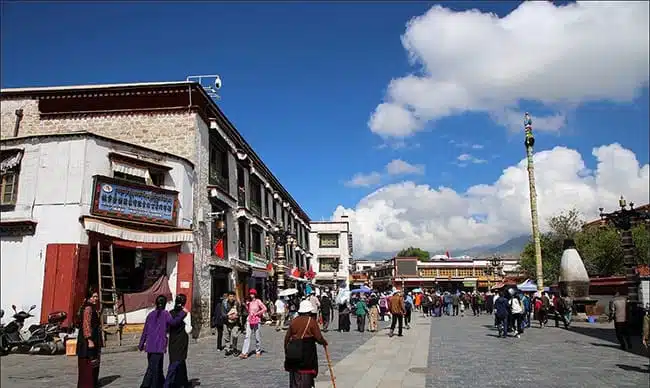 A must-see place on Barkhor Street is Makye Ame Pub. The sixth Dalai Lama Tsangyang Gyatso had left a beautiful tale about this pub which was his secret chamber and where he had met a pretty girl Makye Ame. Tsangyang Gyatso, except as a Dalai Lama, also is a great romantic poet in the history. He tried to seek the Salvation Tara for the Tibet people and encountered a maid named Makye Ame when he came to the pub where he left the well-known poem On the top of Dong Mountain.
Barkhor has kept the original style and features of the ancient Lhasa City, paved with hand polished stone slabs, with old Tibetan constructions standing along the street. A giant burner gives off the smoke all days and nights in the center of the street. Different sorts of shops stand in great number along the street: more than 120 handcraft shops and 200 stalls, over 1300 people engaging in the business deals and over 8000 kinds of goods on the market. Travelers can find coppery statues, prayer wheels, butter lamps, prayer flags, scriptures, prayer beads, Tibetan knifes, highland barley wines and so many other handworks here.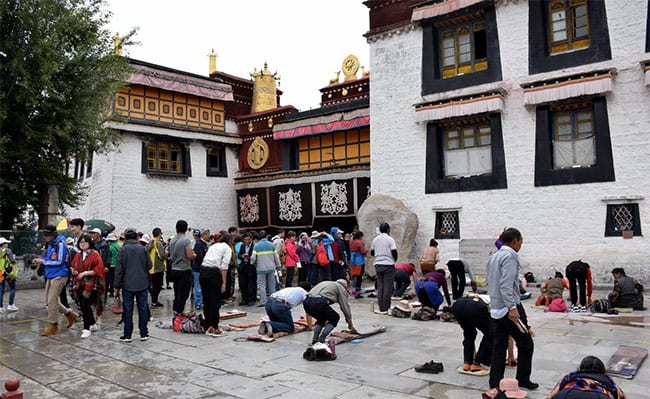 Open time: all days
Entrance charges: free
Transportation:
Take Bus9, 10, 11, 12, 15, 17, 18 and 19 to the Maternal and Child Hospital Station.
Take Bus 23, 25, 28 and 29 to the Cuomeilin Station.
Travel Tips:
Travelers are not suggested to hang out too late on the Barkhor Street as there are many turnoffs and people will tend to be lost in the dark night.
Pilgrims are often seen on Barkhor Street. They have trudged for long distance for their holy dream and have to stand a poor life on theirjourney, some are teenagers, and thusa kind funding would great help them. However, there also are some fellows intend to acquire money from other's kindness. Travelers are reminded to keep their own judgments for their donations.
Travelers might witness most stall owners boast their goods are old, thatbecause they think the old things are bearing value and will be sold at a good price.
Travelers should bargain when shopping on this street. Sometimes, maybe the same thing would be given several different prices. Be careful when you are inclined to buy something here, especiallythe dZis.
Do not buy wild animal products boycott here not only for that you are prohibited to bring it with you from Tibetan but also it will indulge capturing and slaughtering of wild animals.