Dunhuang Highlight Day Tour
Mogao Grottoes, Crescent Spring and Echo Sand Mountain

Private transfers + Guide + Driver + Lunch + Entrance tickets

Yes
Tour Overview
How to plan a best day tour in Dunhuang? As the pearl-like city along the old Hexi Corridor, Dunhuang is a not-to-miss city for anyone who wants to trace the relics of Silk Road. With its long history and splendid culture, Dunhuang boasts many tourist attractions. Even you don't have enough time, this Best Dunhuang Highlight Day Tour will bring you an in-depth experience of the splendid Mogao Grottoes, the amazing Crescent Spring as well as Echo Sand Mountain. You also would have chance to try camel ride in the expansive desert.
In the morning, our English-speaking tour guide and driver will pick you up from the Dunhuang downtown hotel and your exploration begins!
No doubt the first site will be the amazing Mogao Grottoes. As the existing anthology of Buddhist art with the biggest scale and the best preservation in the world, Mogao Caves wins the fame of "the pearls of oriental art". It keeps 735verns, about45,000 square kilometers of frescoes, 2,415 painted sculptures, more than 4,000 flying Apsaras (the beautiful Bodhisattva in Buddhism who has the fair scent and does well in dancing and music), and 5 wooden constructions of Tang and Song Dynasty as well as thousands of Stone pillars and flagstones with a lotus carving on them.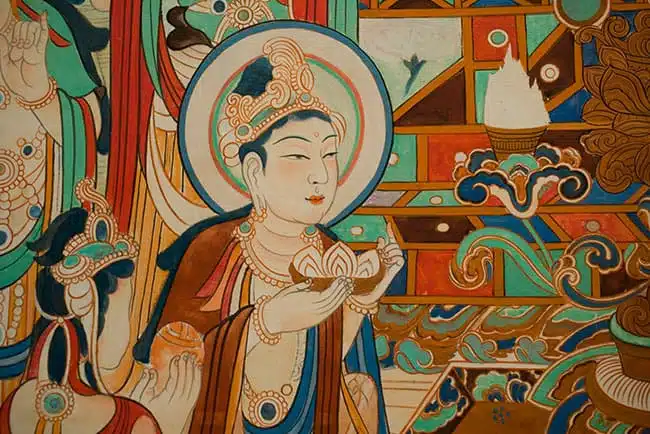 In the afternoon, continue your visit to Crescent Spring and Echo Sand Mountain. Echo Sand Mountain and Crescent Spring are harmonious mates of miracles created by nature, glittering like a pearl along the Silk Road for thousands of years. The incredible co-existence between spring water and sand mountains always amazes visitors at their first sight here: the sand mountains meander like a huge dragon and roar when wings blow while the Crescent Spring, like a gentle maiden, is embraced in the arms of mountains without being smudging. A lifetime experience provided here as optional activity is a camel ride at Echo Sand Mountain.
Friendly tip: There is a camel ride available in the Echo Sand Mountain, if you would like to try it, please pay in cash on your own (around CNY100 /pax ). Of course, your tour guide will help to purchase tickets.
Finishing the interesting day, you will be dropped off at your hotel. Your Dunhuang Highlight Day Tour ends here.