Gannan Travel Guide
Gannan, also known as Gannan Tibetan Autonomous Prefecture, is a stunning destination located in the southern part of Gansu Province, China.
Known for its rich Tibetan culture, magnificent landscapes, and diverse flora and fauna, Gannan offers a unique travel experience that captivates the heart of every visitor.
Chinese: 甘南 gān nán
Location: Southwest Gansu
Population (urban area): 691,000
Why Visit Gannan?
Be mesmerized by the breathtaking natural beauty of Gannan's diverse landscapes.
Immerse yourself in the vibrant Tibetan culture and history.
Witness the unique architecture of the region's traditional monasteries and temples.
Enjoy a wide range of outdoor activities and adventure opportunities.
Experience the warmth and hospitality of the local Tibetan people.
Top Things to Do in Gannan
Explore the majestic Labrang Monastery and learn about Tibetan Buddhism.
The Labrang Monastery is an important site for Tibetan Buddhism and is a great place to experience Tibetan culture. Visitors can tour the monastery, see the monks in prayer, and learn about the history and significance of the site
Hike through the breathtaking Langmusi Scenic Area
Langmusi Scenic Area is a natural wonder with stunning mountain scenery, deep canyons, and rivers. Visitors can enjoy hiking, horseback riding, and exploring the local culture. There are also many local shops and restaurants that serve traditional Tibetan food and souvenirs.
Challenge the Xiahe Daxia Canyon
Finally, the Xiahe Daxia Canyon is an impressive hiking destination that offers breathtaking views of the surrounding mountains and valley. This trail is perfect for adventurous hikers looking for a real challenge. With its steep inclines, rocky terrain, and narrow paths, the Xiahe Daxia Canyon will challenge even the most experienced hikers. However, the stunning views and pristine natural beauty make it well worth the effort.
Marvel at the stunning scenery on Sangke Grassland
Sangke Grassland, also known as Sangke Prairie, is a vast natural grassland located in Sangke Township, Xiahe County of Gannan Tibetan Autonomous Prefecture, Gansu Province, China. It is one of the largest grassy plains in Qinghai-Tibet Plateau and covers an area of around 70 square kilometers.
The grassland is surrounded by snow-capped mountains features clear rivers and streams, making it an ideal habitat for various wildlife including Tibetan antelopes and yaks.The Sangke Grassland has become an increasingly popular destination for tourists seeking an authentic rural experience. Visitors can enjoy horseback riding, camping, picnic, hiking, and other outdoor activities. Additionally, visitors can also experience the unique local customs and lifestyle of Tibetan people who inhabit the area.
Other things to see and do in Gannan
In addition to these main attractions, there are many other things to see and do in Gannan. Visitors can explore the local markets, learn about traditional Tibetan medicine, or experience a traditional Tibetan dance performance. There are also many opportunities to try local food and drinks, such as yak butter tea and tsampa, a traditional Tibetan barley flour dish.
Gannan Weather
Gannan enjoys a plateau continental climate with four distinct seasons. The best time to visit Gannan is from June to September when the weather is warm and pleasant, and the region's natural beauty is at its peak. Spring and autumn are also great times to visit, with mild temperatures and fewer tourists. Winters can be cold and snowy, making it less ideal for traveling.
Gannan Transportation
Getting to Gannan
To get to Gannan, there are several transportation options available including air, train, and bus. Hezuo City is the prime gateway in Gannan.
If you prefer air travel, you can fly to Gannan Xiahe Airport, which is located in the city of Hezuo. Alternatively, you can also take a train to Lanzhou, the capital of Gansu Province, and then take a bus or taxi to Hezuo.
Another option is to take a bus directly to Hezuo from cities in the surrounding area such as Lanzhou, Xining, and Chengdu. There are frequent buses go from Hezuo to Linxia, Xiahe, Langmusi, Maqu, and other counties in Gannan. However, it's important to note that the journey by bus can take longer than other transportation methods.
The most common mode of transport in Gannan is buses. There are frequent bus services connecting major towns and villages within Gannan, making it the most convenient and economical way to travel.
Taxis are also available in major towns, but fares can be expensive.
For those looking for a more immersive experience, biking is another option. Bicycles can be rented from hotels or rental shops in major towns, and exploring the surrounding areas on a bike can be an unforgettable experience.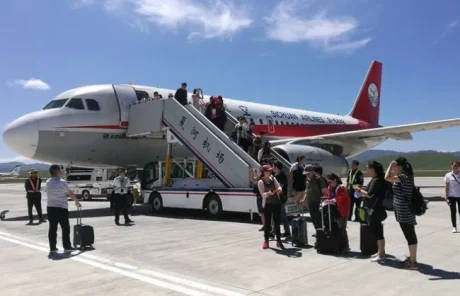 Tips for Traveling in Gannan
To make the most of your trip to Gannan, here are some helpful tips:
Pack for the weather. Gannan's climate is mostly cold and dry, even in the summer months. Be sure to bring warm layers and a good pair of boots for hiking.
Respect local customs. Gannan is a predominantly Tibetan area, so it's important to be respectful of their culture and customs.
Take a guided tour. A guided tour can be a great way to learn more about Gannan's history and culture. Hire a local guide for a more authentic experience.
Respect the environment. Gannan's natural environment is fragile, so be sure to responsible tourism by not littering, staying on designated paths, and avoiding activities that could harm the environment.
Visit Labrang Monastery. This is one of the largest Tibetan Buddhist monasteries in the world, and it's a must-see attraction when visiting Gannan. Don't miss the daily debates and chanting rituals that take place here.
Explore the grasslands. Gannan is home to vast grasslands dotted with yurts and grazing animals. Take a horseback ride through the grasslands for a truly immersive experience.