Your guide and driver will pick you up at about 8:00 am from your Huangshan downtown hotel and drive about 1 hour to Qiyun Mountain, one of the Four Sacred Mountains of Taoism. Its name Qiyun means "as high as the clouds" in Chinese although its highest peak is 585 meters. If you ever have chance to see the mountain shrouded in the sea of clouds, you wouldn't say it doesn't live up to its name. Upon arrival, we will take cable car up the mountain and start exploration. There is a Yuehua Street, also called "Heavenly Street", sitting on the cliff. 30 households live here, and they are Taoists and their families. You will see white-walled and dark-tiled typical Hui-style houses mixed with Taoist architecture, which is a very unique and harmonious scene. It's also a good place to enjoy Chinese calligraphy art. Many scholars, officials and artists left their writings on the cliffs from the Song Dynasty to the Republic of China. There are 537 pieces of steles scattered on the mountain including 305 cliff carvings. If you visit the mountain in November, you can see red leaves all over the mountain, and in April, you will have chance to see a large expanse of rapeseed flowers on the banks of the Hengjiang River at the foot of the mountain.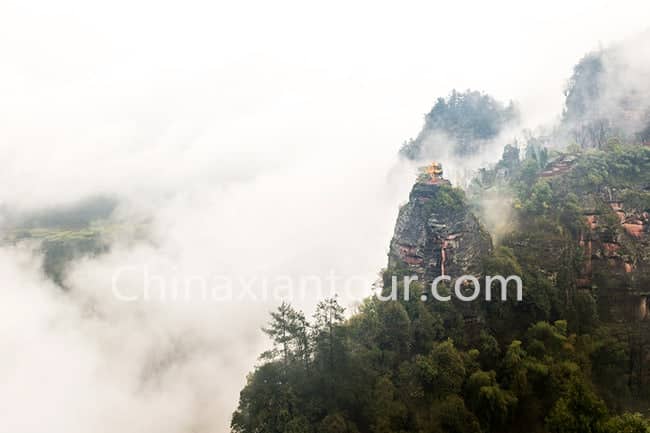 After descending from the mountain by cable car, we will have a lunch and then visit Wanan Compass Culture Museum and Huizhou Culture Museum. Wanan Compass Culture Museum was established by Wu Zhaoguang (an art master of Anhui Province and intangible cultural heritage inheritor) on the basis of his family's two-century-old workshop. He is the eighth generation descendant of Wu Luheng Old Compass Shop. In ancient times, compass was mainly used for observing celestial bodies, checking feng shui, and giving ships directions. Compass requires high precisions, especially for navigation, because if there's slight error in the needle, tragedy may happen. Your guide will show you around and see the process of making compass. Huizhou Culture Museum is the second largest comprehensive museum in Anhui Province and also the only museum focusing on Huizhou culture. The museum was designed combining Huizhou culture, geographical landscape and Huizhou architectural style. There are 100,000 pieces of cultural relics including porcelains, ink stones, ink sticks, paintings, bronze wares, jades, ancient books and documents.
At the end of the tour, your guide and driver will escort you back to your hotel.
Tour Price Per Person ($=USD)
Travelers
1 People
2 People
3 People
4 People
5 People
Tour Price
$255
$152
$112
$95
$86
Travelers
6 People
7 People
8 People
9 People
10 People
Tour Price
$79
$66
$62
$59
$53
Book the Tour Free Inquiry
Price includes
Comfortable transfers in air-conditioned vehicles with experienced driver
Admission tickets (main gate) for all attractions listed in the itinerary
Cable cars up and down Qiyun Mountain
Professional English-speaking tour guide
Chinese style lunch
One bottle of mineral water per person
Fuels, tolls and parking charges
Price excludes
Personal expense and optional activity
Tips to the tour guide and driver
Booking Method
Please send your travel request via e-mail

[email protected]

to us. You are also welcome to call us at

0086-15129005119

from Mon to Sun 24 hours.
Our real trip advisors will have your booking confirmed no more than 1 working day. We even take last minute booking if time is pressing. When your booking is confirmed, you will get a confirmation email from us, which includes the confirmed detailed itinerary with prices.
A small amount of deposit will be charged in advance via paypal for tour booking (Deposit for tours excluding train/flight/hotel: USD50-USD100; Deposit for tours including train/flight: your travel consultant will advise according to group size and itinerary). The balance can be paid to our tour guide when you are on the tour, or the credit card balance payment via Paypal latest 3 days ahead of the tour date. Both RMB and hard currency are acceptable.
Our Tour guide
Over 15 years, we had built up a professional guide team. They are 100% guaranteed licensed guide. Apart from been knowledgeable, they are also friendly, fun, attentive, and flexible. Nothing is too difficult or troublesome for them, as they will always try their best to make a pleasant journey for you! You may get new friend after travelling in China!
Wendy
Shasha
Noble
Our Driver and Vehicle
Always makes you feel safe and comfortable is the main goal of our service. The vehicles we use are all air-conditioned and kept in good safety and sanitary condition. The drivers we use are all licensed driver with many years driving experience. More attentive, we offer you a free baby seatservice if you travel with your baby.
Our vehicle
Inside Looking of Our Vehicle
Our Driver and Car
Meals
Food is a part of the important culture for Chinese people. China fits for all budgets. Hotels booked by us will include breakfast. Lunch is chosen at restaurant which is popular among locals, and with good environment. (All restaurants have Western styled Washroom available if this is what makes you feel headache about China) Dinner is mostly left for yourself, so you enjoy more freedom on your local food adventure or some familiar hometown food.
If you are a Vegetarian, or Muslim , or allergy on any kind of food, you are suggested to inform this to your travel consultant, they will help arrange proper restaurant or food to meet your needs.
Buffet Meal
Lunch
Local Snack
Free Inquiry: