Jiuhua Mountain is well known as one of the four sacred Buddhist mountains in China, along with Wutai Mountain in Shanxi Province, Putuo Mountain in Zhejiang Province, and Emei Mountain in Sichuan Province. It was formerly called Jiuzi Mountain and later changed to the current Jiuhua Mountain after the celebrated Chinese poet Li Bai of the Tang Dynasty (618 – 907 A.D.) visited the mountain and wrote a poem likening the nine main peaks to lotus flowers. The mountain with an area of 120 square kilometers is located in Qingyang County, Chizhou City, Anhui Province. It was named a national 5-A level tourist attraction in 2007 and listed as a World Geological Park by the UNESCO in 2019. It combines Buddhist culture and natural wonders, so it is a nice place whether you are looking for a religious experience or breathtaking views.
What to see in Jiuhua Mountain?
Jiuhua Street
Jiuhua Street is a must-go place if you ever visit Jiuhua Mountain. It is actually a small town in a basin halfway up the hill. In addition to the temples, there are also shops, school, hotels, and farmhouses. Visitors can stay here and take it as a starting point to explore the places of interest on the hill. Huacheng Temple is the oldest Jin Dynasty (266 – 420 A.D.) temple on Jiuhua Mountain. It was built against the mountain, reflecting superb architectural design art. Walking to the east, there is a palace on a cliff, the famous Baisui Palace which holds the body of Monk Wu Xia. He practiced Buddhism and lived here up to 126 years of age. He copied the sutras by mixing gold powder and his own blood. His body didn't rot after he passed away for 3 years. Emperor Chongzhen of the Ming Dynasty (1368 – 1644 A.D.) sent officials to cover his body with gold. Since then, numerous people came here worshiping the monk.
Tip: In the Qingming Festival (it is one of the important traditional Chinese festivals and falls on April 4 – 6 of the solar calendar each year), Buddhist believers go on a pilgrimage to the mountain and offer incense. If you meet monks and nuns in the temples, you can put your palms together to show your respect. Various instruments, incense candles, offerings, etc. must not be touched. And it's not polite to ask the monks and nuns about their life experience and the reason why they became a monk or nun.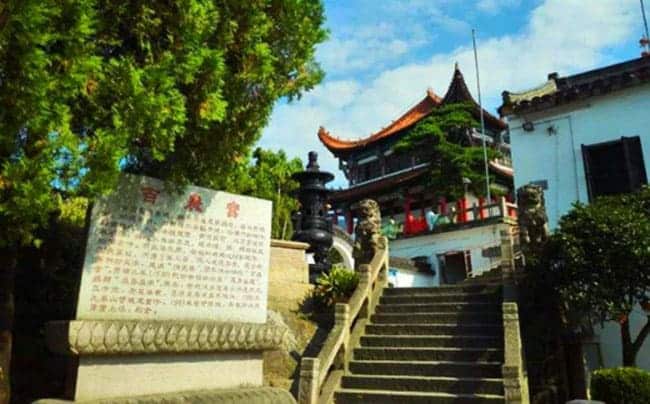 Tiantai Peak
Tiantai Peak is 1306 meters high above the sea level, ranking the third highest. It is also the essence area of Jiuhua Mountain. There are many scenic spots on the way from Jiuhua Street to Tiantai Peak. Standing on the top of Tiantai Peak, you can have a spectacular panoramic view of the rolling mountain. You will be amazed by the grotesque rocks everywhere and feel like being in a fairyland.
Tip: It's said that the sunrise on Tiantai Peak is comparable to that on Taishan Mountain. You can get up early and take cable car to the peak before sunrise. You will also need to walk for some distance to the top of the peak. Just sit there and watch the golden sun rise slowly.
Shiwang Peak
Jiuhua Mountain boasts 99 peaks, among which 9 of them are the most majestic including Shiwang Peak, Tiantai Peak, Tianzhu Peak, Liantai Peak, Furong Peak, etc. Shiwang Peak with a height of 1342 meters is the highest, followed by Qixian Peak (1337 meters high) and Tiantai Peak (1306 meters high). There are over thirty peaks more than 1000 meters high above the sea level and many bizarre rocks. And these rocks are usually named after their shapes. For example, there is a 30-meter high rock called "Eagle-holding-on-to-wall" on the east of Tiantai Peak. Legend has it that when Ksitigarbha Bodhisattva chanted sutras here, a gigantic bird flew to listen and turned into a stone.
Tip: Jiuhua Mountain also has some beautiful waterfalls and streams which make the roads and paths pretty slippery. Please watch your steps when enjoying the scenery and taking photos.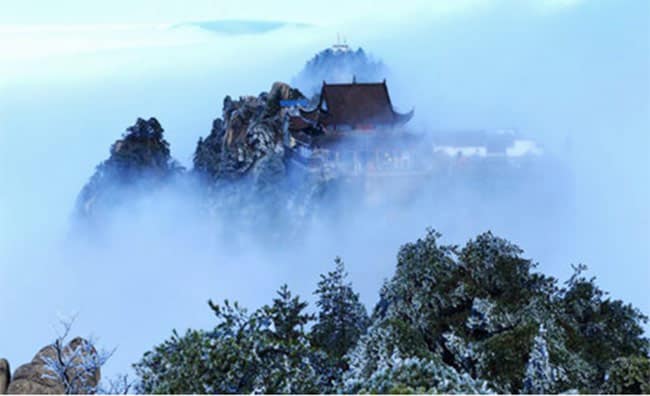 What to eat in Jiuhua Mountain?
The vegetarian food on Jiuhua Mountain is very famous. You can find many vegetarian restaurants on Jiuhua Street, and the temples also provide the visitors vegetarian food which is more authentic and tastes fragrant, brittle, fresh and tender. All the vegetables come from the mountain such as bamboo shoot, day lily, sealwort, been seeding, mushroom, and fiddlehead. Chefs can make hundreds of dishes by using different cooking methods like stir frying, roasting, stewing, and steaming.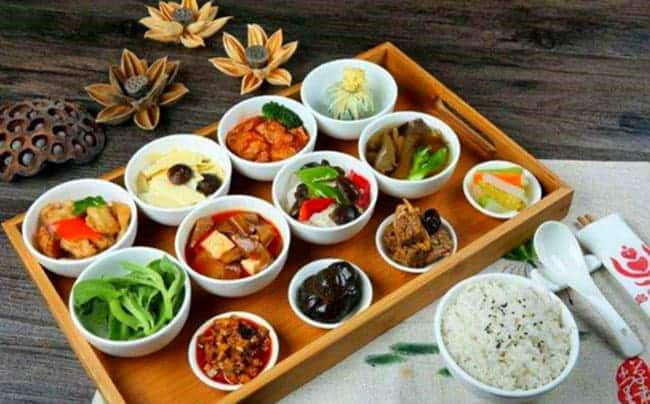 How to get to Jiuhua Mountain?
Visitors can fly from main tourist cities such as Beijing, Shanghai, Xian,Chengdu,Nanjing and Hangzhou to Chizhou Jiuhuashan Airport first and then take taxi or shuttle bus to Jiuhua Mountain.
You can take train to Chizhou from cities like Beijing,Shanghai,Hangzhou, Hefei, Suzhou, Nanjing, etc. and then get on a shuttle bus to Jiuhua Mountain.
You can fly to Huangshan City first and then take bus to Jiuhua Mountain.
Recommended Route
One Day Self-guided Tour
Route A: Huacheng Temple—Incarnation Grand Hall—Minyuan Garden—Tiantai Temple
Route B: Huacheng Temple—Incarnation Grand Hall—Baisui Palace—Hall with 500 Arhat Statues—Tonghui Monastery—Great Mercy Hall
Two Days Self-guided Tour
Route A
Day 1: Huacheng Temple—Huayan Temple—Dongya Temple—Bell Pavilion—Baisui Palace—Zhiyuan Temple
Day 2: Incarnation Grand Hall—Minyuan Garden—Phoenix Pine—Tiantai Temple
Route B
Day 1: Huacheng Temple—Jingjie Teaching House—Shangchan Hall—Shiwang Palace—Incarnation Grand Hall—Dizang Temple
Day 2: Baisui Palace—Hall with 500 Arhat Statues—Dongya Temple—Huayan Temple—Tonghui Monastery—Great Mercy Hall
We know tour planning can be exhausting especially if you've never gone to the country and don't speak the language. If you are interested in a Jiuhua Mountain tour or other China tour, please feel free to contact us. Our travel consultant will help you arrange an enjoyable tour. Let our expert tour guide show you around the sites and explain the meanings behind them. Wish you have a pleasant time in our country and take great memories back home.